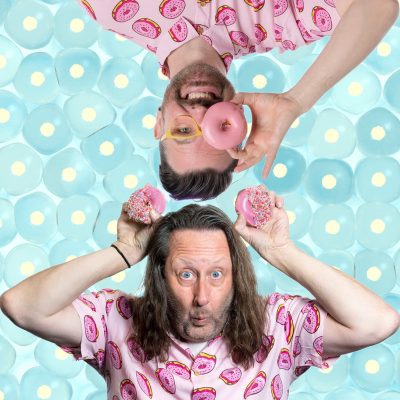 You are a Doughnut | Adelaide Fringe
From the creators of the award-winning "The Alphabet of Awesome Science"…
…comes a brand new biological-musical-comedy-adventure — that takes a deep dive through the human digestive system!
Join guest lecturer Oesoph A. Gus and class clown Dewey Dean as they embark upon a brilliant exploration of every twisty tube and remarkable organ — with sketches, songs and sensational science! It's a fast-paced variety hour — with each new digestive destination inspiring a wonderfully unusual performance. Brace yourself for the weirdest, grossest (and most fun!) biology class / comedy double act / vaudeville performance that you'll ever experience!
Praise for "The Alphabet of Awesome Science":
★★★★★ "A must see show that sets the standard for educational family fringe entertainment" The Advertiser
Please note: This event has had a time change, and changed spaces from 'The Gosling' to 'The Flamingo' at Gluttony – Rymill Park since the Adelaide Fringe Guide was printed.
Important Information: This event is taking place at one or more venues that require proof of double vaccination or exemption upon entry. Please check the performance listing for the vaccination icon ahead of purchase.
Event Details
Sun 20 Feb: 1pm
Sun 27 Feb: 1pm
Sun 6 Mar: 1pm
Sun 13 Mar – Mon 14 Mar: 1pm
Sun 20 Mar: 1pm
Venue: The Flamingo at Gluttony – Rymill Park
For tickets: