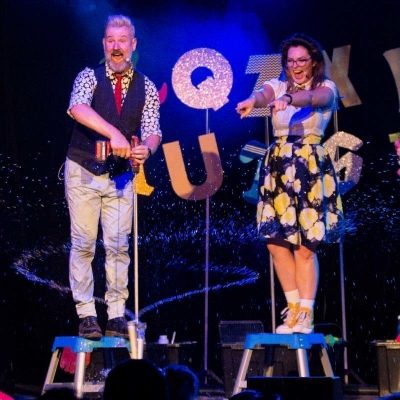 Alphabet of Awesome Science | Adelaide Fringe

Alphabet of Awesome Science | Adelaide Fringe
Join professors Lexi Con and Noel Edge (the Word Nerd and the Science freak) for a thrilling voyage through the alphabet — where sesquipedalian words inspire mind-blowing scientific surprises! It's a tongue-twisting race from A to Z that's equal parts explosive, messy, hilarious, fascinating and gross. Brace yourself for an hour of carefully crafted alphabetical, scientifical (award-winning!) chaos — that floats, flies, squirts, sprays, ignites and erupts!
★★★★★ "Sets the standard for educational family fringe entertainment. If I could give it six stars I would" The Advertiser
★★★★★ "Must see" Glam Adelaide
★★★★★ "A fast-paced, entertaining and eye-opening show that left the kids and I looking at each other in disbelief and clapping with joy after nearly every letter" See-Do-Eat-Review
Please note: This event has had a time change, and changed spaces from 'The Gosling' to 'The Flamingo' at Gluttony – Rymill Park since the Adelaide Fringe Guide was printed.
Important Information: This event is taking place at one or more venues that require proof of double vaccination or exemption upon entry. Please check the performance listing for the vaccination icon ahead of purchase.
Event Details
Sat 19 Feb: 1pm
Sat 26 Feb: 1pm
Sat 5 Mar: 1pm
Sat 12 Mar: 1pm
Sat 19 Mar: 1pm
Venue: The Flamingo at Gluttony – Rymill Park
For tickets: 
adelaidefringe.com.au/fringetix/the-alphabet-of-awesome-science-af2022
You might also like: