Tour guides Oesoph A. Gus and Dewey Dean will take audiences on a wacky vaudeville-inspired voyage through the entire length of the human digestive system at The Virago (Gluttony). 
Show creator, David Lampard says this is a show he's wanted to write for a very long time, combining two of his biggest passions – human biology and musical theatre.
It has always struck me that the digestive system would make a great topic for a musical, with such a clear beginning, middle and end — and I've finally achieved that (what some might call 'bizarre') goal!
Stepping into the roles of Oesoph and Dewey are the brilliantly talented Adelaide-based performers Rod Schultz and PJ Oaten — with Schultz's credits including a variety of character roles with State Opera, and Oaten's many credits including the role of Barnaby the Bizzy Buzzy Bee in The Fairies.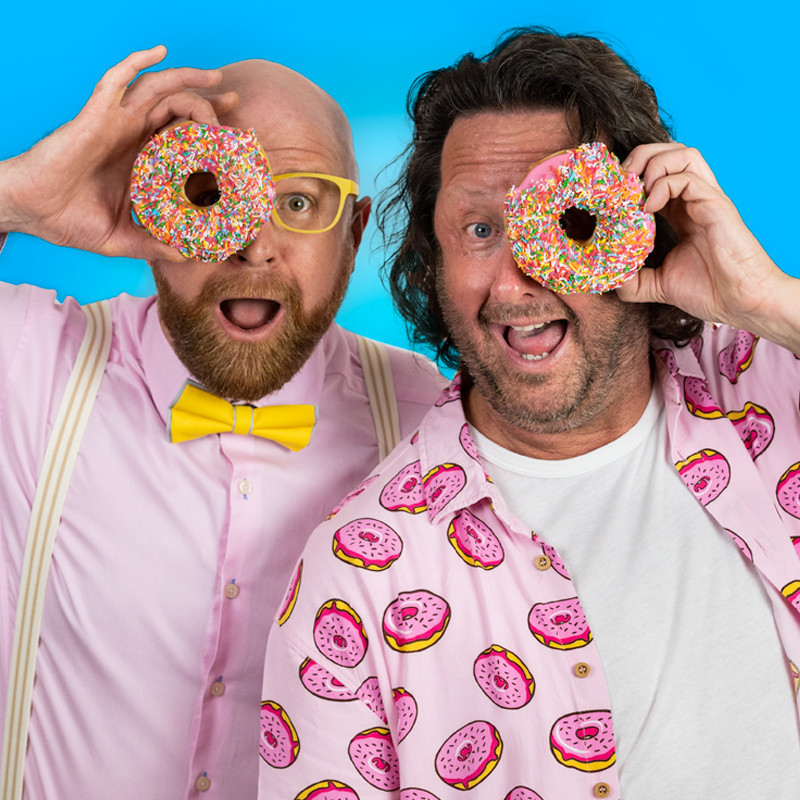 Music for the show has been composed by Mark Simeon Ferguson, who has written many songs for the SA public Primary Schools Music Festival and whose orchestral works have been performed by a number of Australia's major orchestras.
You Are a Doughnut is inspired by 'variety show' traditions of yesteryear, as well as contemporary variety-style programs such as Australia's Got Talent.
As Oesoph and Dewey explore the many twists, turns and intestinal intricacies of the human digestive system, audiences will be treated to sketches, songs, and spectacular science.
"We've created a string of bizarro acts — with a rainbow family of 'poop' puppets, enzyme-powered ping balls and a poetry reading that has to be seen to be believed!", said Lampard.
Plus, there's a very explosive, very farty finale — because, of course!
It all adds up to the weirdest, most accidentally educational variety-hour/biology-lesson that you're ever likely to experience.
You Are a Doughnut won a Weekly Award (Kids and Family) at the 2022 Adelaide Fringe Festival 
That Science Gang's other show for Fringe is The Alphabet of Awesome Science, which toured to 54 venues across Australia in 2022, and will be visiting 33+ more in 2023.
You Are a Doughnut will be performed at The Virago (Gluttony) every Saturday and Sunday of the Adelaide Fringe Festival (at 3pm), as well as Monday March 13 (also at 3pm).
---
For more information or tickets: