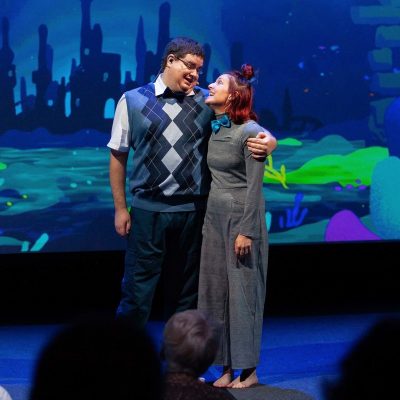 Wilbur the Optical Whale | Adelaide Fringe

Wilbur the Optical Whale | Adelaide Fringe
Winner of the Adelaide Fringe Access Award and weekly Innovation Award (2020) 'Wilbur the Optical Whale' returns to Adelaide in 2022. Based on the book by Karen Lee Roberts, Wilbur the Optical Whale' is a 'tail' about friendship, acceptance, and celebrating difference.
Wilbur and Cecil are the best of friends and one day while playing hide and seaweed, they are set upon by the Starfish Meanie Gang! How do they get out of this one?
'Wilbur' is an immersive, interactive and accessible performance for children aged 3+. Set in an exquisitely crafted underwater world full of fun, interactive play, stunning circus tricks, digital and visual imagery, and music. All performances are Auslan interpreted, and are presented as 'relaxed'.
Event details:
Tue 8 Mar: 10:30am
Wed 9 Mar: 10:30am, 1pm
Thu 10 Mar: 10:30am
Fri 11 Mar: 10:30am, 6pm
Sat 12 Mar: 10:30am
Venue: Auditorium at Hopgood Theatre
For tickets: 
adelaidefringe.com.au/fringetix/wilbur-the-optical-whale-af2022
You might also like:
Indelabilityarts Returns to Adelaide Fringe Festival with Wilbur the Optical Whale