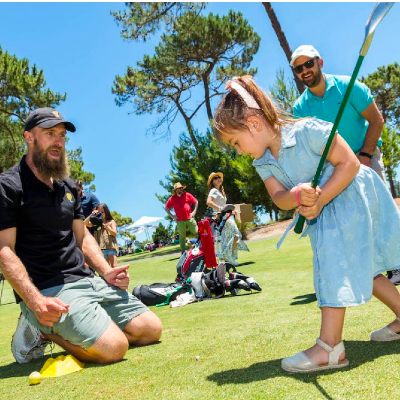 The Festival of Golf Adelaide | Blitz Golf – POSTPONED UNTIL MAY
The Festival of Golf Adelaide | Blitz Golf – POSTPONED UNTIL MAY
Unfortunately there have been COVID cases at Blitz host clubs in South Australia. Given this and the current SA Health restrictions and recommendations; the decision has been made that it is in the best interests of the event and spectators that the event next week be postponed – a decision that has not been taken lightly given the amount of planning and costs that have already gone into the event. The events scheduled for Aston Hills (Tues 4/1), Lady Bay (6/1) and North Adelaide (7/1) will all be moved with the Glenelg event (9/1) as part of the SA Tourism Festival of Golf.

A new date will be announced soon. 
Clubs will be in full swing when Blitz Golf League brings Adelaide sporting fun once again in January, but this time it's bigger than ever! Golfing pros will be going head-to-head with celebrities on the green across the state as part of the now week-long Festival of Golf.
Blitz Golf League's summer run will feature in three other states before culminating in a week-long South Australian roadshow. Across Adelaide, North Adelaide and Normanville on the Fleurieu Peninsula, three days of play will be accompanied by festival events ending with the National Final on January 9, 2022.
EVENT DETAILS
Dates
Thursday, 6th January 2022 – Links Lady Bay, Normanville, SA
Friday, 7th January 2022 (twilight event) – North Adelaide Golf Club, SA
Sunday, 9th January 2022 (concluding with the BGL Series National Final) – Glenelg Golf Club, Adelaide, SA
Tickets
$15 entry
$12 early bird tickets (if purchased before the end of November*)
$20 Family pass early bird*
$40 Fun with friends pass early bird*
Free for kids under 12

For tickets: