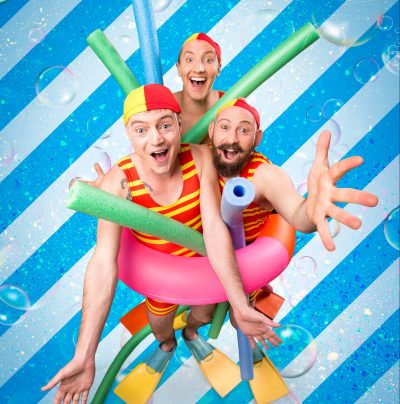 Splash Test Dummies | Adelaide Fringe

Splash Test Dummies | Adelaide Fringe
The Splash Test Dummies are off on an exciting adventure of oceanic proportions! With a brilliant array of catch-your-breath stunt work, dazzling acrobatics, dexterous juggling and side-splitting, slapstick comedy, the Dummies are ready to roll out their beach towels and spring into an exciting hour of circus-filled hilarity for the whole family.
Dummies Corp features world-class circus artists who "surprise and delight" (Edinburgh Festival for Kids). They are the Australian leaders in narrative driven circus comedy, recognised globally for creations of quality that are intelligent, theatrical and inventive.
"This show has everything and is just plain joyous" (The List UK). Grab your flippers and snorkel and join the Dummies diving from bathtubs to beaches on this wild aquatic ride!
Important Information: This event is taking place at one or more venues that require proof of double vaccination or exemption upon entry. Please check the performance listing for the vaccination icon ahead of purchase.
Event Details
Sat 19 Feb: 2:30pm, 5:45pm
Wed 23 Feb – Fri 25 Feb: 5:45pm
Sat 26 Feb: 2:30pm, 5:45pm
Wed 2 Mar – Fri 4 Mar: 5:45pm
Sat 5 Mar: 2:30pm, 5:45pm
Wed 9 Mar – Fri 11 Mar: 5:45pm
Sat 12 Mar: 2:30pm, 5:45pm
Wed 16 Mar – Fri 18 Mar: 5:45pm
Sat 19 Mar: 2:30pm, 5:45pm