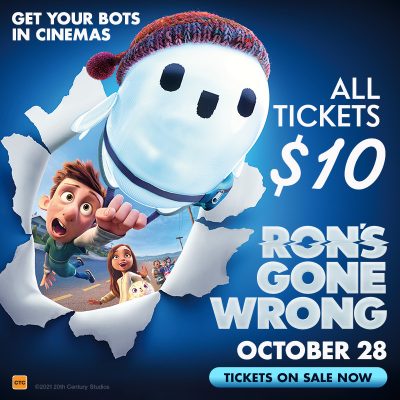 Ron's Gone Wrong Movie at Capri -All Tix $10
RON'S GONE WRONG (PG)  – ALL TIX $10
Showing At Capri Theatre, Goodwood from October 28th – 10th November, 2021
It's time for some family fun peoples! We've decided that ALL tickets for this cracker of a family movie shall be no more than 10 smackeroos! (that's $10, yeah)
We're also cracking out some smashing Candy Bar DEALS!
$5 LITTLE TACKERS
Fruit box
Small popcorn
Chupa Chup
$10 BIG TACKERS
Any beer, cider or house wine
Medium popcorn
SYNOPSIS
20th Century Studios and Locksmith Animation's Ron's Gone Wrong is the story of Barney, a socially awkward middle-schooler and Ron, his new walking, talking, digitally-connected device, which is supposed to be his "Best Friend out of the Box." Ron's hilarious malfunctions set against the backdrop of the social media age, launch them into an action-packed journey in which boy and robot come to terms with the wonderful messiness of true friendship.
Check our website capri.org.au for session times and to Book.