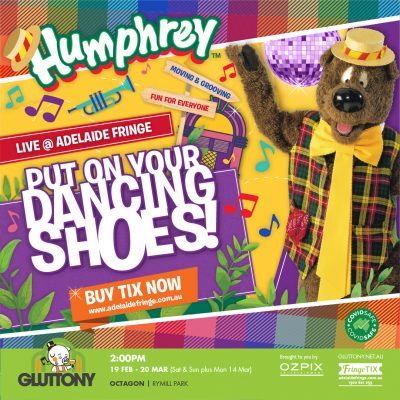 Put On Your Dancing Shoes With Humphrey | Adelaide Fringe

Put On Your Dancing Shoes With Humphrey | Adelaide Fringe
This inter-generational extravaganza will bring the whole family together. Great-grandchildren to great-grandparents will be able to joyfully explore this dynamic and inclusive show.
Humphrey will delight the inner child as everyone will be toe-tapping, finger-clicking and grinning as he dances, prances and bumbles his way through the ages. This show is packed full of interactive songs and dance.
Get a photo with Humphrey after the show! It's a perfect souvenir to share with family and friends!
Please note: This event has had a time change, and changed spaces from The Gosling to The Octagon at Gluttony – Rymill Park since the Adelaide Fringe Guide was printed.
Important Information: This event is taking place at one or more venues that require proof of double vaccination or exemption upon entry. Please check the performance listing for the vaccination icon ahead of purchase.
Event Details
Sat 19 Feb – Sun 20 Feb: 2pm
Sat 26 Feb – Sun 27 Feb: 2pm
Sat 5 Mar – Sun 6 Mar: 2pm
Sat 12 Mar – Mon 14 Mar: 2pm