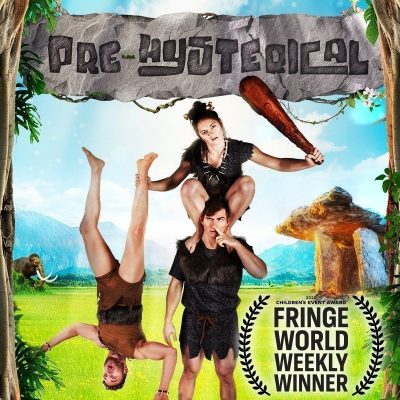 Prehysterical | Adelaide Fringe

Prehysterical | Adelaide Fringe
This show rocks! A hilarious circus show for children and parents of all ages, following three foolish Neanderthals as they struggle to survive the harsh natural world. Avoiding predators, navigating harsh environments, and learning to work together are all explored with marvellous circus skills and hilarious slapstick comedy.
With truly incredible circus and tongue-in-cheek humour for the adults, PreHysterical is something everyone will enjoy.
Winner – Best Children's Show – Perth Fringe Weekly Awards 2020
Important Information: This event is taking place at one or more venues that require proof of double vaccination or exemption upon entry. Please check the performance listing for the vaccination icon ahead of purchase.
Event details
Sat 19 Feb – Sun 20 Feb: 4pm
Sat 26 Feb – Sun 27 Feb: 4pm
Sat 5 Mar – Sun 6 Mar: 4pm
Sat 12 Mar – Mon 14 Mar: 4pm
Sat 19 Mar – Sun 20 Mar: 4pm
Venue: The Vault at The Garden of Unearthly Delights

For tickets:
You might also like:
Adelaide Fringe | Garden of Unearthly Delights Kids and Family Guide