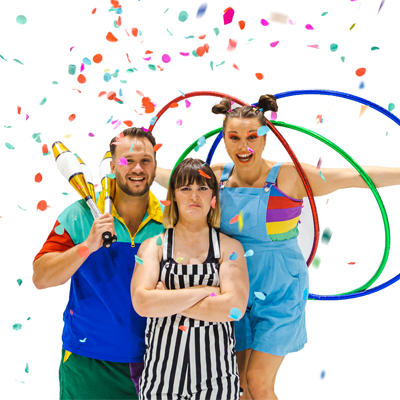 Party Pooper | Adelaide Fringe
Party Pooper | Adelaide Fringe
Put on your best party hat, and wrap the presents, you're invited to this surprise party!
Wildhouse Circus infuses their exceptional circus skills with all of the classic party games you'd expect. There'll be hula hooping, handstanding and giant, flippy tumbles on show as well as pranks, silly facial expressions and balloons popping like wild.
Witness the taunts and tantrums when things don't go to plan and the joy and happiness that comes from celebrating amongst the ones you love. You'd be a 'Party Pooper' to give this one a miss!
★★★★★ "thoroughly fun, energetic, and feel-good show that appeals to adults and kids alike. " – Weekend Notes
Event Details
Sat 19 Feb – Sun 20 Feb: 3:45pm
Sat 26 Feb – Sun 27 Feb: 3:45pm
Sat 5 Mar – Sun 6 Mar: 3:45pm
Sat 12 Mar – Mon 14 Mar: 3:45pm
Sat 19 Mar – Sun 20 Mar: 3:45pm
Venue: Ukiyo at Gluttony – Rymill Park

Cost:
Concession: $23.00
Schools Out: $19.50
Child: $15.00
Family: $60.00
Under 2s Free: $0.00
For tickets:
Hourly Schedule
Day 1
School's Day Out - Weds 9th March 1pm
Relaxed Performance - Mon 14th March 3:45pm