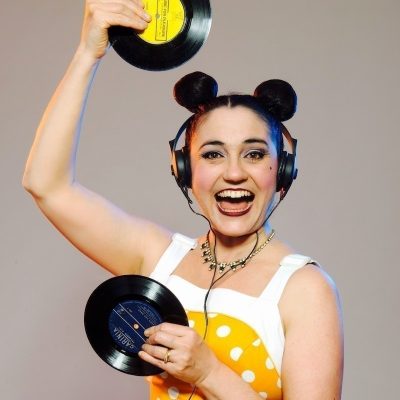 Monski Mouse's Baby Disco Dance Hall | Adelaide Fringe

Monski Mouse's Baby Disco Dance Hall | Adelaide Fringe
Why toddle when you can dance? Join DJ Mumma, Monski Mouse and her Dancers for a session of bonkers, bopping family fun. This international hit kids show, lets parents and 0-5's loose on the dance floor in this friendliest of discos. Expect high-energy smiling to retro beats and thumping nursery rhymes. Get your disco-dancing booties on!
★ ★ ★ ★ ★ "Tune after tune perfectly chosen for the youngsters.. its surely the best" Edinburgh Evening News
★ ★ ★ ★ ★ "DJ Monski Mouse is onto a winner" Barefoot Review
★ ★ ★ ★ "treat yourself and the kids" Advertiser
★ ★ ★ ★ "rocking kid-friendly" The Age
★ ★ ★ ★ "a sure-fire hit with all under the age of five" Edinburgh Festivals Magazine
Recommended by The Metro, The Sunday Times, BBC Radio 2, STV, Evening Standard, Mother & Baby, Time Out London.
Event Details
Sat 26 Feb – Sun 27 Feb: 11am, 2pm
Sat 5 Mar – Sun 6 Mar: 11am, 2pm
Sat 12 Mar – Mon 14 Mar: 11am, 2pm
Sat 19 Mar – Sun 20 Mar: 11am, 2pm
Venue: The Box at The Garden of Unearthly Delights
Cost: GA $20, Fam $65, 0-1 $5, Preview. $10
For tickets:
adelaidefringe.com.au/fringetix/monski-mouse-s-baby-disco-dance-hall-af2022