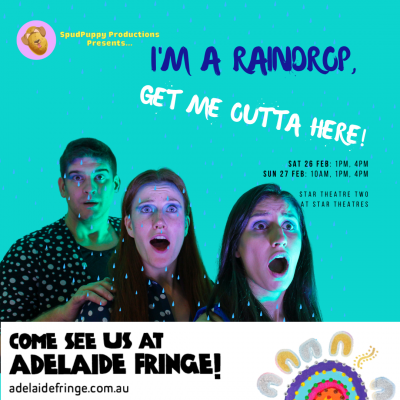 I'm A Raindrop, Get Me Outta Here! | Adelaide Fringe
I'm A Raindrop, Get Me Outta Here! | Adelaide Fringe
DID YOU KNOW that there has never been more or less water on Planet Earth? Where has this water been? What has it seen?
Join Rocio, Reef and Millie the Raindrops on the immersive adventure of a billion-year-lifetime! Families will be taken up Mt. Everest, walking with the Dinosaurs, and discovering the effects of climate change throughout time.
Through singing, dancing, comedy, and audience participation, I'm A Raindrop, Get Me Outta Here! brings both your family and the wider community together in a call to action; because the Climate Emergency is here, real, and urgent.
★★★★★ "Fantastic show and brought up some very important conversations afterwards" Parent.
★★★★★ "I LOVED the Dinosaurs!" Ollie, 7.
Important Information: This event is taking place at one or more venues that require proof of double vaccination or exemption upon entry. Please check the performance listing for the vaccination icon ahead of purchase.
Event Details
Sat 26 Feb: 1pm, 4pm
Sun 27 Feb: 10am, 1pm, 4pm
Venue: Star Theatre Two at Star Theatres
Tickets:
Full Price: $40.00
Double Your Applause: Admits 1: $80.00
Concession: $30.00
Child: $24.00
Family: $110.00
BankSA Cardholder: $30.00
Schools: $22.00
Under 2s Free: $0.00
Companion Card: $0.00
Accessibility:
To make this show more inclusive of all audiences, the Sunday 27 February performance at 10:00am will be a sensory-friendly performance for neurodiverse children and families, and the Sunday 27 February at 4:00pm will have an AUSLAN interpreter present."
For tickets:
adelaidefringe.com.au/fringetix/i-m-a-raindrop-get-me-outta-here-af2022