Some people are born with a killer head of hair. Manes that create the thickest of braids, face framing tresses that fall halfway down their backs, luscious locks that can be fashioned into the chicest of blunt lobs with a few deft snips from a professional.
Others get a glimpse of this type of Rapunzel-esque f(h)airytale during pregnancy, only to watch it all be literally washed down the drain in the months after their precious bub arrives in a—relatively common—case of postpartum hair shedding caused by lowering estrogen.
And then there are those of us (spoiler alert; me) that have never had good hair. Thin. Lank. Lifeless. Wispy. These are all terms I would use to describe my hair over the course of my life. I might have even used the word 'pathetic' from time to time when I was feeling particularly salty about my genetic shortcomings.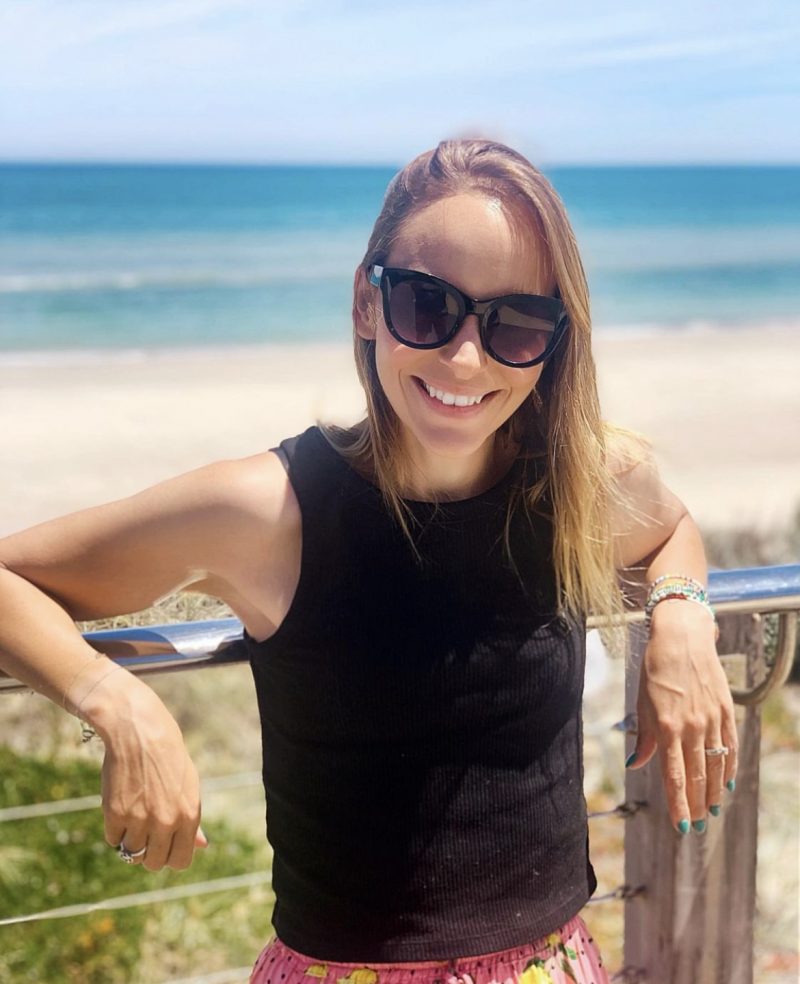 However, I've also always been reticent to try hair extensions because from the outset it seemed too high maintenance and too much hard work; work I didn't have time to do with three young children. I also honestly didn't believe that my already fragile hair could withstand the potential damage that folklore and social media has taught me hair extensions might cause. So, I gave in to the grim reality that my ponytail was always going to be lacklustre and I'd just have to rely on my sparkling wit and charming personality instead.
That was until Yovanka Loria entered my Instagram explore page. Perhaps the algorithm saw me coming, but as I stumbled upon Yovanka's extension technique and the incredible hair makeovers that adorned her feed, I began to put some time into researching this Adelaide mum-founded business.
I quickly started to see some light at the end of the tunnel in terms of my less-than-impressive locks.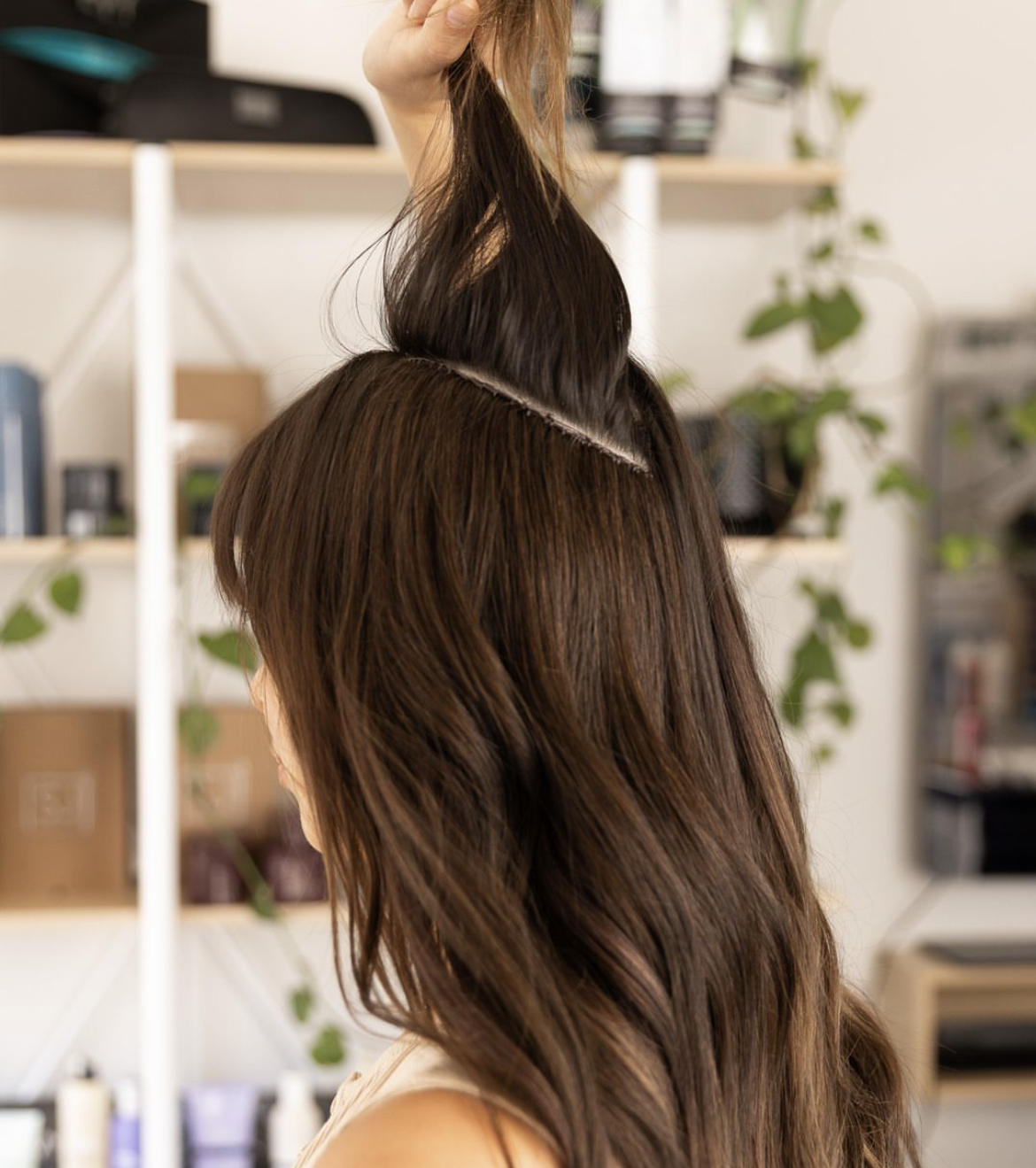 What are hand tied hair extensions?
Let's start with the technical details. Founder and Creative Director (aka the babe behind the brand), Yovanka Loria, has over 20 years' experience working in salons and educating throughout Adelaide, Melbourne, Los Angeles and New York. Extensive research along with trial and error by Yovanka, led to the creation of her very own luxury line of hair extensions.
The beauty of hand tied extensions is that they're sewn into your hair. This avoids the need for any damaging heat or glue during the application process. This also means that once the stylist removes your hair extensions there will be no heat damage or residue to remove. Hair is incredibly prone to damage when individual pieces cause extra tension on the natural hair. The way YL hand-tied extensions are designed, your hair is able to grow with the wefts leaving minimal damage. When you get your extensions re-lifted, you are able to see your natural hair that's grown out with the extensions.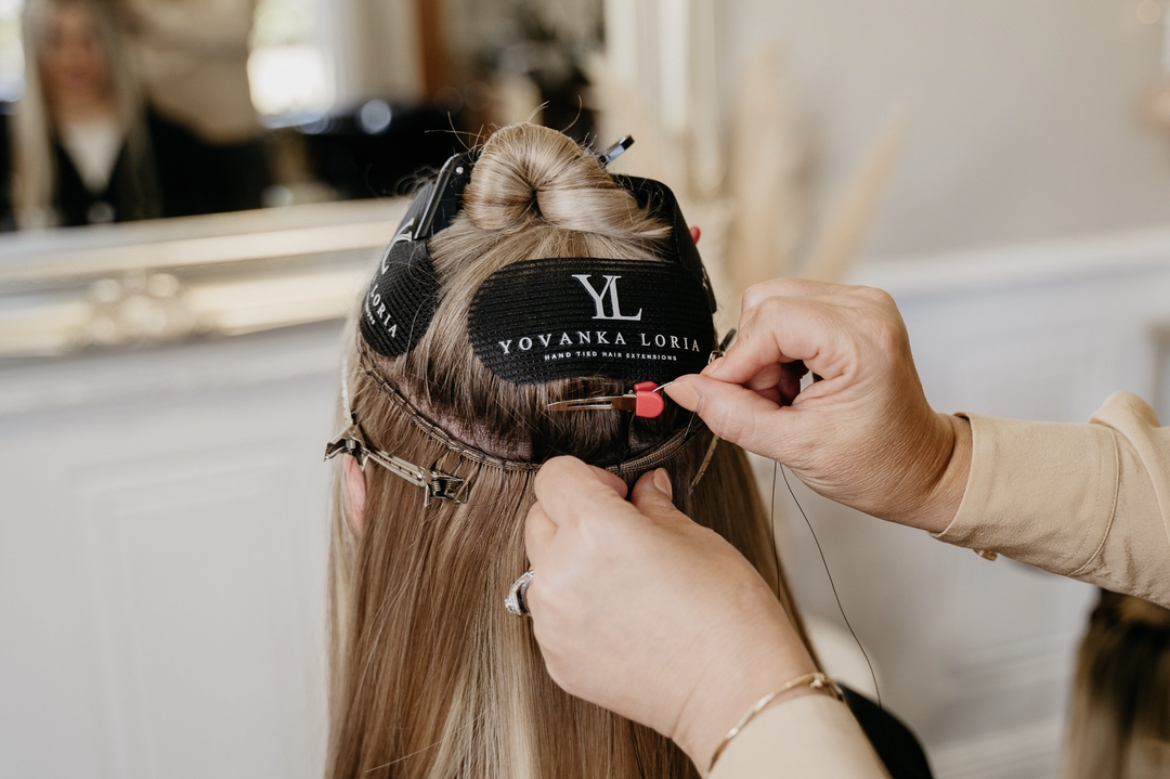 What makes YL hair extensions different?
The biggest thing that sets YL hand-tied hair apart is the quality. Stick with me here, these finer details are part of the distinction between YL extensions (the best) and the rest! The hair texture used is finer and dries faster compared to other hair on the market. For us fine-haired folk this is a game changer as many extensions are made with thicker, coarser hair and will just never blend seamlessly with our natural tresses.
Wefts that are hand-tied are also incomparable to their machine-made counterparts. The biggest difference between the two is the thickness at the top portion of the weft. Hand-tied wefts are micro-fine, allowing them to be sewn closer and flatter to the scalp. As this portion of the weft is finer and lighter in weight, it also creates less tension on the natural hair.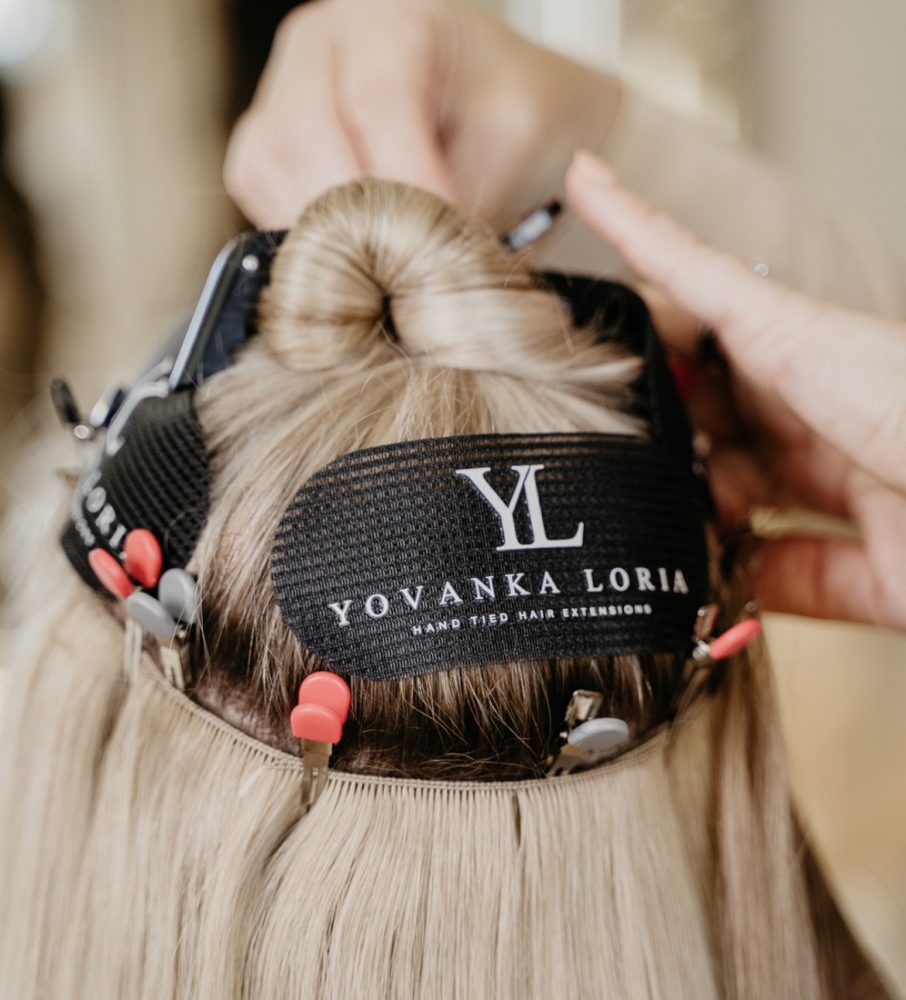 But what about the maintenance?
Now all this is well and good but part of my concern has always been the upkeep of hair extensions.
I am a busy mum, I lead an active life and I just don't have time to spend hours sectioning my hair, applying seventeen individual products, then blow drying it to within an inch of its life to get it to sit correctly. And I certainly can't commit to always wearing my hair down which is what I assumed hair extensions entailed. Like so many of us, I am the queen of the quickly thrown together mum-bun and dash out the door to collect the kids.
Would this be a thing of the past if I went down the route of hair extensions?
At my first appointment with Yovanka all these assumptions were blown out of the basin-water. I was actually a perfect candidate for hair extensions, go figure! Better yet, it was possible for me to get just a single row, the most low maintenance commitment, hair extensions I could go away and just "do life" in.
Depending on what type of transformation you're looking for, you can have a single row installed (for added volume rather than length) or two to three rows (for volume and length). Keep in mind though, the more rows you add, the more effort required to maintain your hair extensions properly. As a busy, active mum, for me, a single row for added volume was all I needed!
Importantly for me, with the way hand-tied hair extensions are installed, there's no limit to what you can do with styling. YL hair extensions blend seamlessly with your natural hair whether styled up or down. I must admit, since my installation, I have been wearing my hair down more frequently, but simply as a consequence of it just looking so darn good now!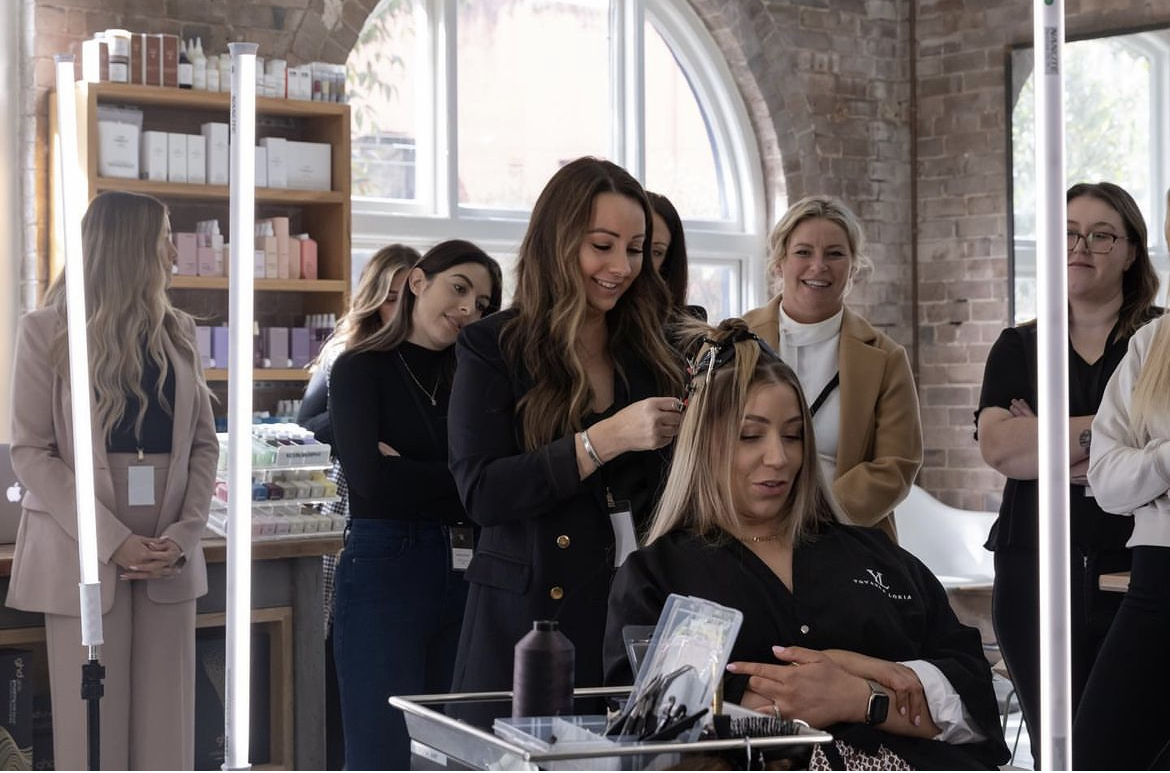 Installation and upkeep
Adding extensions is always dependent on your natural hair. With hand-tied wefts, there is more planning involved to make sure each weft is being placed in the best position, so it takes some time to find your perfect placement. The overall installation process for hand-tied extensions can be 2 to 5 hours, depending on what you need done with your colour. So pick a day where you have time to sit back, relax, and let the experts at Yovanka Loria do their thang.
When it comes to what's being put onto your hair, typically 3-5 wefts are sewn into each row depending on what is required for the desired result.
After the installation, you can expect to enjoy those same extensions for about 6-12 months. However, you'll want to head back to the salon every 8 weeks or so to get the extensions re-lifted, depending on how fast your hair grows. More on that later.
With most extensions, drying time is an excruciating and labour-intensive process and can be a deal breaker. Due to the high quality of YL raw hair, the drying time is split in half, which is one of the many factors that makes YL hair unique. These are time-efficient and lasting results. A real game changer in the extension world and particularly for busy mums.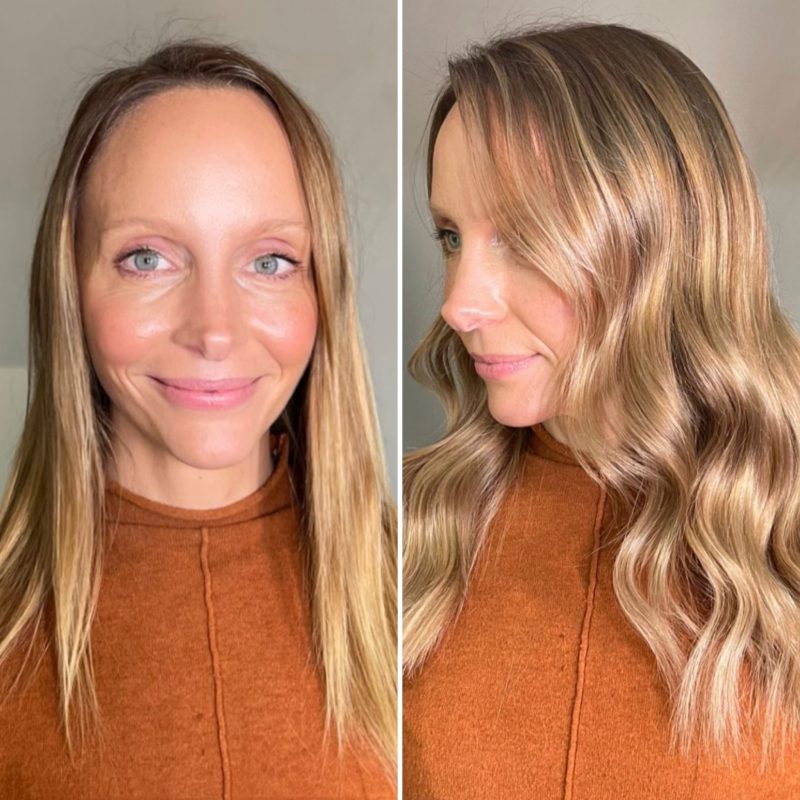 Colour matching
Yovanka's custom colour matching is like no other. In fact Yovanka is proud to attest that she's never met a mane she can't colour match, and I've seen the evidence!
Yovanka and her team mix different coloured wefts so they can customise the end result, followed by custom colouring and toning your extension hair and natural hair resulting in a beautiful, natural blend. No one will ever know you are wearing hair extensions! A true compliment after having your extensions installed is no one noticing anything at all.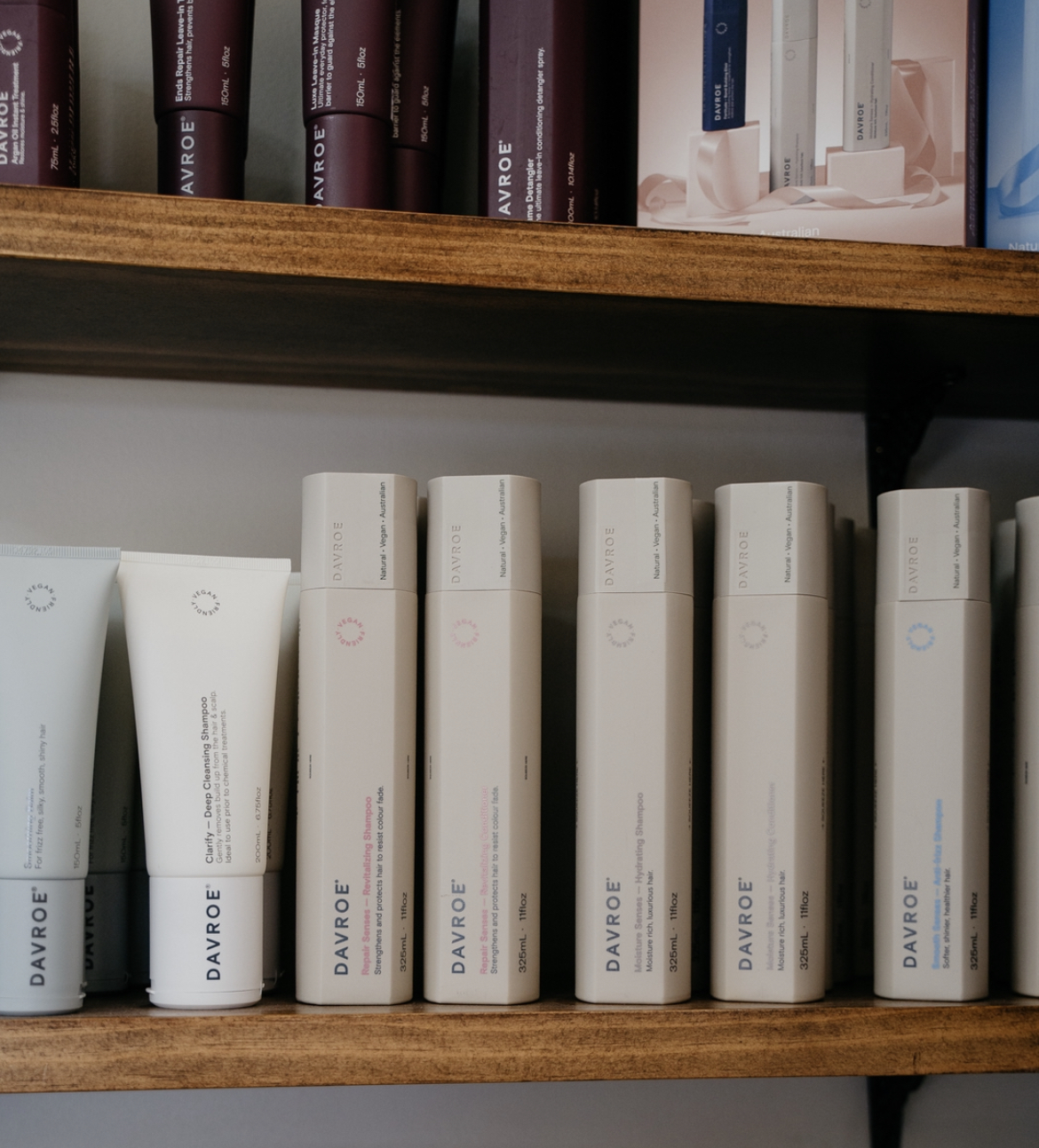 Hair extension after care
In order to make the most of the life of your hair extensions, you're going to want to invest in some salon quality products, all of which Yovanka and her team can recommend when you're having your installation.
Whilst salon quality products are more expensive than their lower quality supermarket counterparts, you'll only need to wash your hair once or twice a week with your extensions in, so these products will last a lot longer. The team can also take you through the best type of brushes to use on your extensions and you'll get a pack with all the information about how to best care for them so they last for as long as possible.
Set aside the time for the initial installation and then go ahead and live your life with great hair every day!
This was honestly the part that scared me the most about the whole process because it was in the cold hard light of my ensuite that I was afraid the decision to get extensions was going to come back to haunt me, but I was pleasantly surprised. With only one row installed, my life has barely changed with the exception of higher self esteem and a cracking ponytail. In fact I have to tend to my hair less now because it looks better with much less done to it. The biggest hardship for me has been teaching myself to wash my hair less frequently (coming from the position of being a once-a-day washer). These extensions truly are "high maintenance for low maintenance"—set aside the time for the initial installation and then go ahead and live your life with great hair every day!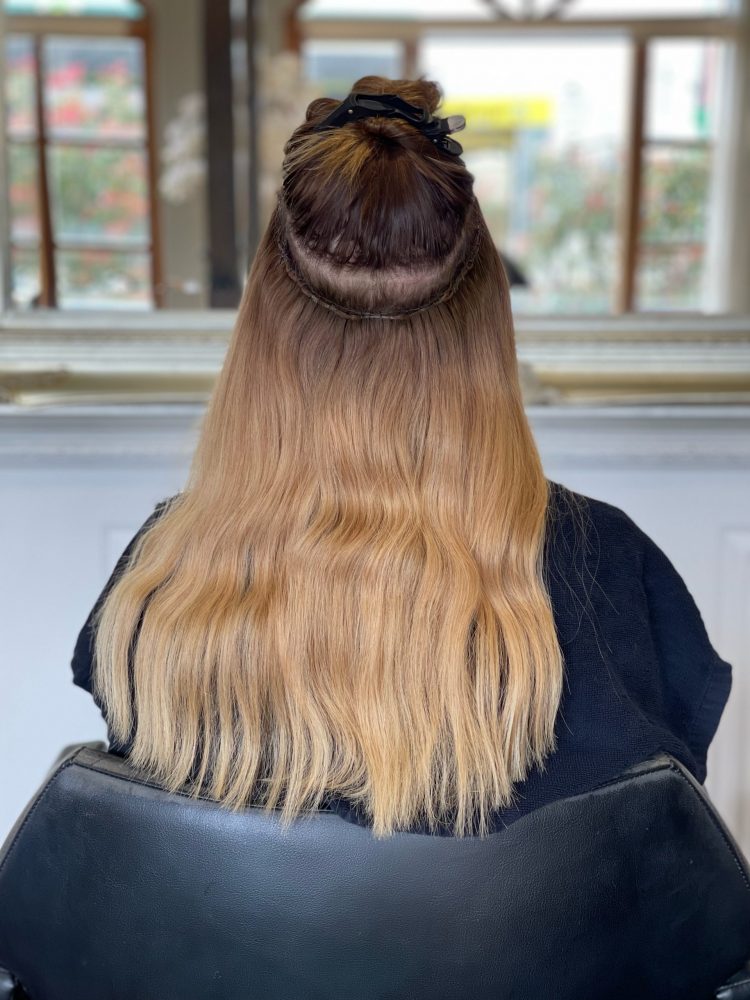 Relifting appointments
The team recommend that clients come in every 6-10 weeks for a relift depending on how fast your hair grows.
The appointment is quick and easy, you'll have the extensions removed for just long enough to stare in the mirror and remember why you wanted them in the first place, and they'll be moved up and stitched right back in!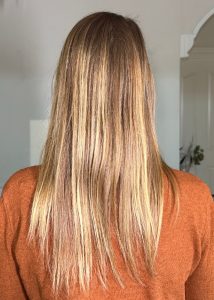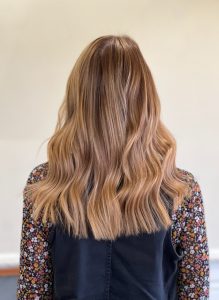 The pictures really speak for themselves here! From lank to luscious, YL hair extensions have elevated my hair styling game with an added bonus of just feeling that little bit more confident about myself, every day.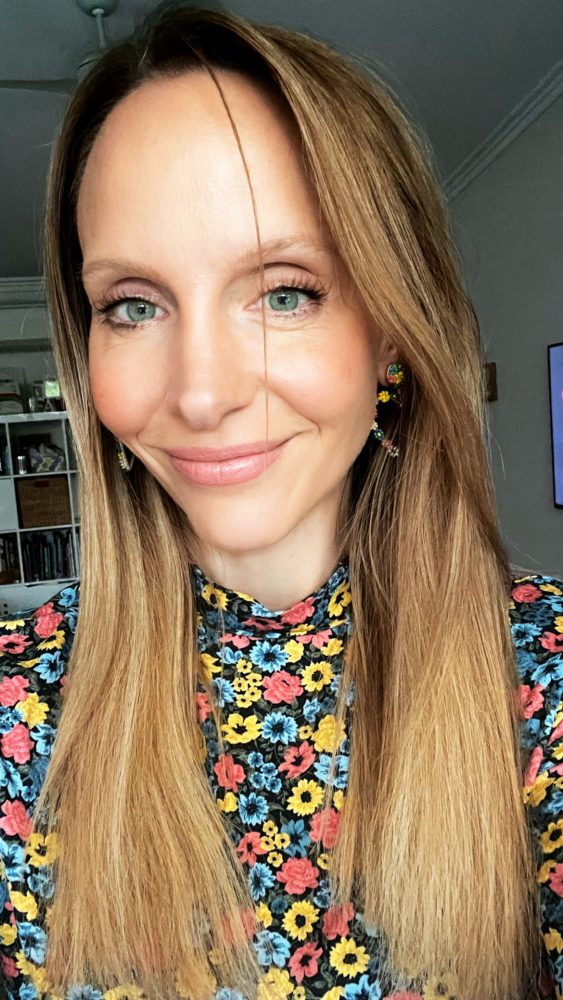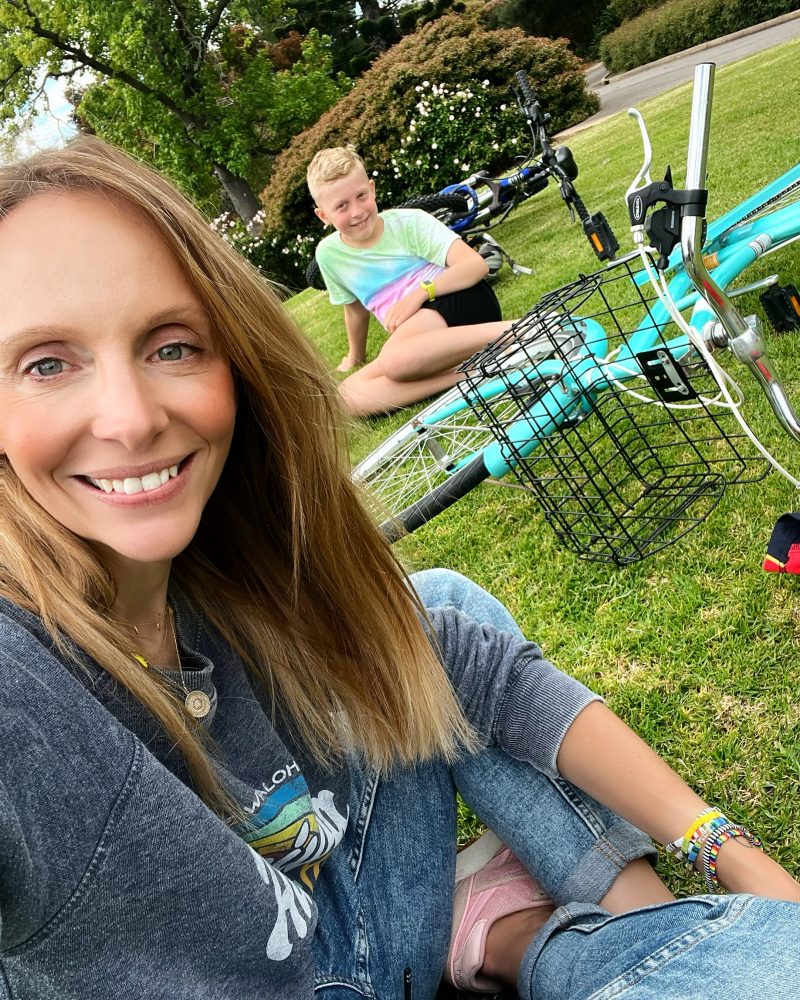 What's the verdict?
The proof is in the ponytail! As it turns out, you don't have to be a 20 year old influencer, an Instagram model or a Kardashian for hair extensions! With options from as little as one row for added volume, or two to three for volume and length, high maintenance, mum-life limiting extensions are a thing of the past! I don't think I'll ever go back to my limp locks of yesteryear now that I've joined the ranks of thick ponytailed extensions wearers.
Life isn't perfect, but with Yovaka Loria hair extensions… your hair can be!
For more information or to find a hairdresser near you that specialises in Yovanka Loria extensions: