WORDS: Lucy C. Budzynska
Creators and performers Seth Bloom and Christina Gelsone tell the story of childhood through a series of dynamic and developing scenes all using air in various ways. They capture childlike joy so well that the packed Festival Theatre encompassing all ages were in awe and captivated by ultimately the simplest of things – a balloon. It was wonderful to be transported back to the simple joy we tend to leave behind in childhood.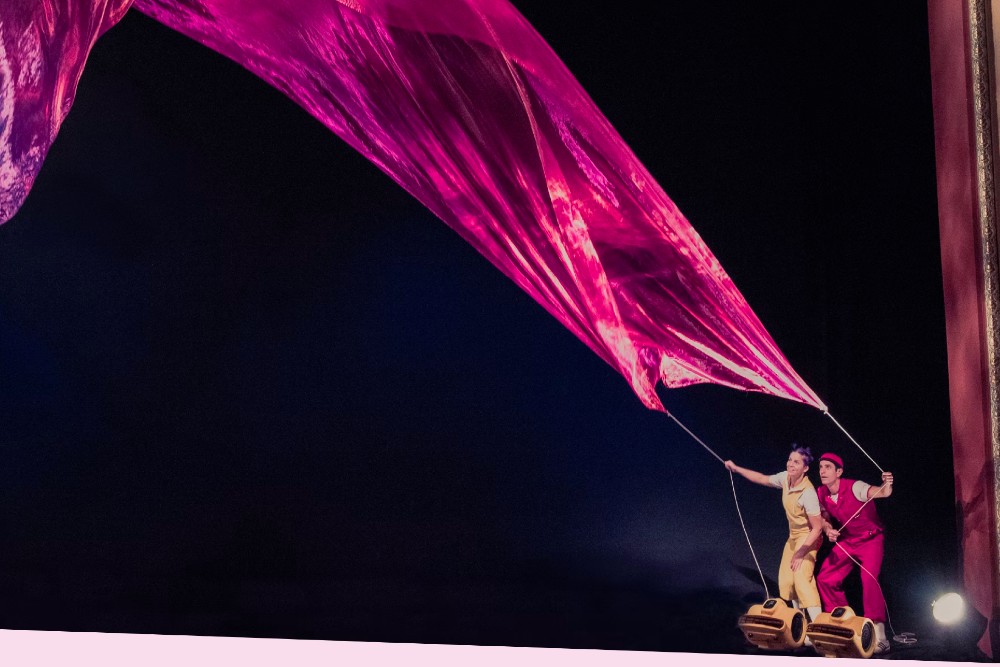 The story also depicts another reality of many childhoods, one where we grow up and are separated from our playmates through distance or other life events. The children are none the wiser, but it pulled on my heartstrings thinking of dear friends on the other side of the world.
Air Play uses other simplistic props – a feather, large pieces of fabric and umbrellas, to create a truly mesmerising show. The show is visually stunning and magical in its playful use of air through various fans. Balloons and fabric transcend the stage creating an immersive experience.
The show brings the audience in in other ways too, or more so, the performers come out and remove the fourth wall that normally exists between performers and their audience. The performers climbed over chairs and ran down aisles, engaging with audience members and even getting two on stage at one point to be a part of the action.
The show is also equal parts cheeky, like children often are, and full of jokes. Again they engaged the audience well with their comedic humour and there was lots of light-hearted fun dispersed within the captivating storytelling and the air play.
Music was another feature of the show, Seth and Christina moved to the beat, music went on and off with their touch of balloons and it was used effectively to aid in the creation of the overall yet varying moods of the show.
Air Play was a heart-warming and captivating journey of childhood. Seth and Christina  engaged audiences big and small with their lively circus-like theatre and the mesmerising air play. It is a not to be missed part of Adelaide Festival.
---
For tickets: 
adelaidefestival.com.au/events/air-play/