A ballerina and a juggler walked into a circus tent in Afghanistan… it almost sounds like the opening line of a joke, but rather, it's the beginning of a collaboration… and eventually a love story, that has made way for some of the most incredible circus artistry seen all over the world.
Yes, Seth Bloom and Christina Gelsone did indeed meet at a circus in Afghanistan, they became engaged while street performing in Scotland, married in China, and occasionally go home to New York City. Since 2005, they have also created seven shows together, competed in international circus festivals, performed in over 25 countries, headlined at the Big Apple Circus, and were even featured on a postage stamp.
We talk to them about working together, clowning around, and why you should never fart when you're in the audience of the magical spectacle that is 'Air Play'.
We just love the story of how you met, can you tell our audience about it?
We met in Afghanistan in 2003. Seth went to help set up a circus for Afghan kids and Christina was performing with in schools and refugee camps. Two clowns meet in Afghanistan and the the story begins….
You've created 7 shows together since 2005, what was the catalyst for deciding to work together originally and what advice would you give other couples who are considering doing so? 
We both wanted to perform outdoors, we loved silent comedy and commedia dell'arte, and we found out that when we worked together we were funnier than when we worked alone. We were clown partners before the romance. That might have been our secret of success as a working couple.
Advice? We do all our fighting as characters in the shows so we have peace offstage.
The best part is that as a touring performing couple we see the world together.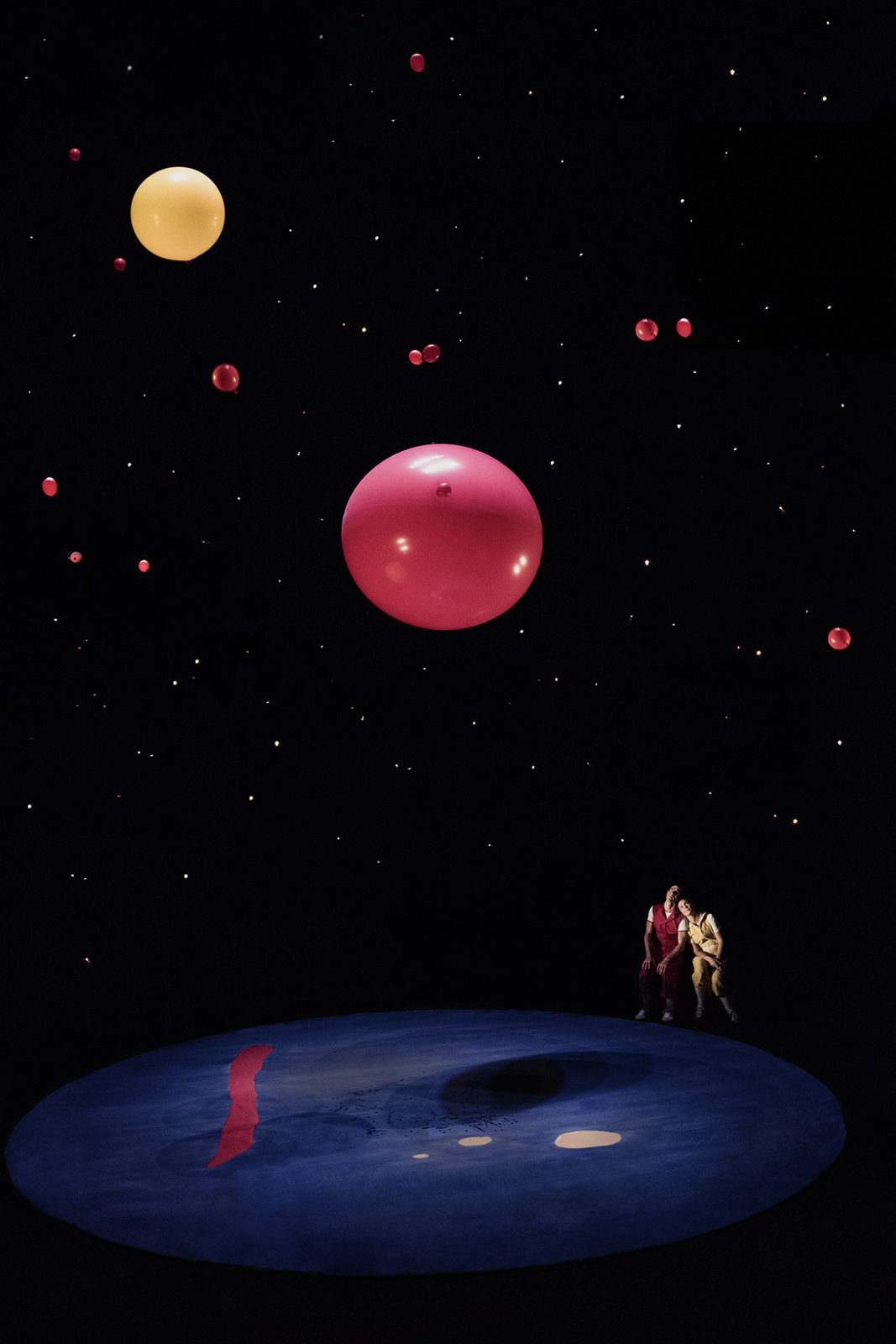 Acrobuffos is unique in that you fit across multiple categories – is there a delicate balance in creating the choreography around dance, music, physical theatre as well as the craft of clowning and how much of each element to focus on?  
There is a good balance of visual poetry and outrageous comedy in Air Play. It is a secret circus – our fabrics dance in the air like aerialists, we juggle balloons with our mouths, we do all the comedy. We collected music for the show from our travels all over the world – classical, Italian avant-garde, modern minimalist, k-pop, and more.
You've performed in some incredible outdoor venues, how different is that to creating a show for indoor theatres? 
Outdoors our lighting source is the sun, it can rain on us, birds fly overhead, and yes one targeted us…Indoors we can control almost everything. The air sculptures are very delicate and can only be done indoors.  One of the secrets of Air Play is our lighting and it helps us transform balloons and glitter into a galaxy, and lights up a giant white fabric that twists, turns, and dances 5 – 10 meters above the stage.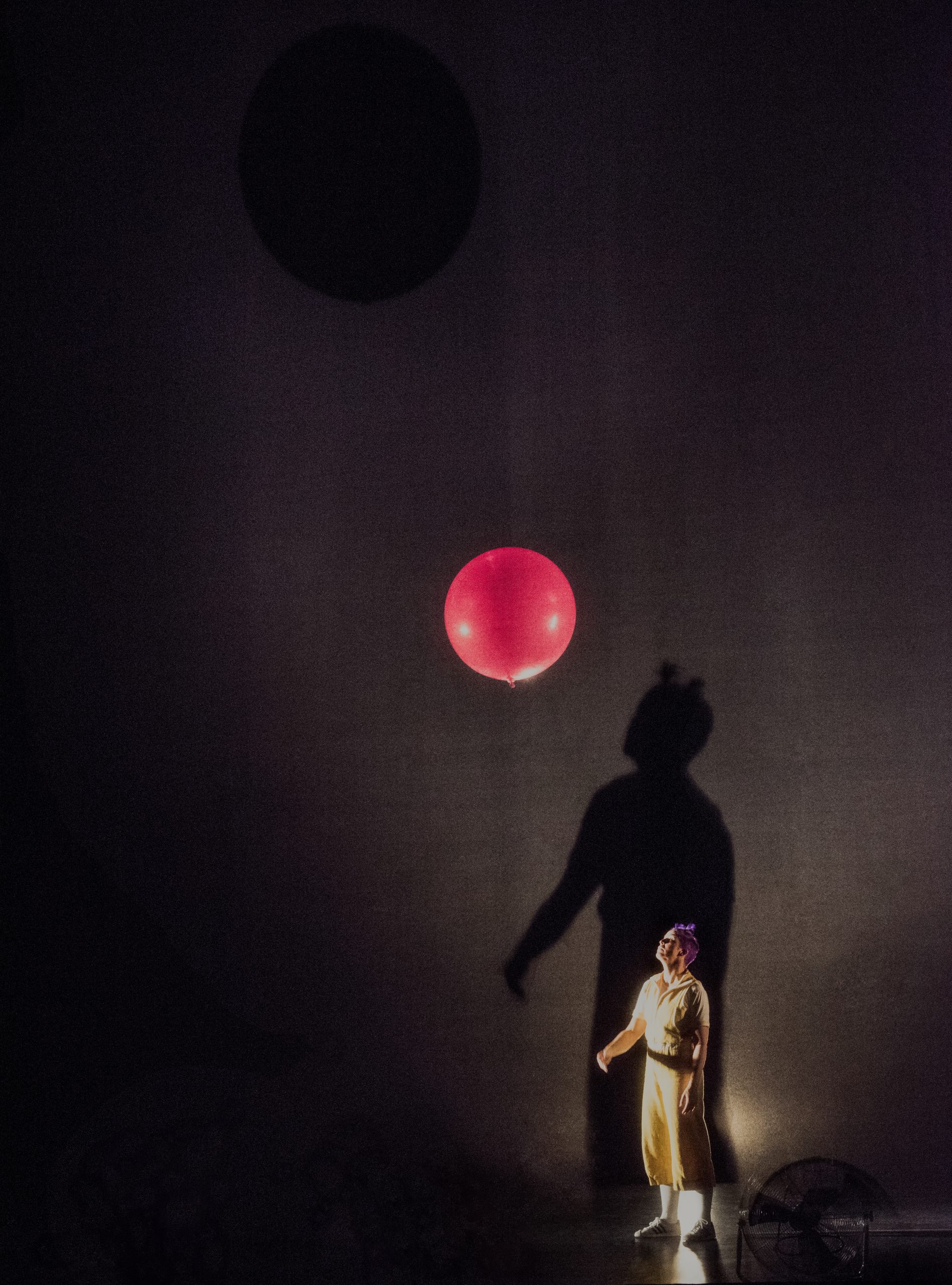 Do you find Air Play changes from venue to venue? You're working with air – which may respond different depending on external factors – how do you manage the unpredictability?
How did you know? Air moves differently in every theatre so we have to improvise with our props, even the weather changing affects how our props move.  Every audience member creates heat so if we have 400 people or 2000 people in the audience our props behave differently. No farting — this creates even more chaos.
There were two years where you couldn't perform Air Play due to COVID. How did the show change and evolve when coming back to the stage after this period? 
Audiences love it more than ever. We found that Air Play is a great post pandemic, or post trauma show.
Air Play lets you breathe, imagine, feel, laugh; it's light, hopefully, funny, touching.
Since we've been collectively holding our breath for the last 2 years Air Play breaks through that and lets the audience feel open and playful again.
What else has changed about the show (on stage or off) since its debut in 2015?
We've performed the show over 350 times on 5 continents. We are now masters of our props, and the longer we perform the show the more physical jokes we find —  it's much funnier now than 8 years ago.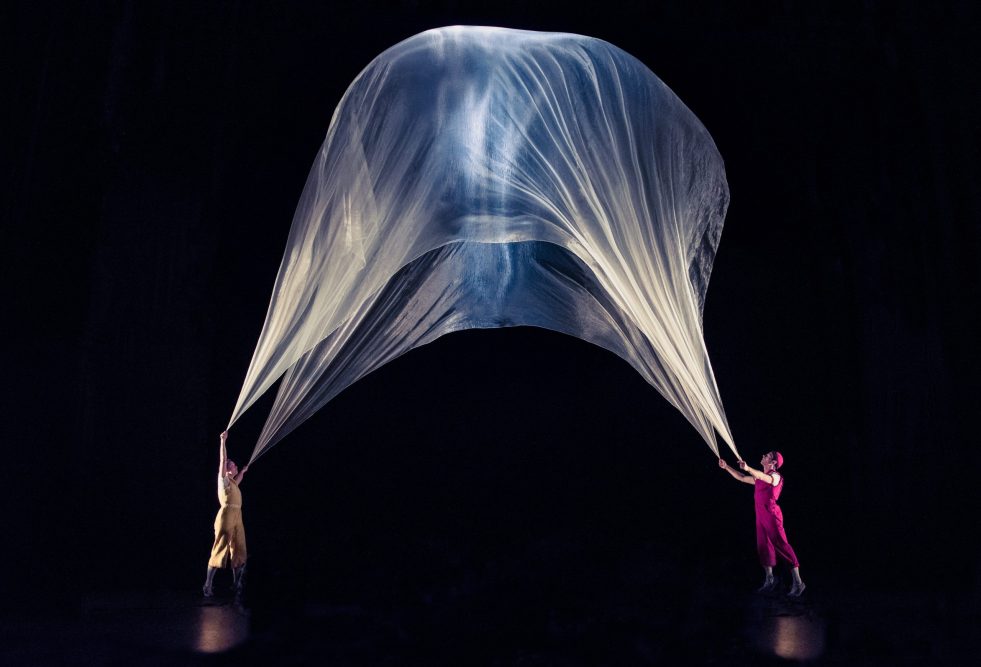 Was there an AHA moment you had when coming up with the idea for Air Play or was it an evolution of ideas over time?
Air Play was a collaboration between the kinetic sculptor Daniel Wurtzel (we like to call him the Air Sculptor) and both of us. We spent years creating the show and many of our ideas didn't work at first, but by taking time we could dive deep and invent new incredible things. We made 2.5 hours of material and cut most of it —keeping only the best acts.
What do you love most about Adelaide Fringe?
All the great artists and shows that we can see. Also the very cool tents.
What can families and kids expect when coming to see the show? 
Comedy. Visual poetry.  They'll see giant balloons swallowing people, long silk fabrics flying over their heads. We take ordinary objects and make then extraordinary.  All over the world we have 3 to 4 generations of families coming together and everyone finds something they love in Air Play.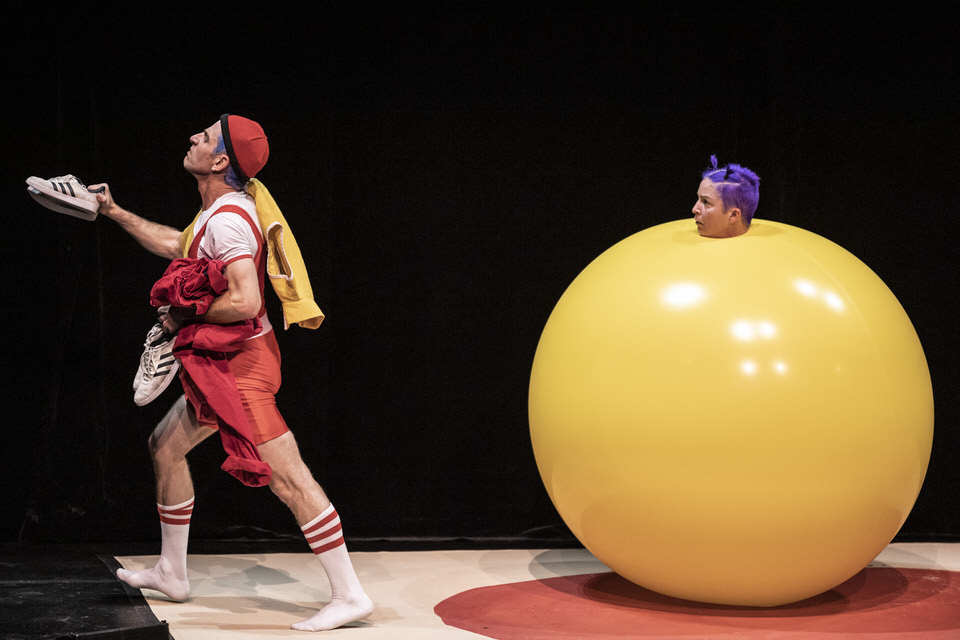 What do you find wows the children in the audience most, and what is your favourite part of the show?
Kids always want to know how we get into a 2 meter balloon. We love creating the entire galaxy out of simple materials – balloons and glitter. And near the end of the show we manipulate a giant 10 meter square fabric in the air vortex onstage – no one else in the world can do this. You have to see it to believe it.
The show has been performed all over the world. Do you have any particular places that hold a special place in your heart?
In South America, audiences love the poetry of the show.   In the Netherlands they say we bring their laughter out!  We love Australian audiences, they get both our cheeky humor and lean in close for the poetic visuals of the show.  China is one of our favorite countries. The red and yellow colors of Air Play match that of the Forbidden City and the audiences are incredible. Also we got married in China so it always has a special place in our hearts. (And our tummies cause the food is DELICIOUS)
Can you give us any clues about what you might creating next after Air Play? 
We've started on a new show, but Air Play is so popular we have no time to work on it. This year we are performing in the USA, Australia, South Korea, Taiwan, Sweden, and Saudi Arabia.
Any tips for frustrated uncoordinated jugglers?
Lol Practice, Practice, Practice.
Event details
TIME: 7:00pm
VENUE: Festival Theatre
---
For tickets:

adelaidefestivalcentre.com.au/whats-on/air-play