Christmas is just around the corner, and there is nothing better than getting out and about with the kids at family-friendly Christmas events in Adelaide.
In terms of family-friendly Christmas events and activities in Adelaide, there's a jolly good selection to choose from this year. From Christmas Markets to Christmas Pageants, and Christmas Lights to Christmas Concerts! Adelaide is just about bursting with Christmas cheer!!
We've rounded up the best of the best things to do in Adelaide at Christmas time and we HO HO HOpe you find something you like. Remember to check back later as we are constantly adding new Christmas events as they're announced.
The best Christmas events in Adelaide for kids
Christmas Pageants in Adelaide: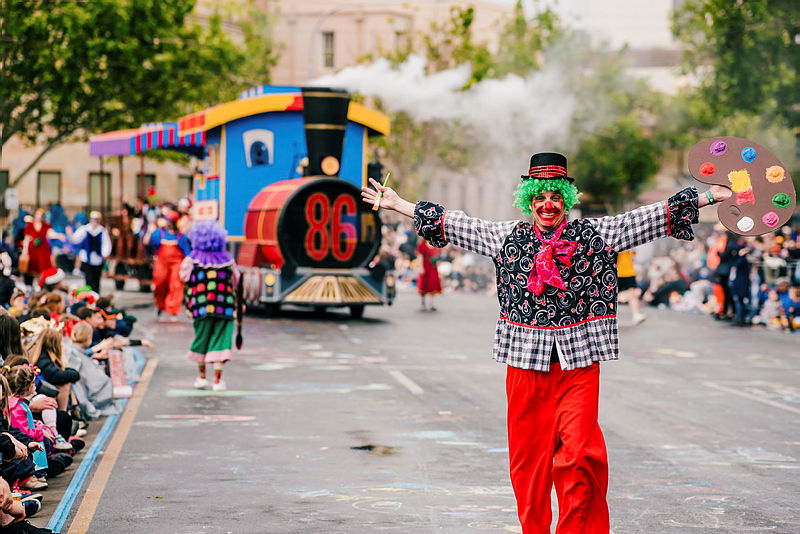 National Pharmacies Christmas Pageant
Since 1933, the National Pharmacies Christmas Pageant has become one of Australia's most cherished events, celebrated every November with the support of National Pharmacies and the South Australian Tourism Commission's events arm, Events South Australia.
As the Southern Hemisphere's largest public parade, it marks the official welcoming of Father Christmas to Australia, with the man in red greeted by well over 325,000 excited parade-goers in 2019 waving their favourite floats by from behind the 'Blue Honour Line'.
Saturday 4th of November, 9:30am
Adelaide CBD
---

Norwood Christmas Pageant
The Norwood Christmas Pageant is set to ignite the Christmas spirit on The Parade, Norwood with colourful floats, music and entertainment including live bands, clowns, dancers, fairies and more.
Crowds are expected to line the streets from first thing in the morning and kids are encouraged to bring their chalk and decorate the street with Christmas drawings.
Saturday 18th of November, 10am
The Parade, Norwood
---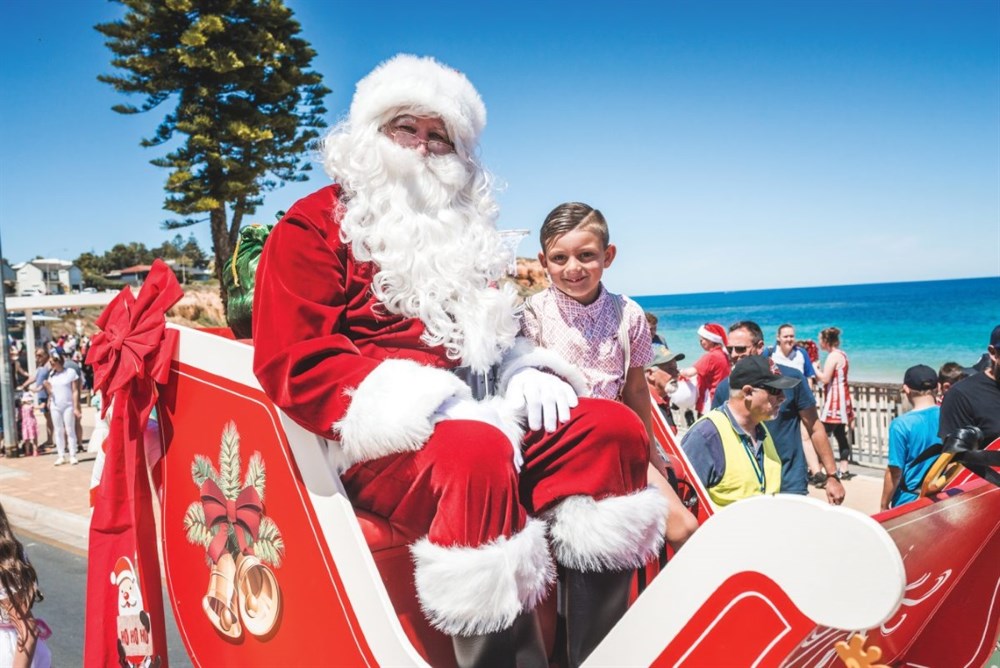 Onkaparinga Christmas Pageant
Experience the magic of Christmas at Christies Beach as the 2023 Onkaparinga Christmas Pageant ascends upon Beach Road and Christmas in the Park returns to Rotary Park.
The pageant will start on the corner of Hunt Crescent and Beach Road, Christies Beach.
Set yourself up along Beach Road, to watch the procession of marching bands, dance groups, sporting clubs, community groups and businesses before Santa makes his appearance. Santa will be waving to the crowd as he travels towards Rotary Park where the excitement continues with Christmas in the Park.
Sunday 18th of November, 10am
Beach Road, Christies Beach
---

Glenelg Christmas Pageant
The Glenelg Christmas Pageant is a much-loved tradition, not only enjoyed by Holdfast Bay residents but visitors to the city as well.
Children and adults alike will once again line Jetty Road on Sunday 26 November to cheer and wave along our fantastic floats, dancers and of course the man in red. There will be an opportunity to meet Santa afterwards and participate in kids' activities and more.
Sunday 26th of November, 10:30am
Jetty Road, Glenelg
---

Stirling Community Christmas Pageant
The Stirling Community Christmas Pageant will bring delight to the Hills Community. The parade commences on Druid Ave Stirling and makes its way to the Stirling Oval.
This year is the pageants 30th birthday! Community organisations, schools, pre-schools and businesses are invited to take part in the biggest and best pageant yet!
Sunday 3rd of December, 11am
Stirling
---

Lobethal Christmas Pageant
Mark your calendars for this enchanting event that promises to delight all ages with its magical procession of floats, vibrant displays, and festive spirit.
Saturday 9th of December, 7:30pm
Main Street, Lobethal
---
Christmas Lights in Adelaide: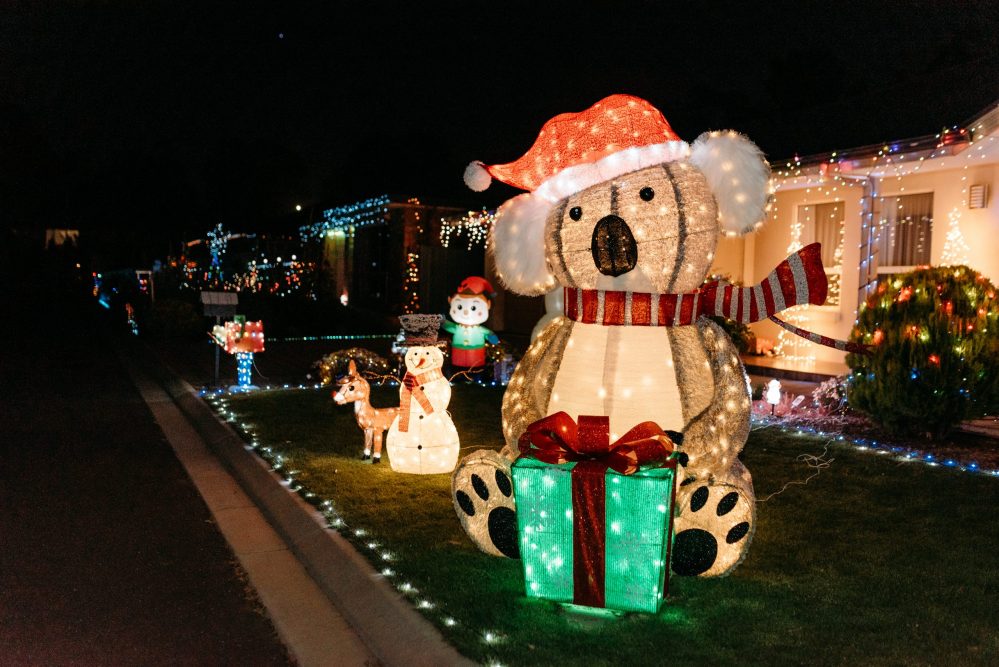 Lights of Lobethal Festival
A beacon of light to the local community and South Australian's of all ages, The Lights of Lobethal is community-driven and volunteer-run and, throughout its 60-year history, no other calendar event has built more morale, created more happy memories and spread more joy, hope and resilience like it.
Experience the magic of Christmas and ignite your sense of nostalgia by immersing yourself in impressive experiences, fantastical light installations as well as traditional and reimagined Christmas events.
9th – 23rd of December
Lobethal, Adelaide Hills
---

Christmas Lights in the City
Each night as the sun goes down the lights turn on in the city. Perhaps the most well-known of all the lights is the magical lighting display on the Giant Christmas Tree in Victoria Square / Tarntanyangga. Under the tree the Victoria Square fountains illuminate different colours.
Last year's crowd favourite installation, Bauble Canopy, is back on Vaughan Place and a new lighting installation called Christmas Splendour has popped up on Peel Street. During the day, the installations change colour with the sun and at night they come to life in a dazzling light display.
You'll find other illuminated Christmas decorations throughout the city, including:
Illuminated reindeer in Brougham Gardens
Illuminated decorations in Wellington Square
Illuminated Christmas tree in Hurtle Square
Illuminated Christmas motifs in Victoria Square
Adelaide CBD
---

Riverbank Christmas Display
Experience the timeless magic of the Riverbank Christmas Display in Thebarton, a cherished tradition since 1959.
From Friday 24 November the Riverbank will illuminate the night with joy and wonder. Witness the series of enchanting displays including Santa and his Reindeers, Jack in the Box, Vulcan's Volcano, the Ferris Wheel, the 'Cow Jumped Over the Moon', Wizard of Oz, and the Nativity Inn.
This iconic event is a festive feast for the senses, uniting generations in the spirit of Christmas. Don't miss this cherished holiday celebration with your loved ones this season.
Friday 24th of November – 1st of January, 6:30pm until late
Adam Street Reserve, Hindmarsh
---
Christmas Markets in Adelaide: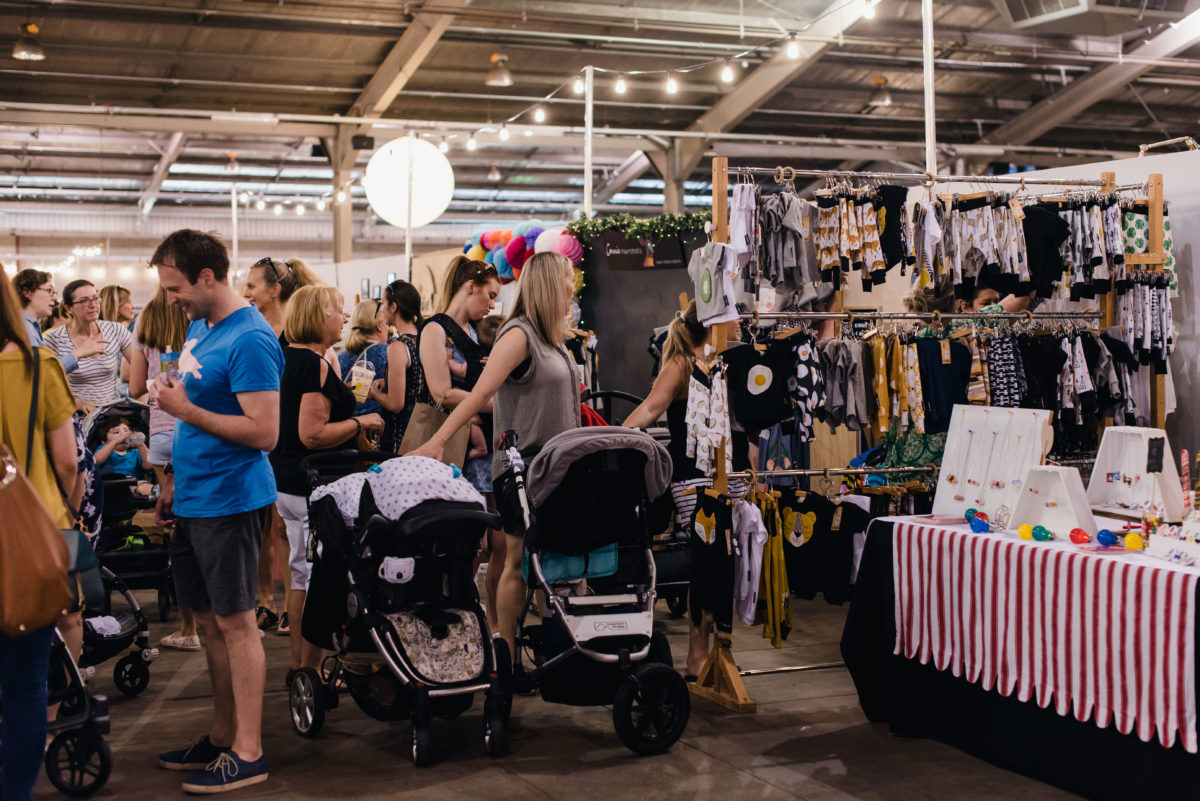 Bowerbird
Bowerbird isn't technically a Christmas Market but it's so close to Christmas we just had to include it. We think it's the PERFECT opportunity to get gifts for the kiddos and for friends and families sorted early.
Bowerbird is a great place to meet friends, discover new and innovative creations, learn new skills and most importantly, build strong relationships with brands and designers.
Soak up the atmosphere on Friday night with friends, enjoy the music, try tasty treats from your favourite food vendors and of course get the first look at what's on offer from our designers and makers. Then on Saturday and Sunday go for a leisurely shop, workshop, catch up with friends or enjoy time with your family, there's plenty to discover over the weekend for both adults and kids.
17th – 19th of November
Adelaide Showground, Wayville
---

Gilles Presents The GIFT BAZAAR
Gilles at The Grounds presents THE GIFT BAZAAR! Two whole days of Christmas gift ideas at the peoples marketplace!
Located at the authentic Brick Dairy Pavilion at the Adelaide Showground, Gilles at the Grounds plays host to many local sellers in fashion, vintage, art and craft. With a delicious range of local food vendors and live music, plus indoor and outdoor spaces.
2nd & 3rd of December, 9.30am – 3.30pm
Adelaide Showground, Wayville
---

Gathered Christmas Market
This December, the Gathered Design Market heads up the hill to the German Village of Hahndorf for a special Christmas Edition, inviting people from near and far to gather together and support local South Australian designers, artisans and small businesses.
This is a great opportunity to revel in the excitement and spirit of Christmas and get ahead on Christmas shopping, with over 60 stalls to browse featuring homewares, candles, floristry, jewellery, art, clothing, kids' goodies, garden supplies, skincare and more.
Also grab a bite to eat while you're shopping as there will be a wide range of food stalls for you to choose from. (GF, DF & V options available).
8th – 10th of December, 4pm – 10pm
Hahndorf, Adelaide Hills
---

Plant 3 & Plant 4 Christmas Gift Market
Plant 4 and Bowden Park will be filled to the brim this December with local Adelaide makers who spin, weave, grow, create and construct excellent handmade gifts, perfect for all ages.
In Plant 3 there will be a large plant sale by Potted Thoughts. This Christmas Market is a fantastic way to bring some greenery into your home for the festive season as well as good time to purchase gifts for the holiday season. Potted Thoughts will be having specials across their full range during this market only, you will also find tables full of pre potted plant gifts.
As well as supporting SA artisans this Christmas, we welcome you to feast with our wonderful and delicious multicultural eateries across Plant 3 and Plant 4, sit back with a Christmas cocktail and enjoy live music from local artists. We will have plenty of indoor and outdoor seating spilling out onto the gorgeous Bowden Park.
The Plant 3 and Plant 4 Bars will be open serving SA wine, local craft beer and spirits/cocktails featuring Adelaide's finest distilleries.
9th & 10th of December
Plant 3 & Plant 4, Bowden
---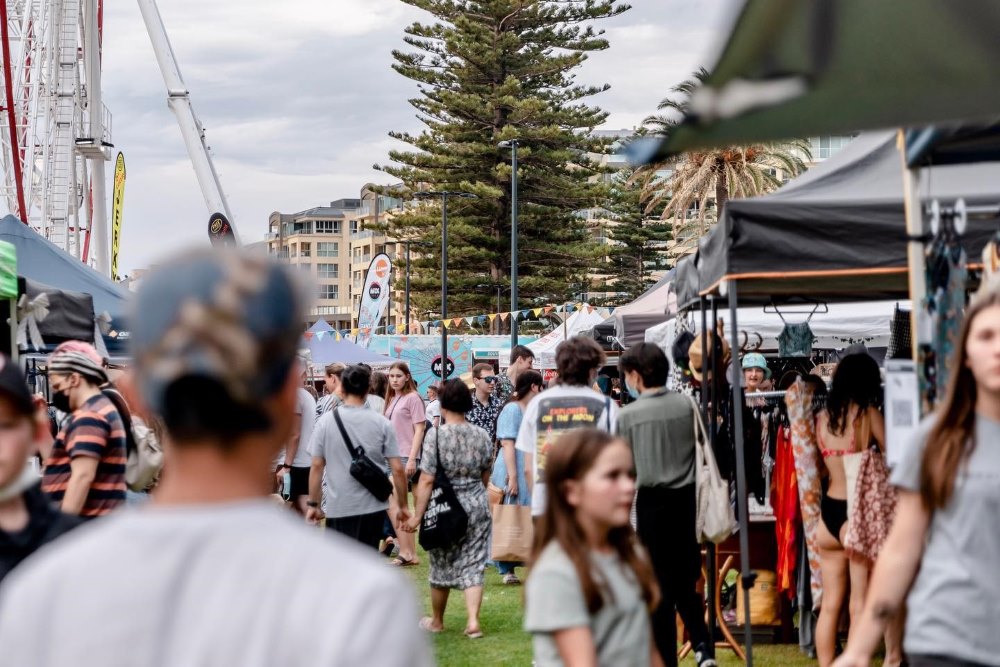 Glenelg Sunset Markets
Indulge yourself in summer vibes, live music, and local artisans market holders bringing their special handmade products. Located at the iconic Moseley Square, the Glenelg Sunset Markets are an essential summer destination.
The perfect opportunity to wander around approximately 100+ market stalls, whilst enjoying live music and getting a glimpse of Glenelg's famous sunset in the open summer air.
10th of December, 2pm – 8pm
Moseley Square, Glenelg
---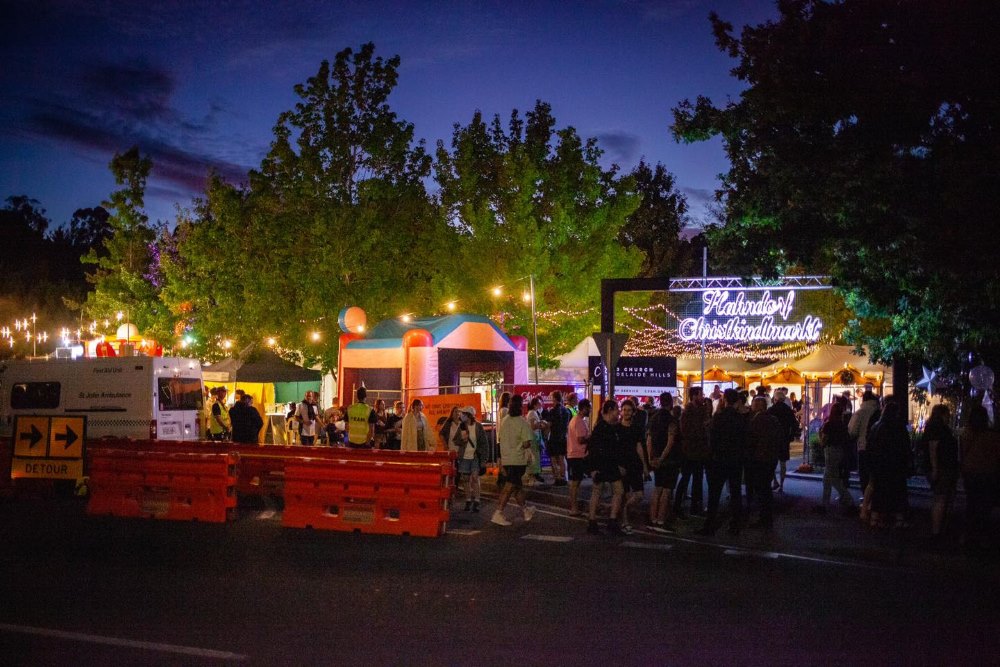 Christkindlmarkt
The Hahndorf Christkindlmarkt is an annual European-style Christmas market based in the German town of Hahndorf, that captures the essence of community, celebration, fun, laughter & family enjoying time together, such as is found in many cities in Europe over the Christmas period, but in a warm Aussie setting.
The market is organised and run by C3 Church Adelaide Hills, on their property, for the benefit of the Adelaide Hills Community and beyond.
15th – 17th of December, 3pm – 10pm
Hahndorf, Adelaide Hills
---

The Market before Christmas
Gilles at The Grounds presents The Market before Christmas for all your last minute Christmas gifts and treat shopping needs.
Located at the authentic Brick Dairy Pavilion at the Adelaide Showground, Gilles at the Grounds plays host to many local sellers in fashion, vintage, art and craft. With a delicious range of local food vendors and live music, plus indoor and outdoor spaces.
17th of December, 9.30am – 3.30pm
Adelaide Showground, Wayville
---
Christmas Carols in Adelaide: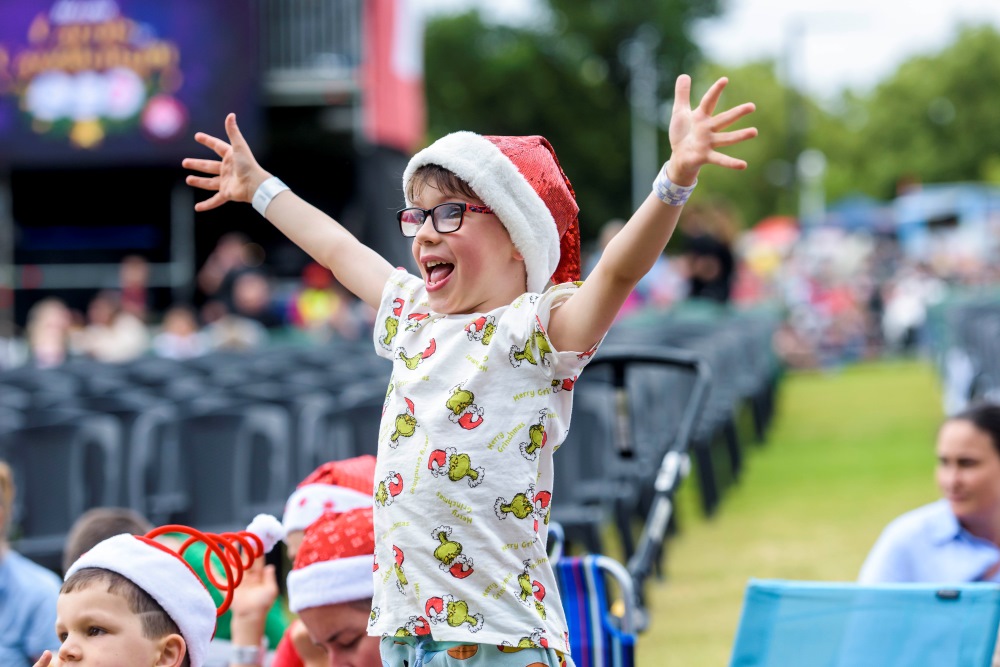 SeaLink Carols by Candlelight
Grab your festive picnic rug, family and friends, and head down to beautiful Elder Park to rekindle the magic of Christmas during a day packed full of singing, giveaways, music and delicious food and drinks.
Then, sing your heart out to your favourite Christmas carols and songs. Read about the 2024 hosts and artists here.
9th of December, Pre-show 5pm
Elder Park, Adelaide
---

Civic Park Carols
Get ready to embrace the magic of the season at Civic Park Carols 2023, where they'll be lighting up the night with joy, music, and holiday spirit!
Civic Park Carols is more than just an event – it's a tradition that brings our community together in the spirit of love, unity, and joy. The Carols event will include Pre-Show Extravaganza, Main Show Spectacular and a  Christmas Village.
17th of December, Pre-show 5pm
Civic Park, Modbury
---

Community Christmas Carols
After three long years, our annual Community Christmas Carols and Markets event is back on the Minda calendar bigger and better than ever. Join us at the Minda Brighton site for a Christmas celebration like no other featuring live music and entertainment, Christmas carols, market stalls, food trucks, rides and amusements, face painting, a petting zoo and a visit from the big man himself – Santa!
2nd of December, 2pm – 7pm
Minda, North Brighton
---

Twilight Christmas Carols
This free family friendly open-air concert under the stars invites you to come and share in the spirit of Christmas and the excitement this season has to offer.
Join us as the sun sets for a night of performances together with a hopeful visit from Santa!
Delight your little ones with games, face painting, and more, ensuring a fun-filled family evening.
There will be all types of cuisine on offer, with food trucks proving big meals or a snack, and not forgetting dessert and coffee! You can bring your own picnic and drinks (BYO allowed).
2nd of December, Pre-show 4pm
Linde Reserve, Stepney
---

Carols on the Oval
Bring your family and friends and join Glen Osmond Baptist Church for a fun-filled evening of Christmas cheer this Christmas Eve!
It's a guaranteed favourite for the whole family, with a petting zoo, bouncy castle, face painting, bubbles, and lawn games for the kids, plus a free sausage sizzle for dinner and an ice-cream van for dessert. Afterwards, get in the festive spirit with Christmas carols performed by Glen Osmond Baptist Church.
Make this Christmas special and enjoy an evening of Carols on the Oval!
24th of December, 5pm
Glen Osmond Primary School, Myrtle Bank
---
Other Christmas Events in Adelaide: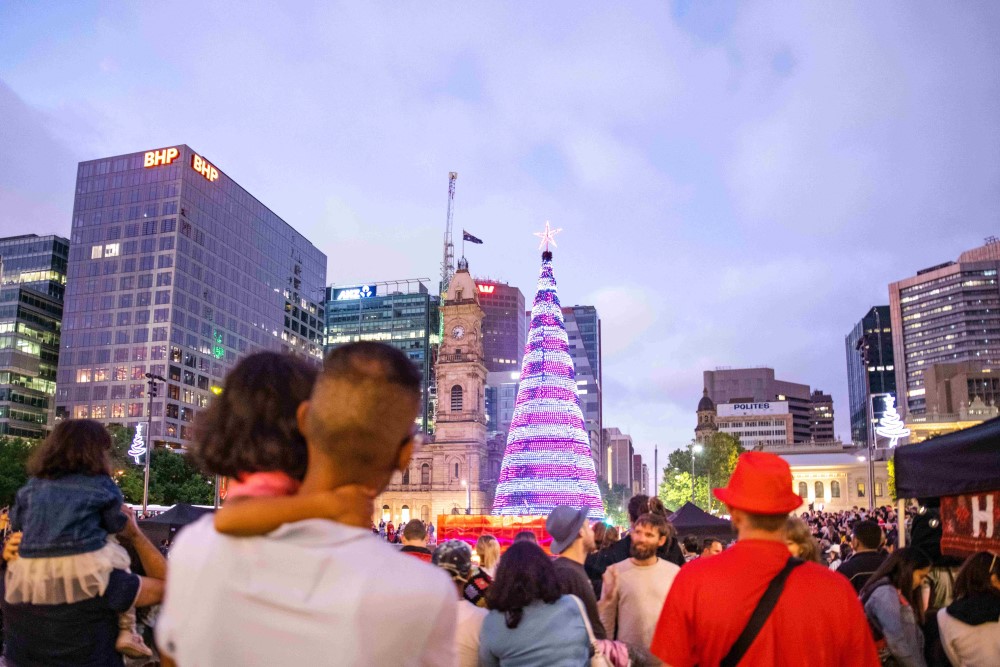 Christmas Tree Lighting event
Be part of the festive magic at Adelaide's Christmas Tree Lighting event! A free community celebration that will feature lively performers and culminate in the illumination of the giant Christmas Tree at approximately 8:45pm by the Lord Mayor and special guest!
Indulge in delectable treats from food trucks while basking in the live entertainment. Attendees are encouraged to bring their own picnic blankets to sit on and enjoy the festivities from.
Saturday 18th of November, 6pm – 9pm
Victoria Square / Tarntanyangga, Adelaide
---
Adelaide's Christmas Tree Lighting event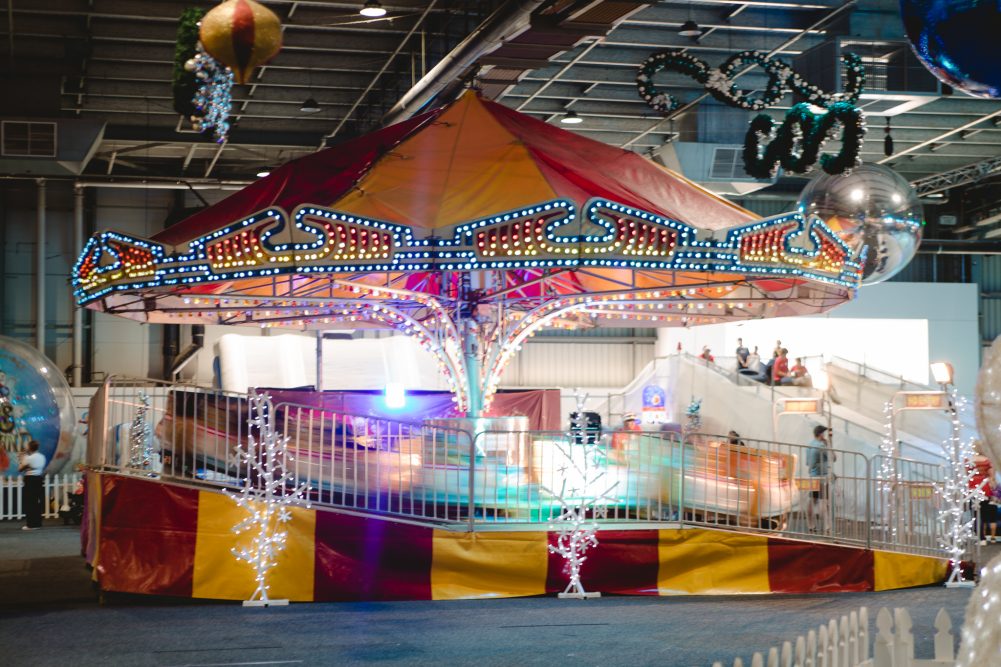 Santa's Wonderland
Santa's Wonderland has been capturing the imagination and delighting Adelaide families since 2015. Returning again this December, Santa's Wonderland will bring the magic of Christmas to life!
Spanning across 8,000 metres of space in the Jubilee Pavilion of the Adelaide Showground, explore the magic with your family, featuring unlimited rides, ice skating, tobogganing, Christmas activities and all of your favourite Christmas characters!
1st – 24th of December, 10am – 5pm
Adelaide Showground, Wayville
---

Magic Cave
Father Christmas will take up residence in the Magic Cave, which is on level two of David Jones Adelaide Central Plaza, every day from Saturday, 4th November until Christmas Eve, with bookings encouraged.
The Magic Cave has been part of Adelaide's Christmas celebrations since 1896, when it was established in popular local department store John Martin's. Today, the traditions of the Magic Cave still stand, supporting cultural heritage and providing a community experience full of joy for families.
David Jones, Adelaide Central Plaza
4th of November – 24th of December
---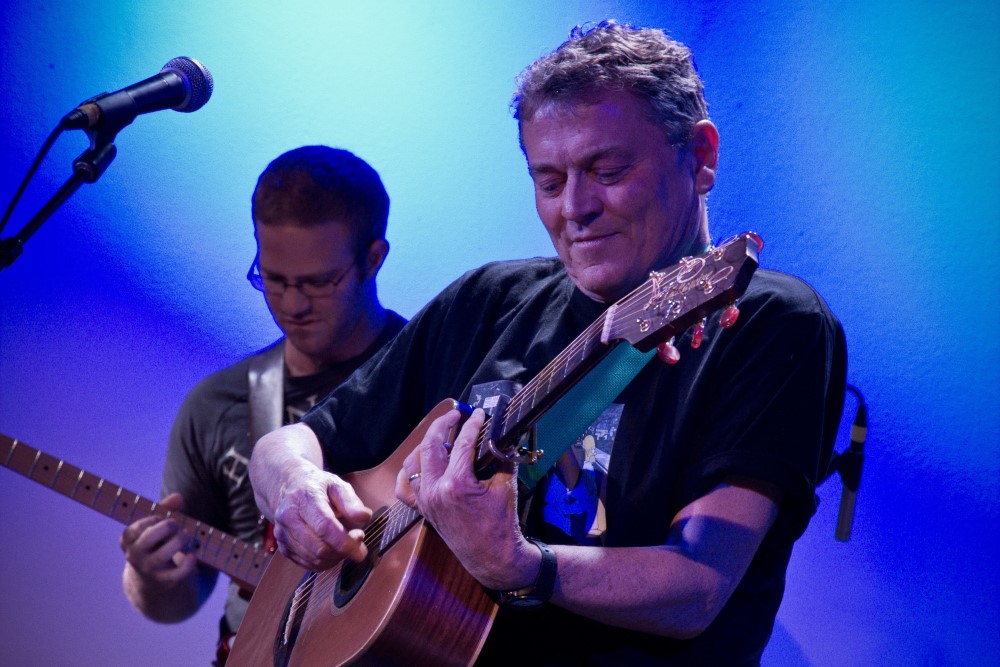 Peter Combe's Christmas with Adelaide Youth Orchestras
Get in the Christmas cheer with Peter Combe and the Adelaide Youth Orchestras as we give a tree-mendous farewell to Adelaide Festival Centre's 50th celebrations with a BANG.
Share the fun and laughter with your children and grandchildren as you wrap yourself in nostalgia with a suite of Peter's Christmas classics from his much-loved Christmas album and a medley of his favourite hits such as Wash Your Face in Orange Juice, Newspaper Mama and Spaghetti Bolognaise.
Yule love this family special where you can sing like nobody's watching and unlock that Christmas magic.
2nd of December, 1pm & 3pm
Dunstan Playhouse, Adelaide
---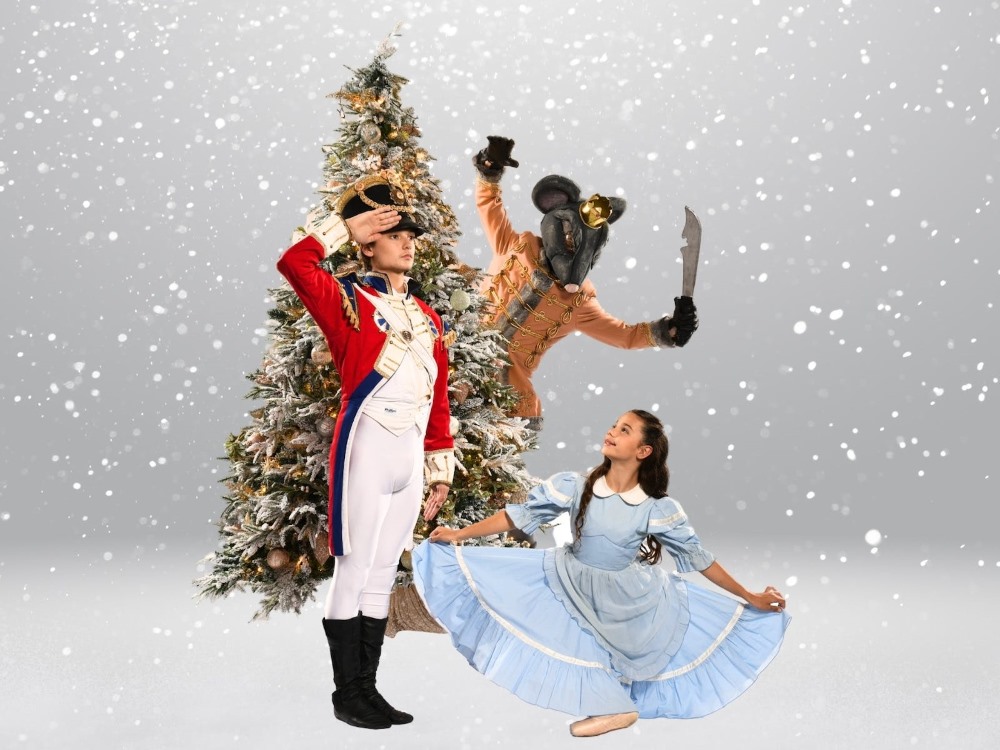 The Nutcracker
Be enchanted by the incredible talent of international ballet stars as they take you on a journey through a winter wonderland.
Feel the crisp air and hear the sleigh bells chime as the world's best ballet dancers bring this timeless tale to life. From the breath-taking snowflakes to the iconic Sugar Plum Fairy, every moment will captivate your imagination and fill your heart with holiday cheer.
A performance that will transport you to a realm of enchantment and leave you with memories to treasure for a lifetime. Experience the beauty, grace, and joy of The Nutcracker, presented by BIG, and make this Christmas truly magical.
17th of December, 11:30am & 4:30pm
Her Majesty's Theatre, Adelaide