Well, we've created one of our famous KIDDO guides to help you find the best skateparks in Adelaide.
That's right, we've scoured Adelaide and found the top 10 skateparks complete with half pipes, grind rails and plenty of transitions and street obstacles. Please feel free to tell us how impressed you are with our skate lingo.
We've included skateparks for skaters, scooters and BMX riders of all skill levels and abilities, some for more experienced skaters and some for those just getting used to life on wheels!
Adelaide's best skateparks

St Clair Skatepark
The St Clair skatepark is located in the St Clair Playspace Precinct, next door to St Clair Recreation Centre and The Brocas. The skate park features a mini Bondi bowl, flat bars, hips and ledges and fly out rails amongst other exciting additions for skateboards, bikes and scooters. The all ages area also features a basketball half court, a table tennis table, shelter and automated lighting and an all-accessible viewing area. There's plenty of greenery too, with new plants, shade trees and irrigation. The Brocas, our youth community centre, host skating workshops on weekends and during the school holidays.
Woodville Rd, St Clair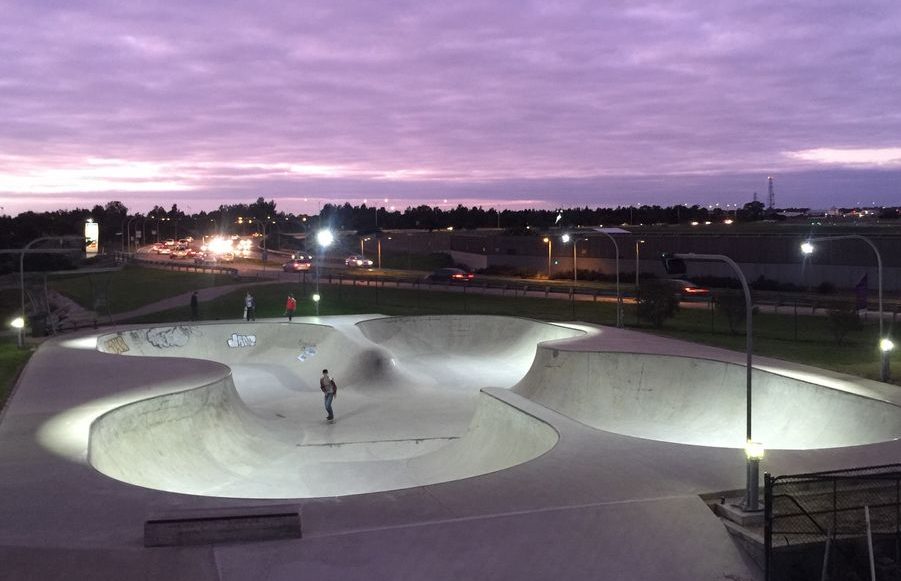 West Beach Skatepark
Warm-up your wheels and get your helmet hair ready, the West Beach Parks Skate and BMX is open and free all day and night. Get out the skateboard, skates and BMX bikes and roll down to Africaine Road while staying at the Parks, or head down for a day on wheels. West Beach Parks Skate and BMX is very popular for skateboarding, in-line skating and BMX riding. At the park, you will find a beginners bowl, street circuit, a dirt BMX track, large vertical ramp and plenty of sheltered BBQ space.
Africaine Rd, West Beach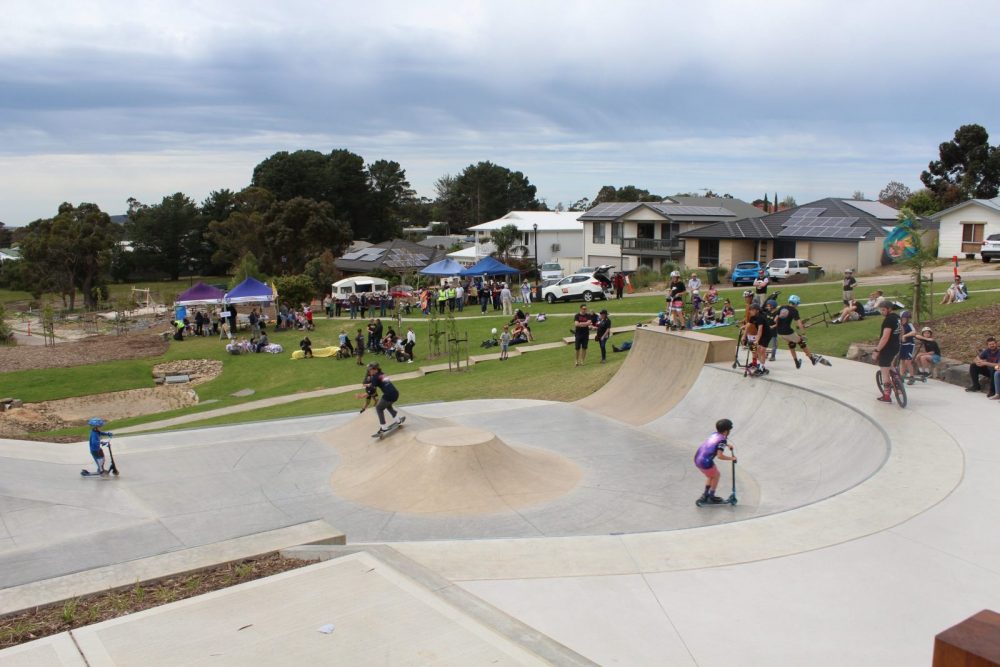 Mt Compass Skatepark
This awesome state of the art skatepark can be found within Mt Compass recreation park and has recently opened! The facility includes a skatepark and BMX track, a creek bed and nature play area, as well as playground equipment and a sandpit for the littles who prefer time on two feet instead of four wheels! As you can see lots of grass as well as a sheltered spectator viewing area and even a handy bike repair station.
Haywood Ct, Mount Compass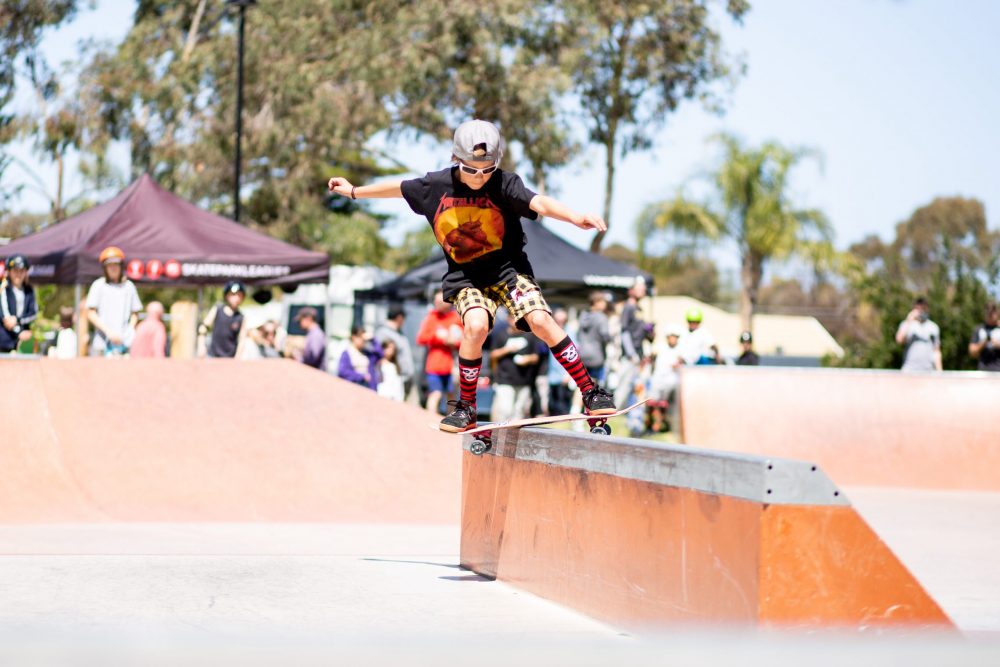 Prospect Skatepark in George Whittle Reserve
This skatepark in Adelaide's inner Northern suburbs has a little something for everyone, from very inexperienced skaters to those who can kickflip and ollie with the best of them. There's also plenty of shade and play equipment in the adjacent park so a great one for families in the school holidays.
54-56 Churchill Road, Prospect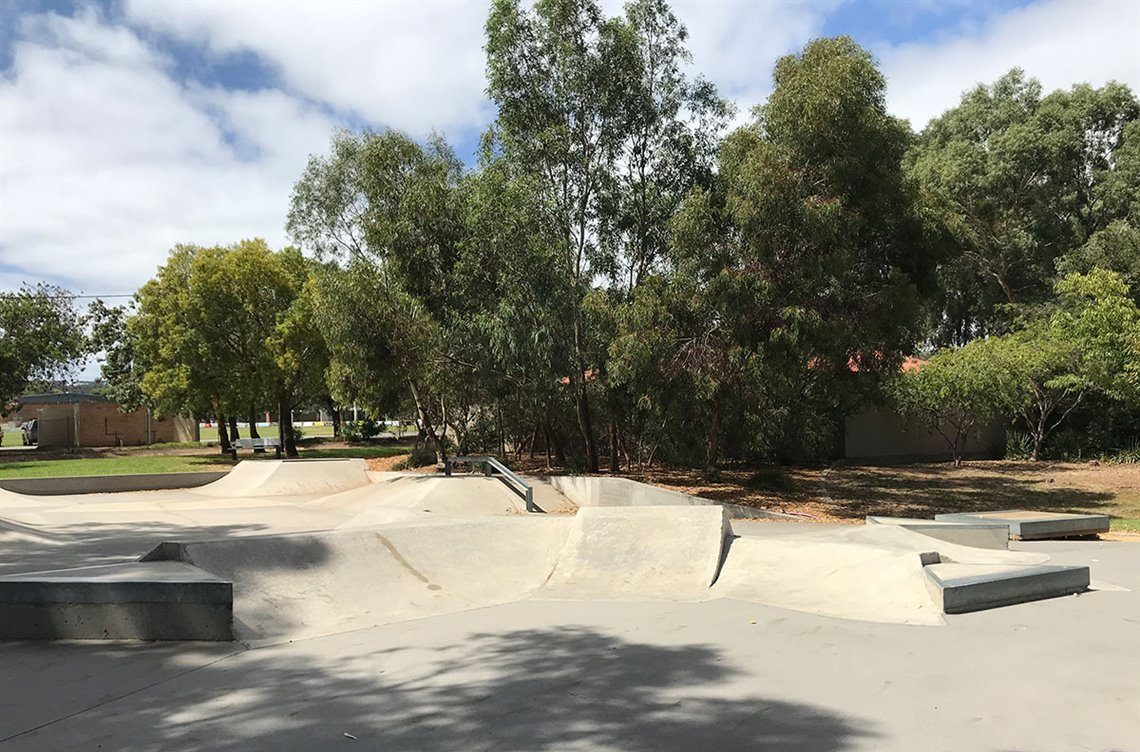 Willunga Skatepark
Willunga skatepark is a beginner to intermediate level street style skate park. The park includes a half pipe, pyramids, ledges and hips, mini ramp and several street style transition obstacles. This is a quieter and smaller skatepark than some of the others we've come across, and a great spot for littles on scooters or skateparks to start honing their craft.
Railway Terrace, Willunga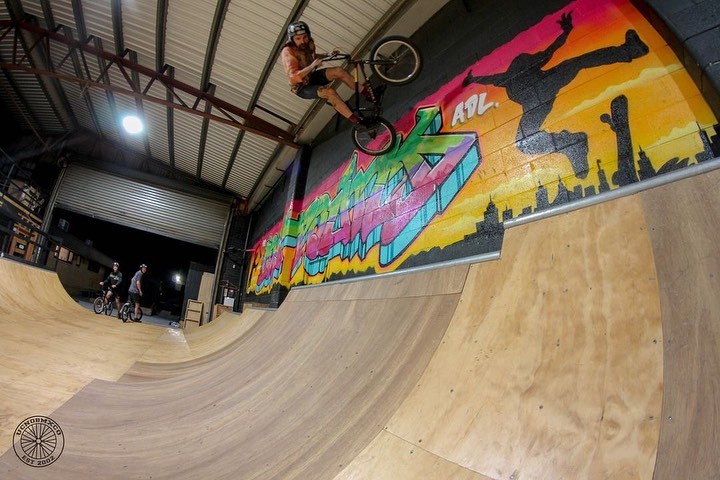 The Compound Indoor Skatepark
You're looking at Adelaide's only indoor skatepark! Great for those rainy days if you can drag them away from the video games, and the wooden ramps mean it's just that little bit softer and safer. This isn't the place for very young children however, this is for kids who can already skate or BMX, and you do have to pay $25 for a 2 hour session. Plenty of skate gear to buy on site too if you're looking for some new wheels.
3 Thompson Street, Dry Creek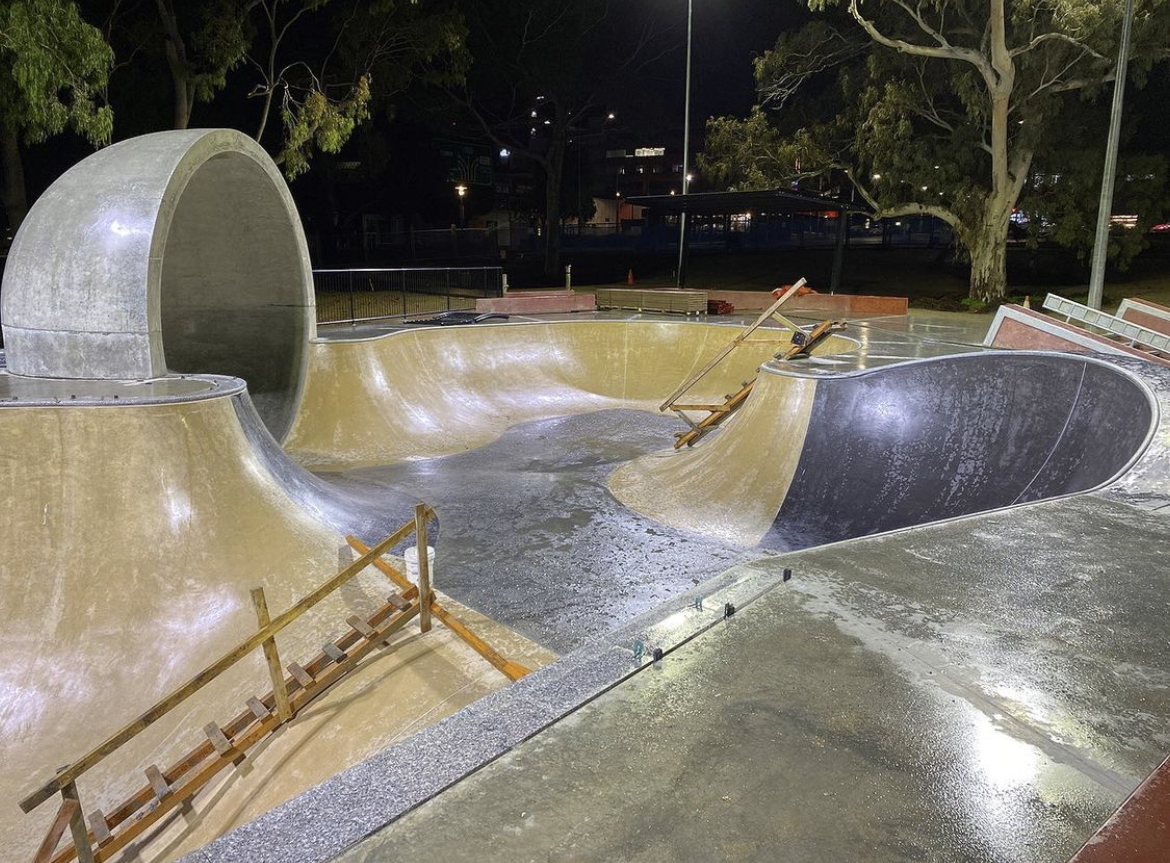 Adelaide City Skatepark
The new Adelaide City Skatepark is nearing completion with an official opening on September 3, 2022! It's about time! The new City Skate Park will create an inviting, family-friendly community hub, offering a broad range of recreational and social experiences for skaters of all skill levels as well as BMX and scooter riders. WATCH THIS SPACE!
Corner of West Terrace and Glover Avenue, Adelaide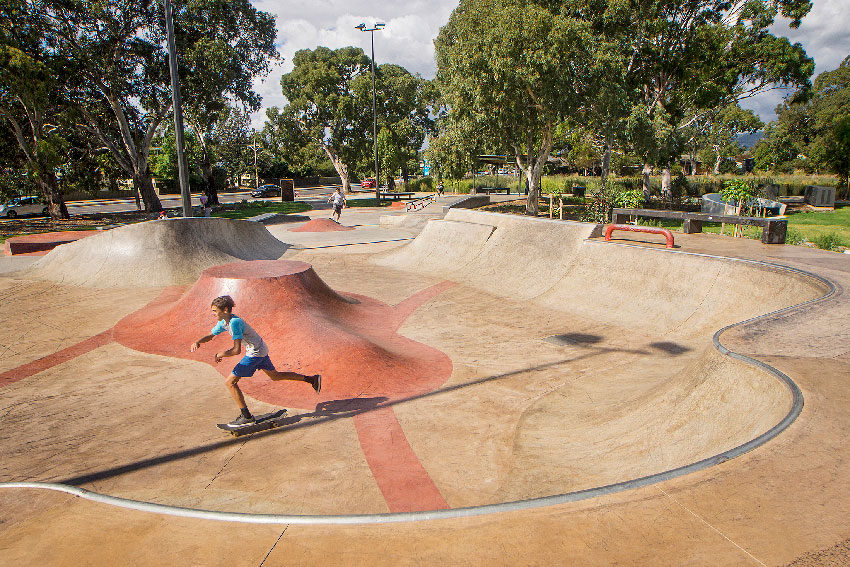 Oaklands Skatepark
The skate park at Oaklands Recreation Plaza is popular with people of all age groups. This design offers many different challenges and spaces and means that, even when busy. you can enjoy some time on your choice of wheels.There's a number of skate challenges incorporated into the design including quarter pipes, flat banks, rollover hip, volcano, rail beams, grind rails and straight/curved ledges. The surrounded park also has a purpose-built roadway for bikes and scooters!
237-265 Oaklands Rd, Oaklands Park

Morton Road Skatepark
There are features at Morton Road Skatepark suitable for all skill levels and riders, including skateboarders, BMXing, scooter, roller skating and all other active wheeled sport disciplines. The park is also a great tree-lined spot for families who'd simply like to head down and enjoy the action.
Morton Road, Christie Downs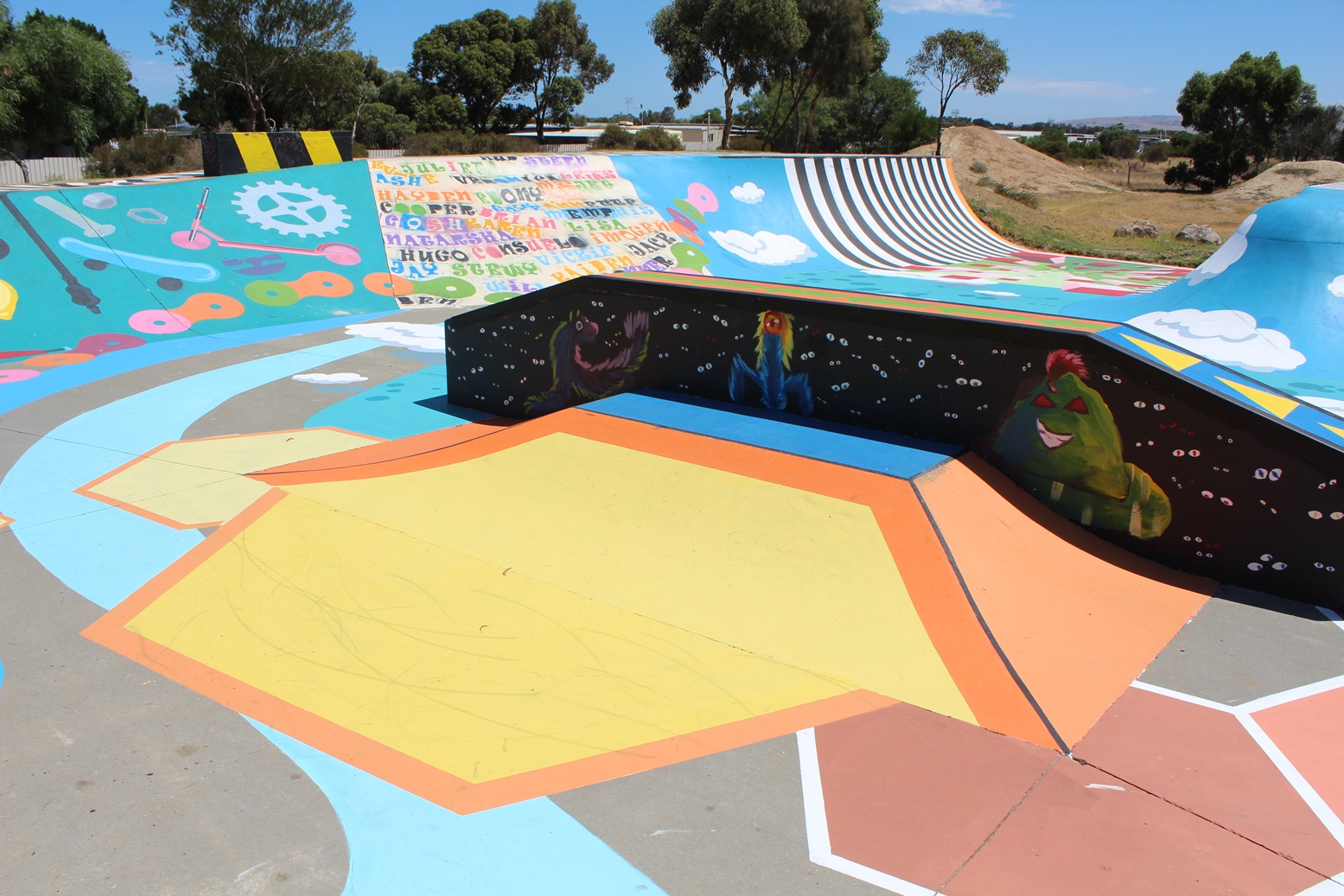 Goolwa Skatepark
We just had to round out the list best skateparks in Adelaide with the Goolwa Skatepark! We reckon this skatepark should absolutely win the prize for the most colourful skatepark in Adelaide. In fact, the brilliant murals adorning the skate bowl were created by three street artists commissioned by the local council in a bid to deter unsightly graffiti tagging, and generally make it the bright and welcoming spot for all. We'd say they did pretty well! The skatepark area has an asphalt pump track, a dirt BMX track, and bench seats. There's also a smart solar bench with a solar powered charging station and free Wi-Fi, meaning devices and phones can be used and charged while your kids are entertaining themselves. Hoorah!
8 Glendale Grove, Goolwa