Ian Steel is showing how a little goes a long way in helping change the life of a child in need.
A little boy, aged just six years old, walks to school each day. His parents aren't there to guide him across the road or carry his heavy bag. Instead, this child is holding the hands of his siblings, age three and four, all the way to school to have the breakfast they were never given at home. It's only after he walks them back home again that he can return and start the day with his schoolmates.
This heart-wrenching story is but one of many Ian Steel recounts with sadness in his eyes. It is all the more important he shares it because the children in them are not in another country, but on our very doorstep.
"There are countless children living in third world conditions just five kilometres from the Adelaide CBD," says Ian.
"Some are living in cars, going through bins and eating dog food. It breaks my heart."
Ian, a builder by trade and father of three, first witnessed the innocent suffering of South Australia's underprivileged children while mentoring in a northern suburbs school.
"I was shocked at what I saw," recalls Ian. "Kids came to school without clothes or shoes and 11 year olds were stealing cars on the weekend just to eat. I had just become a parent too and had such unconditional love for my son that I couldn't understand how kids could be treated like that. I couldn't turn my back on them."
Seeing for himself how hunger severely affected the children he visited, Ian took matters into his own hands.
"I realised I couldn't take them all in so I started a breakfast program at that school with just me and my ute going to the local shopping centre telling shopkeepers the stories of these kids before I went off to work," he recalls.
"I was able to take the donations to a school the next day and the difference in the kids was instant. They had more energy and concentration to learn and their self esteem went up."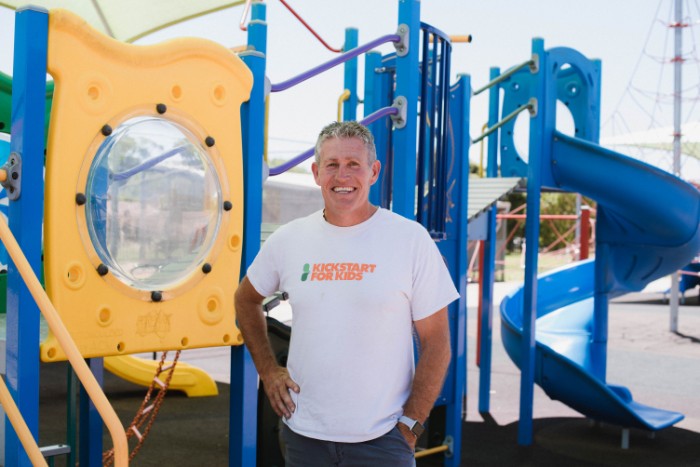 It was then that KickStart for Kids was born. Today, Ian's charity has grown to support more than 350 schools from Gawler to Victor Harbour and a far as Kangaroo Island. With the help of family members and 800 volunteers, Ian serves up 50,000 breakfasts and 10,000 lunches each week. Just $1200 feeds an entire school for a year.
"If a school calls in to say they need help, Kickstart for Kids will be there the next day, whether it's to feed two or 200 children," Ian says.
"Many of these kids have only been fed junk food. They have never tasted fruit or yoghurt and they love it."
Recognising the vulnerability of impoverished children in its food programs, KickStart for Kids extends a helping hand far beyond meals.
"We run a pop-up shop with all new donated items where the kids can choose clothes, underwear, shoes and toothbrushes, that sort of thing," says Ian. "It's something they never get to do. I've met so many who have never put on a pair of new socks or underwear. They tell me it's the best day of their life. It brings a lot of them to tears."
Ian has also gathered a team of volunteer mentors, from teenage sporting leaders to loving grandparents and members of the business community.
"These kids don't have any significant adults in their lives. Our mentors have ongoing relationships with them and fill the gaps of a parent who loves and cares for them," says Ian.
"It's not only good for the kids, it's great for the volunteers because we know nothing feels better than helping someone else."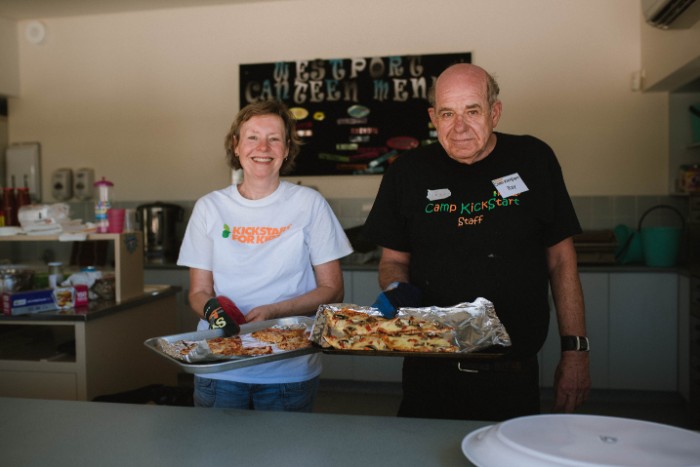 Camp KickStart is the charity's newest initiative, providing much needed respite from the tough conditions disadvantaged children face at home outside of school terms. The program currently supports 60 youngsters aged 5-13 and Ian hopes to expand the reach this year.
"These kids don't look forward to holidays," Ian says sadly.
"They're dealing with parents with drug addiction, mental illness and abuse issues and they get no rest from it at home, so being taken to the beach, the movies or the zoo is a saviour to them. Most have never been taken anywhere before."
Such is Ian's commitment to the kids, many have been given refuge in his home and become part of his family.
"My kids treat them like brothers and sisters," he says.
"It's part of their life and they help in the programs and camps. My wife works with the kids too, she's a mum to many. It's made our family very aware of how we live and how lucky we are. Having my kids grow up being a part of this has been a blessing because they really do appreciate how important it is to be charitable. My kids will give for the rest of their lives."
KickStart for Kids accepts donations of food, new clothing, shoes, household goods and any monetary value. Volunteers to assist with the food programs and Camps are also needed, with any amount of time welcomed.
Get in touch via the website www.kickstartforkids.com.au
Facebook: @kickstart4kids
Twitter: @kickstartforkid