Try out these healthy salmon recipes with your kids, nutritious and delicious and ticks those all important health boxes for your little ones.
RECIPES: Susie Burrell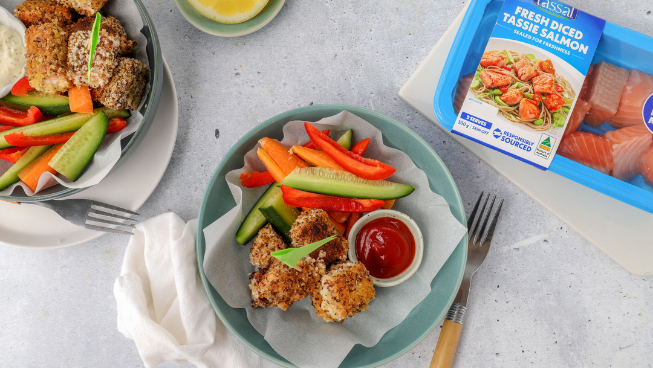 DICED SALMON PANKO DIPPERS
Cooks in 20 mins | Easy | Serves 2
INGREDIENTS:
300g Tassal Fresh Diced Tassie Salmon
1 egg, beaten
1 tbsp flour
¼ cup LSA
½ cup panko crumbs
Extra Virgin Olive Oil for cooking
Mixed chopped veggies of your choice
METHOD:
STEP 1: Combine LSA and panko crumbs.
STEP 2: Coat salmon pieces in flour, then dip in egg and crumb mix.
STEP 3: Lightly fry in extra virgin olive oil, AirFry or oven bake at 160 degrees for 20-23 minutes until cooking is browned.
STEP 4: Serve with chopped vegetables and mayonnaise or tomato dipping sauce.

SALMON SKEWERS WITH ZUCCHINI
Cooks in 20 mins | Easy | Serves 2
INGREDIENTS:
2 portions (approx. 300g) Tassal Salmon fillets, skin-on, cut into 4cm cubes OR 300g Diced Tassal Salmon
1 tbsp olive oil
½ red capsicum, cut into 3cm squares
½ yellow capsicum, cut into 3cm squares
2 medium zucchinis, ribboned
1 lemon, juiced and zested
2 tbsp fresh parsley, finely chopped
1 tbsp fresh oregano, finely chopped
Lemon wedges to serve
METHOD:
STEP 1: Thread salmon, capsicum and zucchini ribbons onto skewers.
STEP 2: Combine lemon juice, herbs and half the olive oil in a bowl and brush over the kebabs. Allow to sit for 10 minutes.
STEP 3: Heat a grill pan, skillet or BBQ on high heat. Add the remaining olive oil and cook for 2-3 minutes on each side.
STEP 4: Serve with lemon wedges, tzatziki and Greek salad.

SALMON AND ZUCCHINI SLICE
Cooks in 60 mins | Easy | Serves 6
INGREDIENTS:
300g Tassal hot smoked salmon, torn into pieces
1 leek, sliced
2 small zucchinis, grated
1 cup baby spinach, chopped
½ cup ricotta cheese
½ cup feta cheese, crumbled
6 eggs
¼ cup self-raising flour
1 cup fresh breadcrumbs
Handful parsley, finely chopped
Few sprigs of dill
Salt and freshly ground black pepper
METHOD:
STEP 1: Preheat the oven to 160 degrees (fan forced).
STEP 2: Line a 16cm x 11cm loaf tin with baking paper.
STEP 3: Pan fry leek in a small frying pan until soft but not browned and allow to cool.
STEP 4: Place zucchini in a colander and sprinkle with salt. Stand for 10 mins and then squeeze out excess liquid.
STEP 5: Lightly beat eggs in a medium sized bowl and season with salt and pepper
STEP 6: Add breadcrumbs, ricotta, vegetables and herbs to the bowl. Mix well.
STEP 7: Carefully stir through feta and salmon pieces.
STEP 8: Transfer to the baking tin.
STEP 9: Bake for 1 hour until set and golden on top.
For more information on why fish is so important for kids: