Kicking off Thursday 19 October and continuing over three massive weekends until Sunday 5 November, the free-entry Lucky Dumpling Market returns to Elder Park along the Adelaide Riverbank. In its seventh year and bringing with it another unmissable offering of street-style Asian fare, premium wine, beer and spirits, cultural performances, and family-friendly activities – all set to a stellar live music soundtrack.
Delivered with love by the team behind the lively Adelaide Fringe hub, Gluttony, Lucky Dumpling Market has become a landmark event alongside the annual OzAsia Festival program – catering to the city's ever-expanding palate with options for meat-lovers, seafoodfans, vegetarians, and vegans.
Last year's Lucky Dumpling Market saw around 212,000 people soak up the vibrant atmosphere of this shady, open-air hub on the sun-kissed banks of the River Torrens, and an incredible 316,000 dumplings devoured!
Organisers are gearing up for an equally ravenous crowd in 2023 and have added three tempting new food offerings to a line-up of 20+ vendors.
Lucky Dumpling market co event director Elena Kirschbaum. said: "We're thrilled that Aromalay and Mr Wonton will make their debut at Lucky Dumpling Market. Aromalay – specialises in Malaysian desserts, inspired by her family's cooking. Mr Wonton is an exciting new culinary collaboration with Filipino friends from beloved Adelaide chef Ragini Dey and her son Chiragh – the creators of Ragi's and Naancho Naancho Man, which will be among 18 vendors returning in 2023.
Every year the South Australian community embraces Lucky Dumpling Market in its arms and we're always looking at ways to make their experience even better.
"We encourage people to pop into Lucky Dumpling Market Tuesday to Thursday, as the space is a little more chilled out through the week and you'll be tucking into your favourite delectable delights in no time at all!"
Making a triumphant return in 2023, but with a striking fresh look, will be Lucky Dumpling Market's fabulous Sake Bar. The distinctive timber-built pop-up venue will sport a new exterior finished with shou sugi ban, a traditional Japanese method of curing wood with fire.
For other options, patrons can try a tipple or two at the Tanqueray Bar, pick up a cold brew at the Coopers Bar, or order an energising espresso at Jungle Coffee Bar.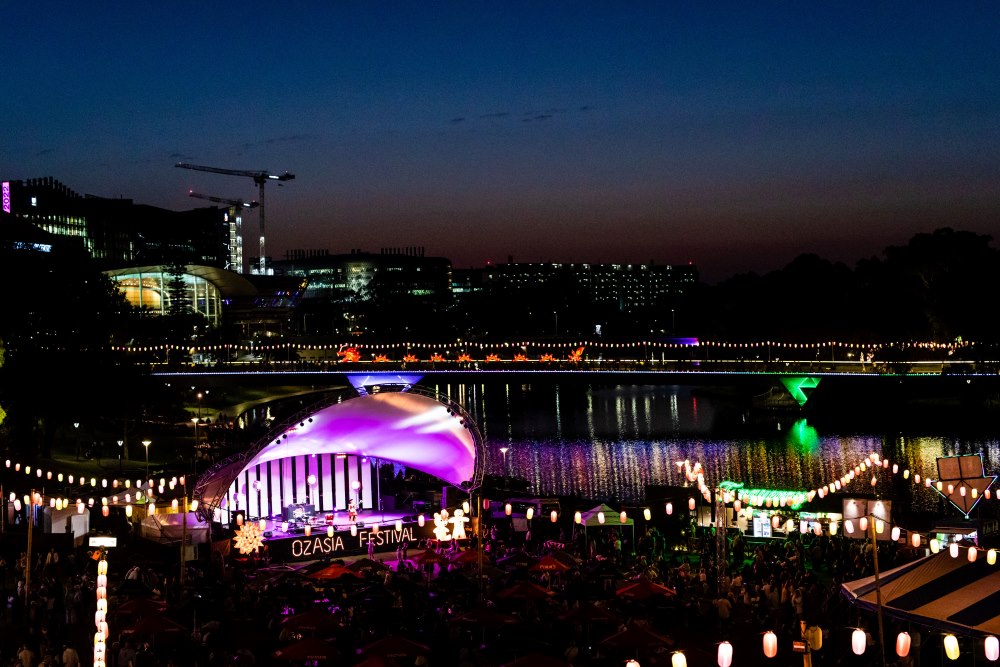 Complementing the extensive food and drink offering will be sweet live tunes programmed by OzAsia Festival and performed on the 'Lucky Beats' stage, colourful dance and music activations celebrating Asian culture, face painting, and henna tattoos.
Photo credit: Helen Page
---
For more information: