From the best Bali hotels with kids clubs, to all the current travel advice from Australia to Bali, we've got you started on planning your family friendly Bali holiday with your kids.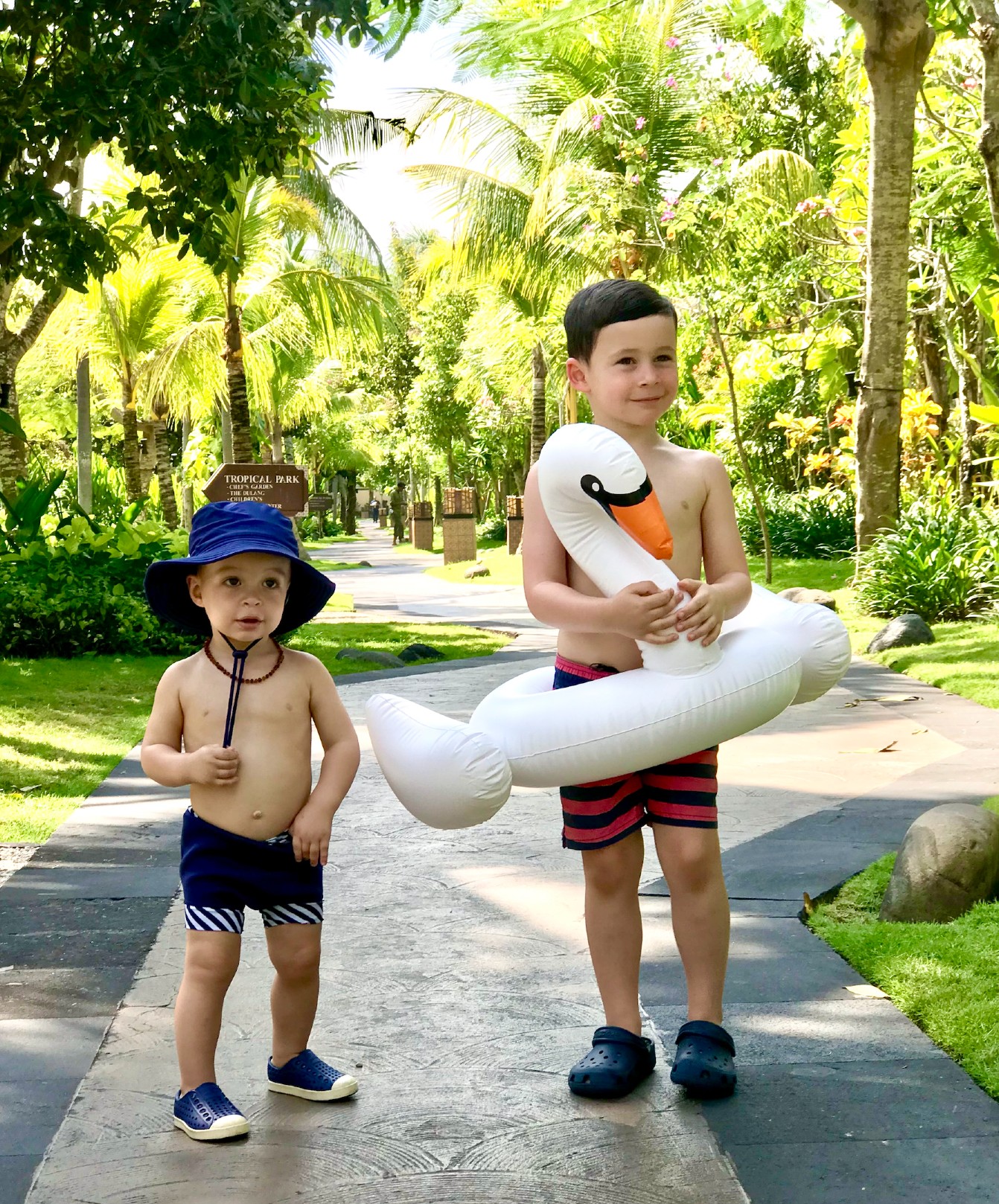 Which child friendly hotels in Bali have kids clubs?
OK, obviously we all love taking our kids on holidays and having the opportunity to view new world's through their eyes, but also, sometimes we'd all just like the opportunity to have cocktail in the pool without having to watch our children do any number of dives, bombs, pin drops, kick flips, underwater tricks, and ending up with a cocktail full of pool water for our trouble.
Enter the Bali KIDS CLUB. The perfect place to send the kids so you can have a little bit of much needed R&R but also know that they're being well looked after and entertained.
The Balinese LOVE children, so there are so many hotels with kids clubs in Bali that you'll be hard pressed to choose just one! Family friendly Bali is an absolute vibe, and you won't struggle to find options. If you'd prefer to stay in a private villa, you can also head to our guide to family friendly villas in Bali.
To get you started, we've found some of the best hotels in Bali with kids clubs to die for.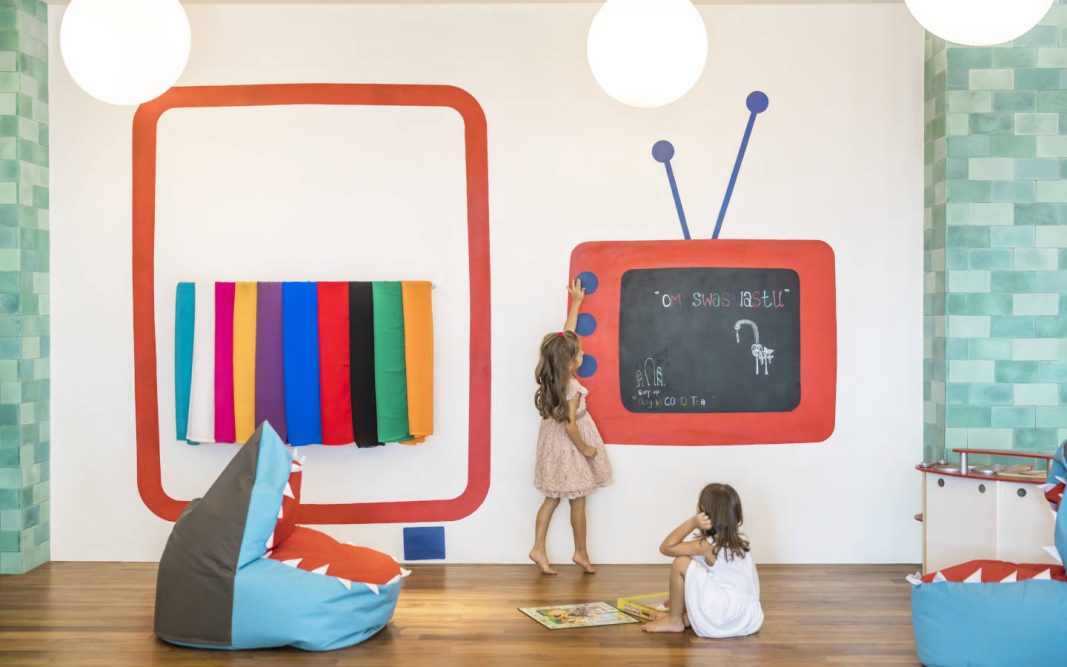 Como Uma Canguu kids club Bali
When we're talking Bali kids club, they're not playing around at the Como Uma Canguu. The dedicated Play by COMO Space is designed to inspire purposeful and creative child-directed play for children aged four to 12. Each toy, book, game and art material has been carefully selected to encourage sensory development, curiosity and imagination. The Play by COMO programme has been designed by a team of experts who specialise in early childhood education and special needs. They have devised the programme to ensure that all children are able to have fun while learning new skills through play.
The Play space is open daily between 9.00am and 6.00pm. Toddlers under four must be accompanied by a babysitter or parent at all times.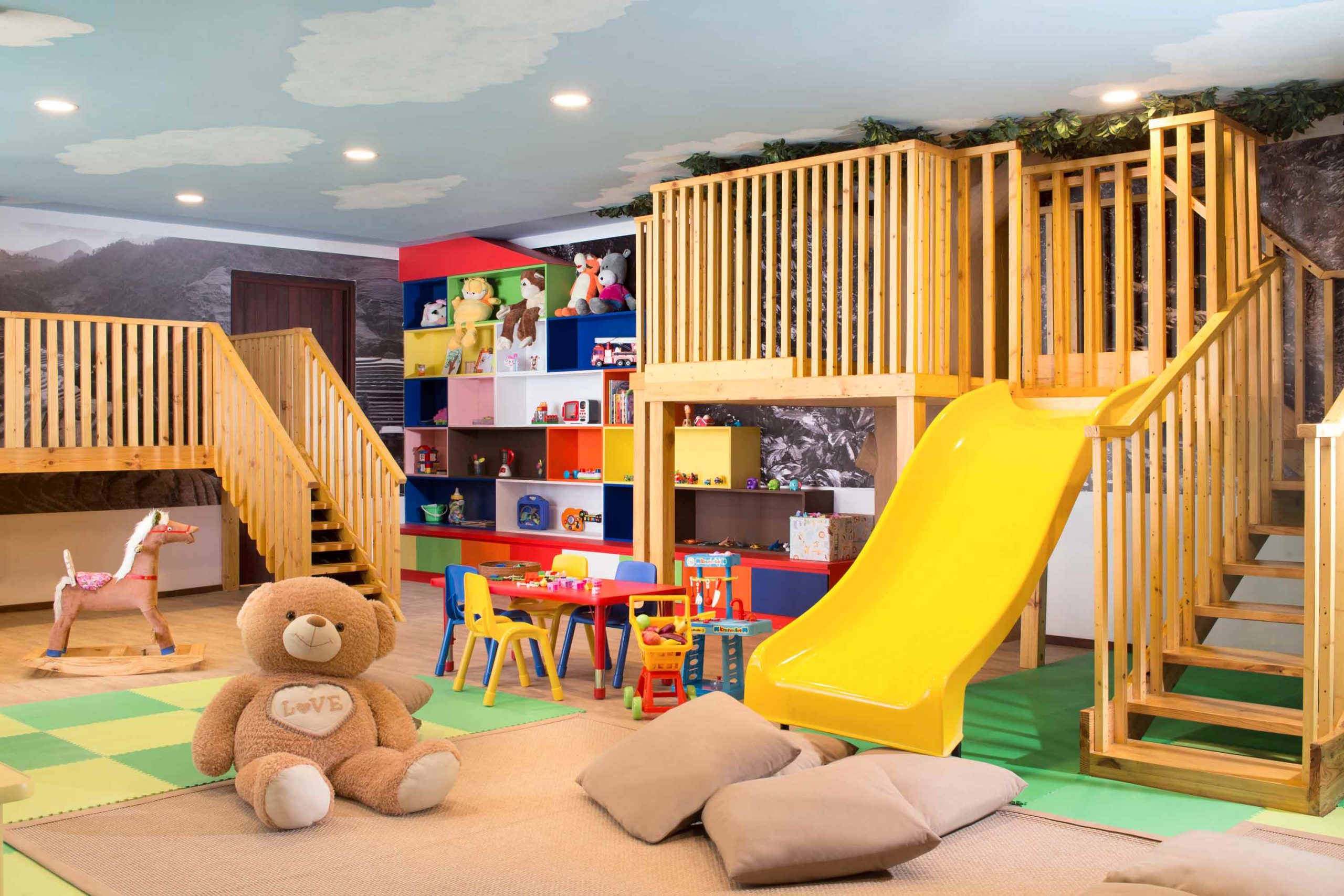 Alila Seminyak kids club
Alila Hotel Seminyak keeps the youngest guests well entertained at their kids club Play Alila. A rotating weekly schedule of activities is provided, including homemade play dough, origami, jewellery making, Balinese dance and nail art… just to name a few!
Play Alila is open daily from 8am-5pm.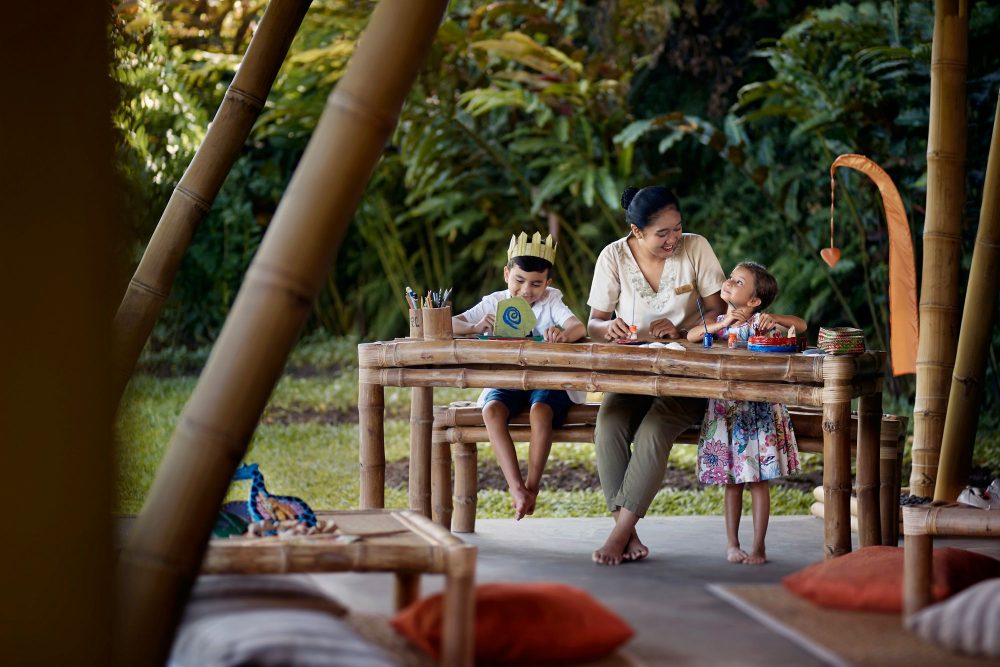 Ritz Carlton Mandapa kids club
Nestled in the heart of mesmerising Ubud, where ancient stone carvings, scenic plantations, and rich cultural traditions await exploration, Mandapa, a Ritz-Carlton Reserve invites mini explorers to go on a learning adventure at Mandapa Camp. Tailored for children or the entire family to enjoy, activities at Mandapa Camp offers a chance to learn new skills, make new friends, and take part in a wide range of creative activities that encourage them to learn Balinese culture through arts, music and games.
Mandapa Camp facility includes an organic garden, an enlightening bamboo hut that features a slide from the second to first floor and an educational farm where young explorers can tend to the resort's cow, chickens, ducks, and more.
ritzcarlton.com/en/hotels/indonesia/mandapa/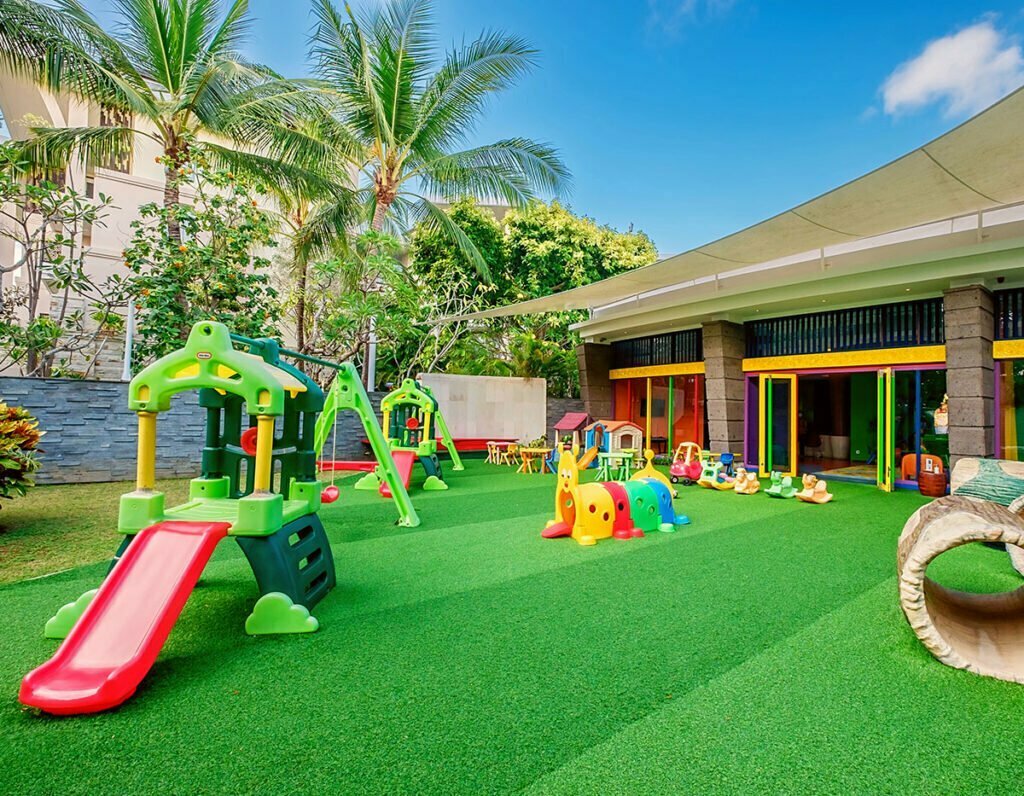 Sofitel Bali Nusa Dua kids club
Sofitel Bali Nusa Dua Resort's Kids Club is a piece of heaven on earth for children. Located near the resort's serene beachfront, this dedicated fun and colourful facility offers a multitude of features that will appeal to children, such as an outdoor kids' pool, a reading room stocked with enjoyable and educational material, and also a sleeping room where they can relax and slumber before reengaging in the series of fun and games.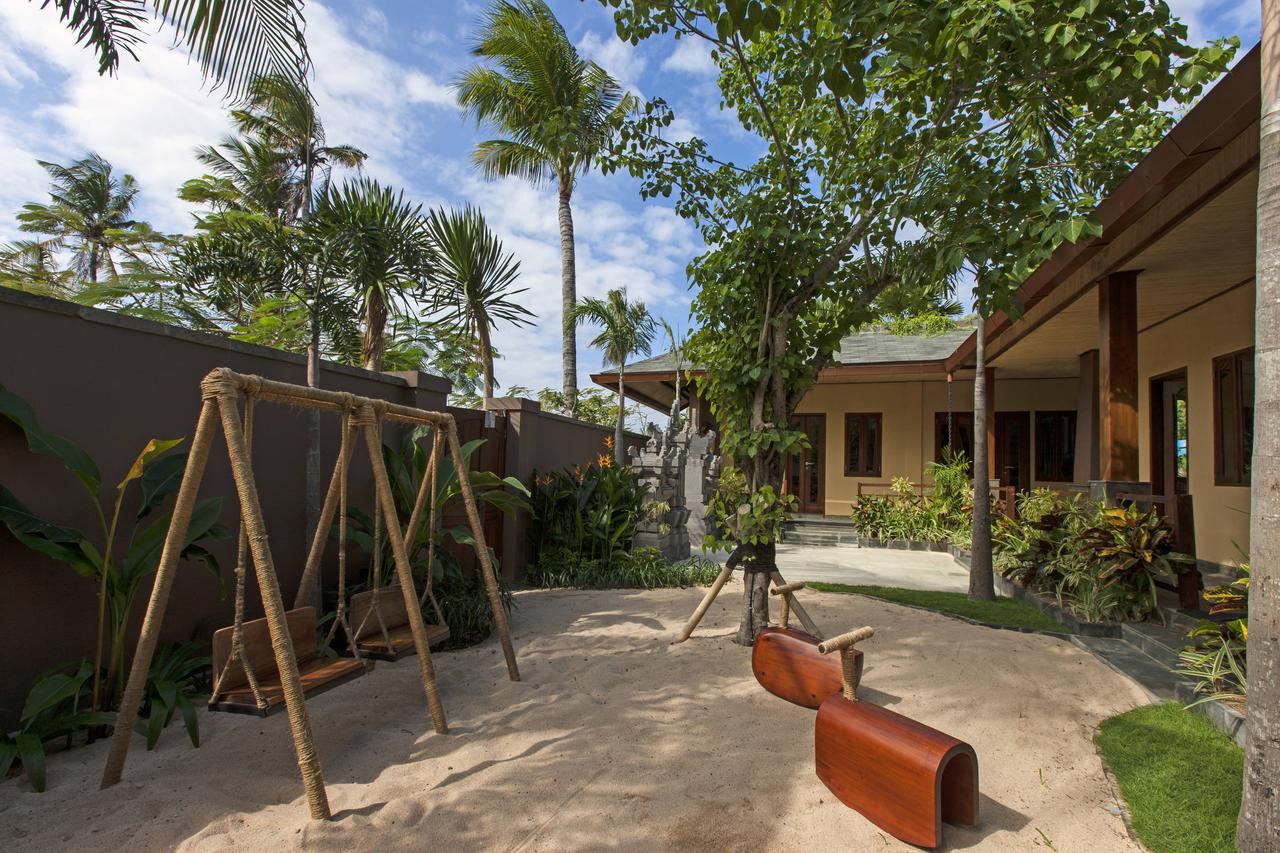 St Regis Resort Bali kids club
Young guests will love the Children's Learning Centre at the St Regis Resort Bali, which promises an enriching and engaging environment to discover local Balinese culture. Led by professional educators, the holistic range of activities on offer includes yoga, cooking classes, patchwork and more. Come evening, the outdoor cinema screens family movies as the sun sets over the Indian Ocean.
The resort also offers private learning sessions where children are individually guided through activities by one of the centre's tutors. Choose the in-villa service for ultimate convenience!
thestregisresort.com-bali.com/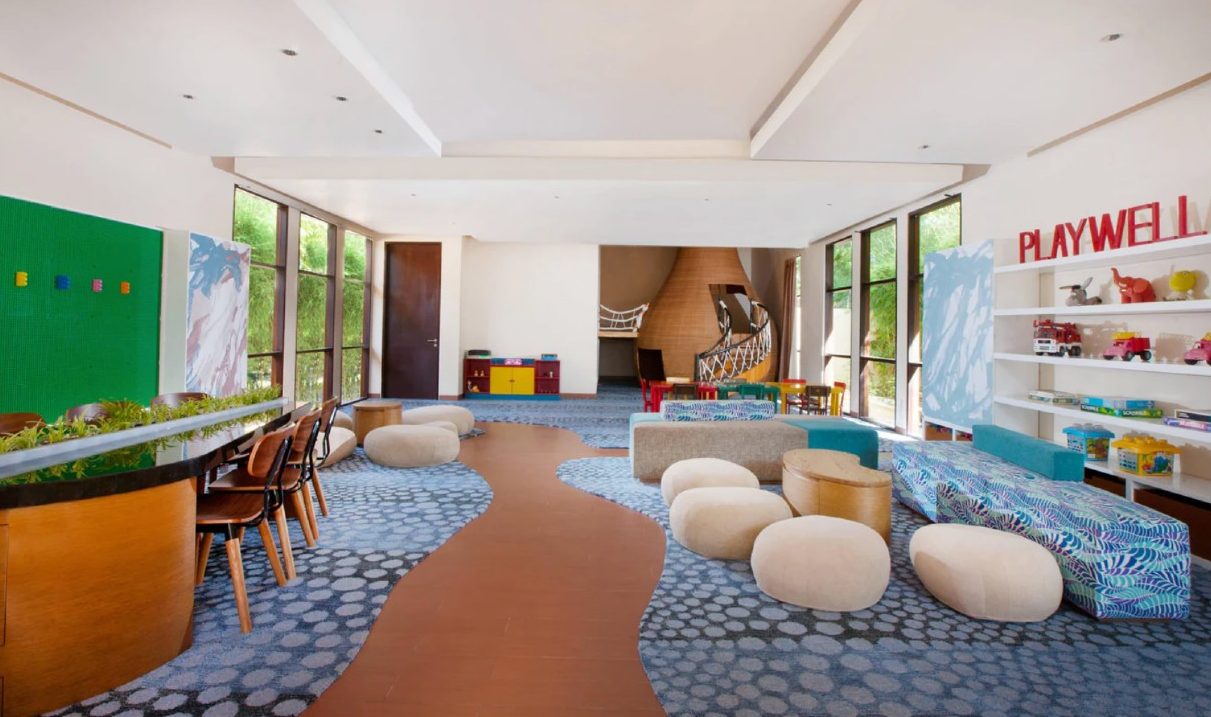 The Westin Resort Nusa Dua kids club
The team at Westin believe that all guests should leave feeling better than when they arrived—and kids are no exception. Westin Family is designed to enrich our youngest guests' stays and enhance their wellbeing through exploration and discovery. From kids' Travel Journals to a Local Activity Guide, every aspect of Westin Family is designed to engage, inspire, and celebrate young travellers and their families. The family-friendly resort in Bali offers an assortment of complimentary facilities for young travellers, including a 12-meter waterslide in the freshwater pool.
marriott.com/en-us/hotels/dpswi-the-westin-resort-nusa-dua-bali/

What are the current travel requirements for travelling to Bali with children?
Bali is back in a big way but don't forget to get yourself organised well in advance!
Allow a minimum of 6 weeks to get your passport or you can pay $250 for express passports.
For all the current information on passports:
passports.gov.au/passport-applications-general-advice
Travel requirements are always changing so make sure you keep abreast of what's necessary before you travel and always ensure to arrive at the airport at least 3 hours before your flight.
Latest updates on travel to Bali: 
You don't need a COVID-19 test or proof of COVID-19 medical insurance to travel to Indonesia. However, you must be vaccinated with at least 2 COVID-19 vaccine doses.
Children under 18 don't need to be vaccinated.
Visas on arrival cost IDR500,000 and can be paid in cash or by card. Be prepared to pay in cash if required.
ATM facilities are available on arrival but may be in high demand.
Check the latest visa, entry and vaccination requirements with your travel provider or your nearest Indonesian Embassy or Consulate before travel.
For current travel advice for Bali:
smartraveller.gov.au/destinations/asia/indonesia

A note on drinking water in Bali
The tap water in Bali isn't recommended for drinking, so avoid it and stick to sealed bottled water. That includes steering clear of more than you might think, including ice in drinks, brushing your teeth with tap water, ingesting water in the shower, and food that has been washed in tap water.
You'll need to drink plenty of bottled water to stay hydrated in Indonesia's hot and tropical climate, especially if you're directly exposed to the sun.
Diarrhoea is a common problem in Bali, but washing your hands regularly and following a few food guidelines can help you stay healthy:
If you're buying food from markets, stick with fruit that can be peeled or washed with bottled water.
Check any meat to ensure it's well cooked, especially chicken.
If you're not near the sea, avoid seafood because there's a good chance it won't be fresh.
Finally, try to avoid too much spicy food if you're not used to eating it regularly at home.
There's no guarantee you'll avoid "Bali belly" completely, but having some common sense and practicing good hygiene is your best bet.
Trust your gut!