Jacqueline Harvey is back at it again with a new children's series.
All about a young girl and her pet dog, Willa and Woof is a heart-warming series about friendship in all of its forms. To learn more, we organised a chat with Jacqueline to get some insight into the new series.
Keep reading to learn all about Willa and Woof, the dog that inspired the books, and Jacqueline's writing process.
About the series Willa and Woof
As the name suggests, Jacqueline Harvey's new series has two central characters: Willa, a determined young girl, and Woof, an albino Irish Wolfhound. With each novel being its own story, the books are more episodic than some of the author's previous series – like Kensy and Max – which require readers to read in a specific order. With a central event at the heart of every Willa and Woof book, each one is a unique adventure, whether it's planning a birthday party or finding a runaway pigeon.
The essence of this series is warm' says Jacqueline. 'I wanted kids to get that sense of community and family.' In addition to her pet companion, Woof, the books also centre around Willa's friendship with Frank, an elderly man who lives in the retirement village next to her house. 'The friendship across generations is really important as well,' Jacqueline points out, echoing Willa's belief that there are no rules about friends.
With a six-book contract underway, readers can expect plenty of fun from each of these self-contained books. Only the first book is available now, Willa and Woof 1: Mimi is Missing, but Jacqueline confirms that she already has the first four written.
Willa and Woof 2: Birthday Business will be published on 5 October 2022, with Willa and Woof 3: Grandparents for Hire following a few months later on 10 January 2023.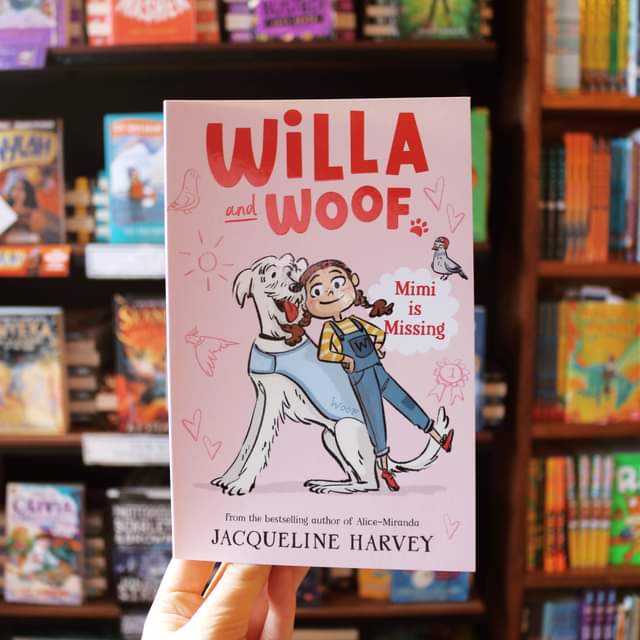 The dog that served as inspiration for woof
There's no denying that Jacqueline has an extraordinary imagination, but even the best authors draw inspiration from somewhere. For Willa and Woof specifically, Jacqueline told us that she got inspiration from a dog she met while on holiday with her family.
During the first year of COVID, we managed to escape for a family holiday out at Orange, and this dog ran up to us in the bush,' she says. 'It was this huge albino Irish Wolfhound and he had a coat on. His name was Kevin, and he was the most divine dog. He looked so happy.
'Our littlest niece who was about six at the time was all over him, and he was all over her. That was the inspiration for Woof in the book,' shares the author. 'I used the first photo that I took of my niece and Kevin – it's the basis for the front cover of the book. I said to his owner at the time, "I think I'll write a book and he can be a character."'
Jacqueline's writing process
While the inspiration for the series might have come on a whim, Jacqueline's writing process for the series has been quite regimented. 'In terms of routine, it's very disciplined,' the author admits.
'Usually, I go to the gym in the morning and then I aim to be at my desk by 10, then I write from 10 am until 6 pm.
'In my Outlook calendar, I have mapped out how many words I have to have written by the end of each week . . . I've always been like that. I think having been a teacher for so long, I'm used to working with timetables and deadlines. It probably set me up quite well to be disciplined in doing this, and I don't take any of it for granted. I know how many people would love to do what I do.'
While it's certainly a dream job for many, a lot of hard work goes into it. Noting the need to keep writing despite her previous success, Jacqueline shares, 'I believe that you're only as good as the last thing you've done, so you can't really take your foot off the pedal. You have to work hard, that's just the nature of the beast.'
They say hard work pays off, and in the case of Willa and Woof, that's certainly true. With each page just as entertaining as the last, young readers will find themselves flying through the first book, waiting with bated breath for the following titles to be released.
Ready to meet Willa and Woof? Check out Willa and Woof 1: Mimi is Missing.