That's right, this Aussie made mineral sunscreen is ocean and reef safe, and leaves tiny traces of plant bio glitter on the skin for an ecofriendly sparkle you and your kiddos are going to swoon over!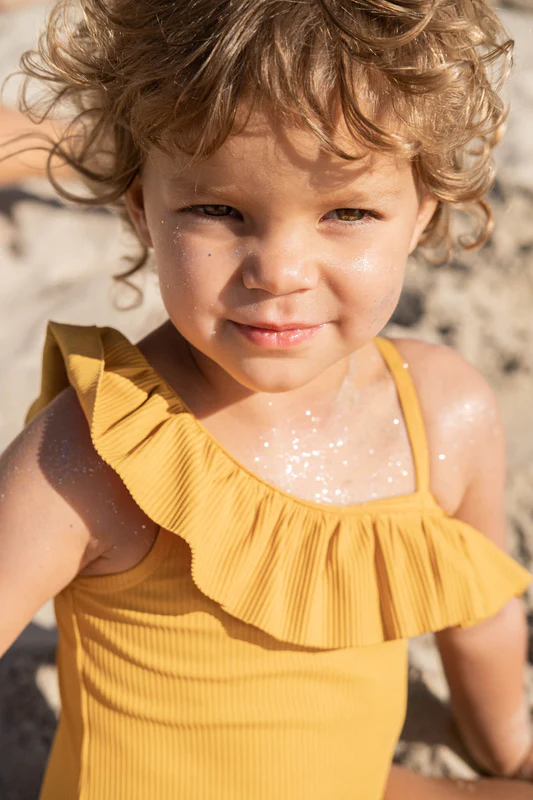 Protect yourself and your kiddos from those harsh Aussie rays on salty, sandy, summer days and shine on through all the way until sunset.
The range includes: 
Kids gold and silver bio glitter SPF50+ + Zinc Sunscreen
Gold Bio-Shimmer SPF50+ Zinc Sunscreen
Clear Zine SPF50+ Zinc Sunscreen
So you can be shimmering this summer, not sizzling!
And the best part is, these sunscreens contain no nasty chemicals, making sun safety fun for kids and adults!
Created by Aussie mum of three and former Geologist, Steph Bream, Sundust was borne of the struggle to get kids to apply sunscreen without tears and tantrums.
I found it hard to get our kids to wear 50+ sunscreen at the beach or while playing out in the sun. So I went looking for an existing product that would make it fun for the kids.
But Steph had no luck finding a product containing no nasties that would also combat the complaints about sunscreen application from the kids. So she created it!
After extensive research, development and consumer testing, Steph founded Sundust Cosmetics in 2020 and has proudly launched BIO-glitter sunscreen which is plastic free, fragrance free and contains no parabens.
With sunscreen that sparkles, you'll never have to fight with the kids about applying sunscreen again.
For more information or to buy: