Founded by parents Irina and Andrei Maior, Seven Sundays offers a range of premium natural skin care products that prioritize simplicity and the highest quality ingredients to keep your baby's skin happy and healthy.
The journey of Seven Sundays began when Irina and Andrei were searching for a solution to soothe their own little one's skin issues. Their dedication and love led them to create an all-natural, Australian-made formula that not only alleviated dryness and discomfort but also promoted better sleep patterns for their baby – and themselves.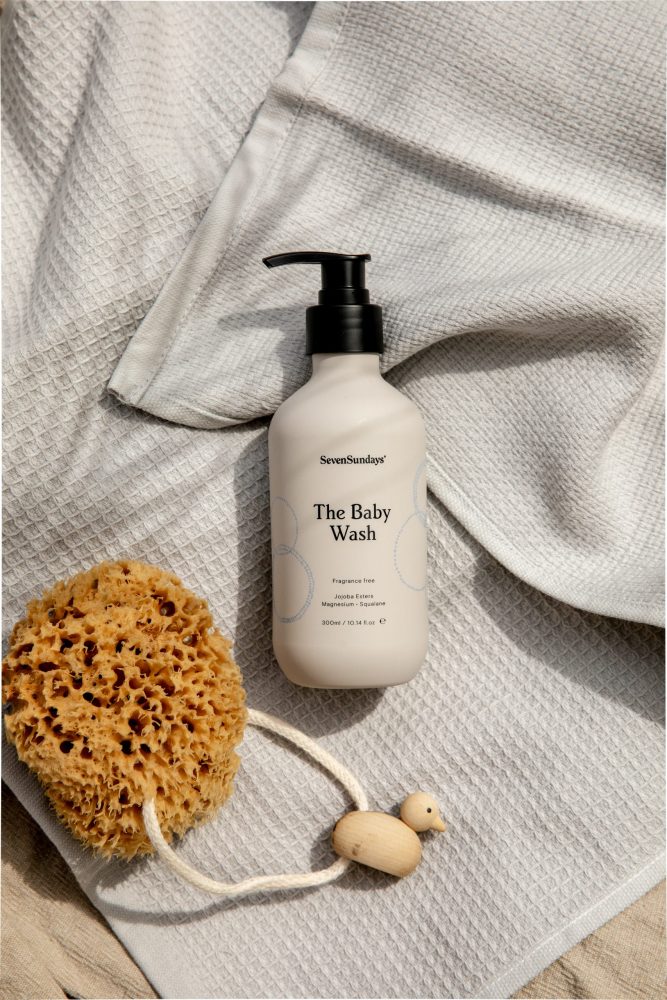 "Our first born, Alessia, struggled with colic, sleep issues, and later developed eczema. Bath times became moments of calm for us during those challenging months," shared Irina Maior, Co-Founder of Seven Sundays. "Realising there was no existing product in the market that naturally addressed her skin concerns, our goal was to create a product that offers the highest quality care for sensitive and eczema-prone skin while helping parents establish nightly rituals that foster bonding with their little ones and enhance a sense of calm before bedtime."
At the core of Seven Sundays' product line are three essential items: The Baby Wash, The Baby Lotion, and The Baby Oil. Each of these products is thoughtfully crafted with the utmost care and only the finest natural ingredients to cater to the most delicate skin.
The Baby Wash is infused with gentle ingredients that match your tenderness towards your little one. This ultra-delicate, bubbly hair and body cleanser is enriched with magnesium, a naturally occurring mineral known for its calming properties and ability to reduce redness and inflammation. These delightful bubbles keep your little ones happily occupied in the tub for longer, ensuring a more peaceful bedtime routine. With nourishing components like jojoba esters, The Baby Wash not only hydrates the skin but also delivers unconditional love.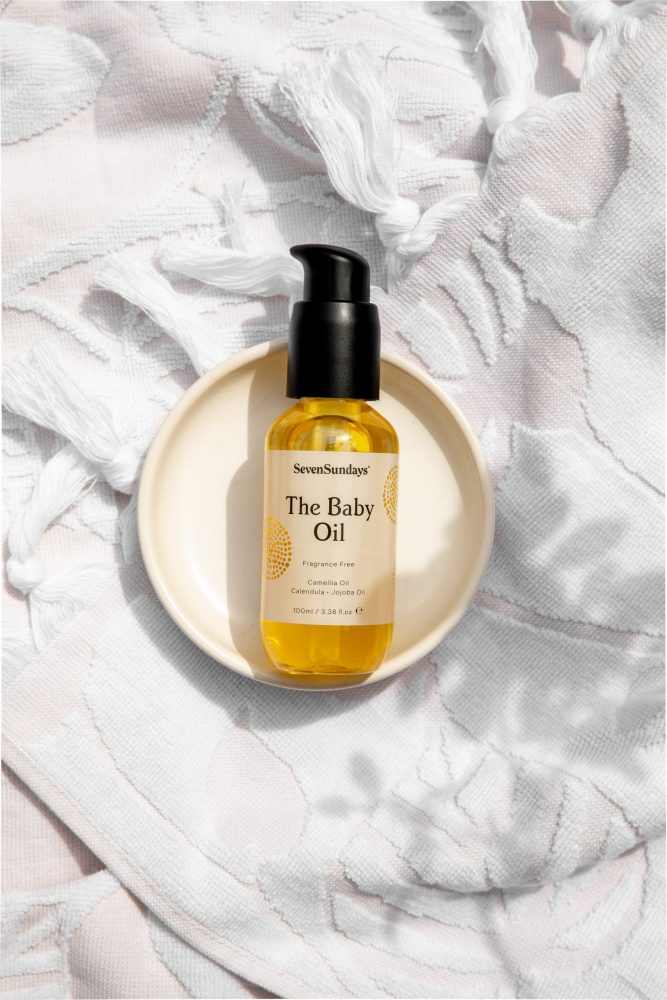 The Baby Lotion is as pure as your baby's smile and does wonders for their precious skin. Lightweight yet highly effective, this lotion features ingredients such as jojoba, squalane, and magnesium. This nourishing formula nurtures your baby's skin microbiome, providing soothing, hydration, and softness. Jojoba, known for its natural anti-inflammatory and antibacterial properties, adds an extra layer of care. Crafted with organic and natural ingredients, The Baby Lotion is rich in prebiotics, ensuring your baby's skin receives the utmost care.
The Baby Oil is a true family favourite, benefiting growing bellies, growing babies, and growing bonds. This nutrient-rich oil brings families closer while keeping sleepless nights at bay. Its blend of 100 percent natural, high-quality oils includes Camellia oil, which is packed with vitamins A, B, and E. The fragrance-free formula creates a bond between you and your baby during those relaxing massage sessions. Essential fatty acids and lipids work their magic on skin that requires special care and protection. Crafted with organic and natural ingredients, The Baby Oil is the epitome of cold-pressed perfection.
Every product in the Seven Sundays range is specifically formulated for even the most sensitive and eczema-prone skin, starting from newborns and safe to use for the entire family – even during pregnancy. Free from silicones, parabens, and synthetic fragrances, Seven Sundays ensures the purest and safest care for your little ones.
Our personal favourite product is The Baby Wash. It has been loved by our whole family and even friends.
"The kids love it in the bath, and we all use it as a silky body wash in the shower. We love that it doesn't leave you smelling like a tropical fruit or anything other than yourself," Irina added.
You can now bring the gentle goodness of Seven Sundays into your own home. The Baby Wash, The Baby Lotion, and The Baby Oil are available for purchase online at sevensundays.com.au, as well as in selected stockists across the country. With their carefully selected ingredients and commitment to quality, Seven Sundays offers you peace of mind knowing that you're providing the best care for your little ones' precious skin.
So, why not protect your little ones with skin care as pure as them? Embrace the simplicity and effectiveness of Seven Sundays, and let their natural formulas nurture and nourish your baby's delicate skin. Say goodbye to worries about dryness, discomfort, or irritations and say hello to a happier, healthier, and more relaxed bedtime routine.
Remember, when it comes to your baby's skin, less is best. With Seven Sundays, you can trust that their products are crafted with love and the highest quality ingredients to keep your little ones smiling, sleeping better, and thriving. Enjoy those precious moments of bath time and create lasting memories with skin care that cares, just like you do.
---
For more information: