The Wish Pixies started in 2016, with Director and founder Dainy Sawatzky making sketches in a notebook, in a small Australian coastal town.
Each sketch was infused with inspiration from favourite fairytales and memories of her childhood. From that artistic beginning, Dainy's fashion design background brought the Wish Pixies doll collection to life.
The power of story added a special kind of magic – and the transformation of each of those beautifully drawn Wish Pixies was complete.
Dainy's vision was to create touchable, lovable, ethically produced and locally made toys to treasure. The result is an award-winning doll range with meaning.
The heartfelt and unique 'Pixietales' each Pixie character tells share stories that are universally understood, practical ways to overcome a challenge and discover that inner superpower we all have.
Today, the Wish Pixies range also includes wall decals and wooden toys – sweetly stunning, sustainably manufactured toys that exist because of the artisanal skills of a carefully curated collection of talented craftspeople. The collections work together to inspire play, spark imagination, and build confidence through positive thought habits. Driven by the details that makes truly sustainable play possible.
From bespoke compostable packaging to every added feature on each of the 12 Wish Pixies in this stunning range – as well as every product in the Wish Pixies brand collection – this is toy production delivered with genuine care. Care for the children, who will discover new wonders about themselves, as well as the world around them. PLUS, mindful care for the planet!
The magic of self-belief begins the moment the box is opened…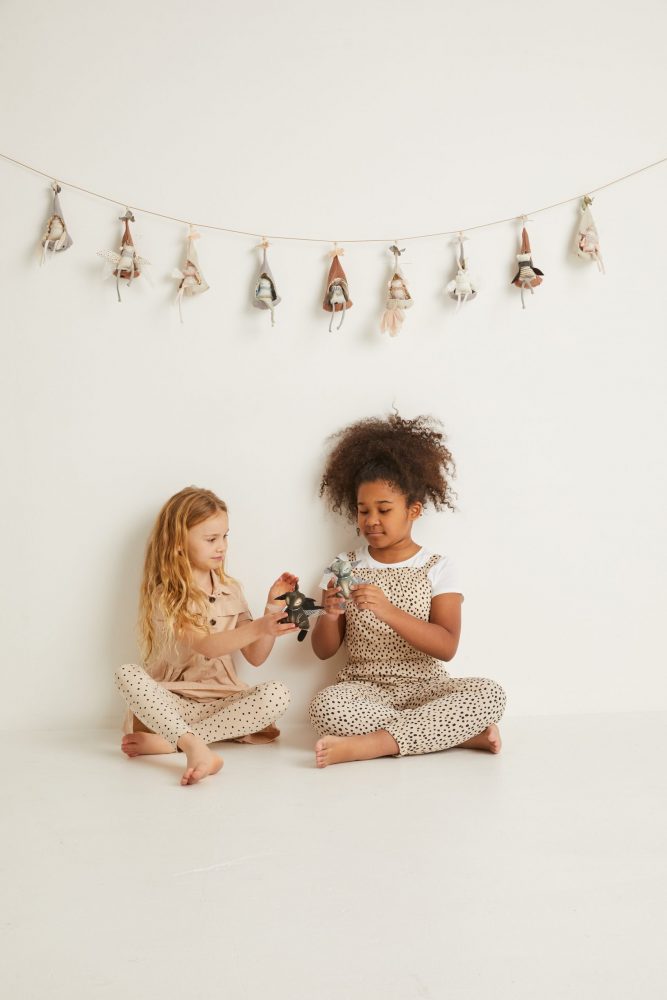 12 unique stories to enrich and engage young minds
Each Wish Pixie doll has a unique story to share.
There are 12 whimsical Wish Pixies – featuring a doll + story – to choose from. Or collect and treasure them all, for inspirational eco-friendly, ethical play that inspires wonderful values and support young minds to grow healthily…and happily!
The tale that accompanies each one of the gorgeous Wish Pixies is written in a playful voice – designed to spark young imaginations, so children can learn from the lessons that each special pixie in a way that is organic, meaningful…and filled with fairy-infused fun.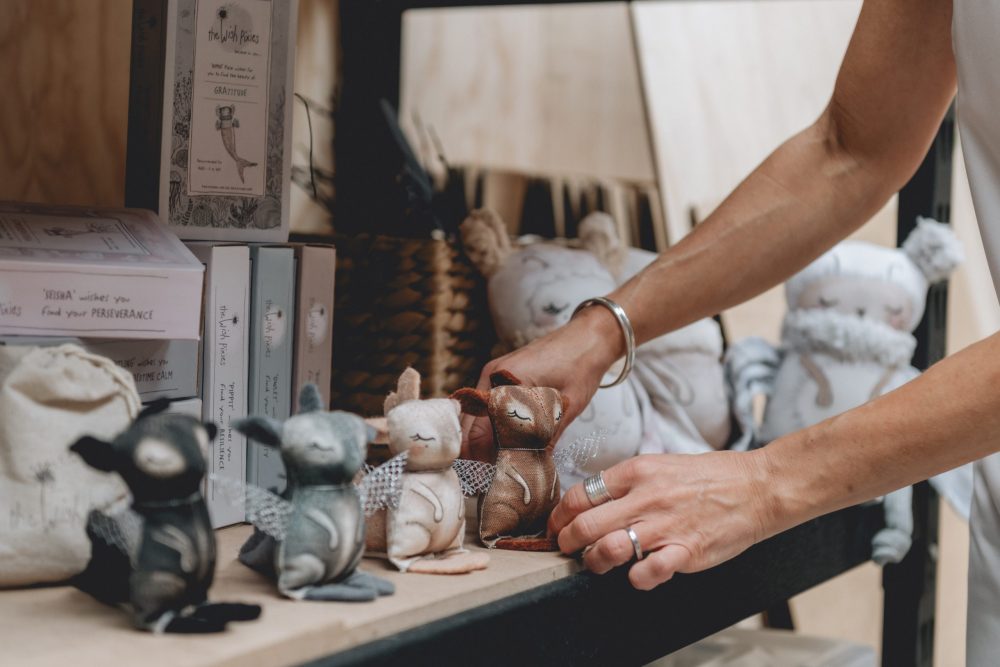 Courage, curiosity, gratitude, happiness, kindness, perseverance, positivity, resilience, self-respect, uniqueness, and the calm of a peaceful mind for better bedtime calm are all celebrated with these life-affirming Wish Pixies.
Each doll then becomes a symbol for each new understanding – and inspires the child to develop a stronger belief in their own abilities and individuality. Magic, secrets, and spells!
The Wish Pixies are designed to be the magical companion that every child needs – and the lessons they help teach nurture imagination, conversation and all the benefits of genuinely positive play.
PLUS, each of the 12 Wish Pixies have some additional magic to spread with the ones they love. Look for the little pocket on the back of each doll to discover a secret spell!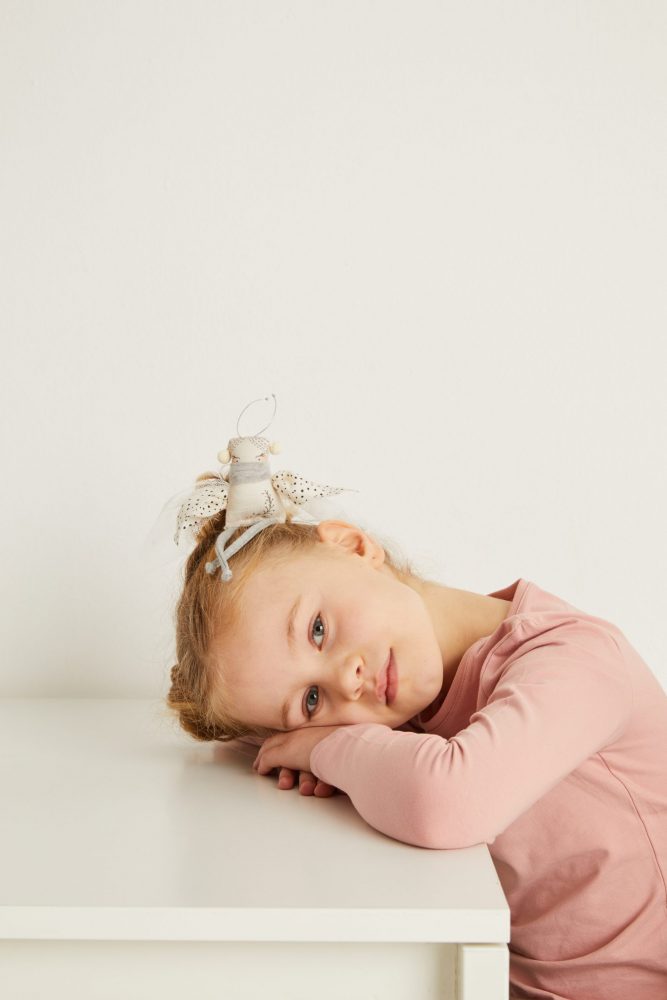 12 Wish Pixies means there's one just for you!
Nightling – Bedtime calm
Fun or playful? Perhaps quiet and comforting? This little doll is small enough to take anywhere and helps soothe and relax, for special sweet dreams. He faces his fear of the dark in a way that will inspire young minds to do the same.
Buck – Courage

His life is an adventurous journey – but, secretly, he is sometimes afraid. The lesson here is that COURAGE can be all in the mind!
Owlet – Curiosity
Understanding the mysteries of Owlet's mytihcal forest home is something she longs for! By exploring her CURIOSITY, she learns, grows – and loves her amazing life!
Nimue – Gratitude

Feeling fed up and frustrated can be part of life. But by learning GRATITUDE, Nimue realises how to swap anger for a better appreciation of how amazing her life can be!
Zephr – Happiness

Having a bad memory is very annoying for Zephr – until she realises that it can also help her find happiness in life's littlest, simplest moments.
Lilly Pilly – Kindness

Her wish is to make ALL the flowers in Pixieville smile. And with magical pollen that helps spread KINDNESS throughout her world, that wish cane really come true!
Ove – Peaceful Mind

Carrying her annoying 'worry bug' makes life seem stressful – but as she learns ways to create a more PEACEFUL MIND, Ove helps overcome her anxious thoughts.
Seisha – Perseverance
Seisha has a dream to fly! She doesn't want to simply swim like all the other mermaid pixies. Her tale is about the fun of learning new skills and how PERSEVERANCE can help make dreams come true.
Wilke – Positivity
Wilke's 'Pixietale' is a story of extraordinary 'unluckiness'. The lesson she teaches is that it's natural to feel sad if things don't always go your way – but, by having POSITIVITY, it helps see things in a different way!
Pippit – Resilience
This charming doll can be fun and playful, or quiet and comforting. Put Pippit in a pocket or hold her with a little hand to keep this magical companion by your side all day (and night). Pippit's 'Pixietale' tells her own challenge – to get her bounce back! Along her journey, she learns the importance of RESILIENCE to help her overcome the obstacles that get in her way.
Oolie – Self-respect
It's tough to be a tiny Wish Pixie in a big, scary world. But as Oolie learns SELF-RESPECT, he feels bigger, stronger – and happier!
Poe – Uniqueness
Being different means that the other pixies sometimes tease her – and that make Poe sad! But when she learns that her UNIQUENESS is something to be proud of, life becomes more magical!
A picture containing person
The Wish Pixies are recommended for ages 5 – 105! RRP $49.99
For more information: