A fresh, original kid's wear brand, for children who are fashion conscious, stylish but still love to be carefree.
"It's not obvious childrenswear. It's cool, cleverly designed and perfect for any little girl. Feminine without being overly girlie. Contemporary without being a slave to trend. There is a definite nod to vintage, but overall the range is fun and more importantly wearable."- Dilly Foxtrot.
The RaspberryPlum collection was created with the strong belief that children should be able to play, get messy, run around and still look stylish. The luxury children's fashion brand is based in London and the entire collection is sourced and manufactured in Europe. Its founder Aleksandra Matthews is a graduate from London's prestigious Royal College of Art. Originally from Belgrade, she moved to England as a child, her mixed identity is an important influence on her work and the provenance of the product.
As well as a pledge to create unique, creative garments to inspire love of colour and artistic imagination within children RaspberryPlum is also a huge advocate for ecological and environmental issues. Some of its collection is manufactured in Serbia as it their aim to help re-establish and promote a once thriving apparel industry, which has suffered greatly as a result of political turmoil in the region over the past 20 years. Manufacturing solely in Europe helps to maintain a lower carbon footprint. All of their packaging is also made from recycled materials.
Every collection has a story and takes inspiration from European artists, theatricals and creatives. Read below for the brands own beautiful description of their current collections influences: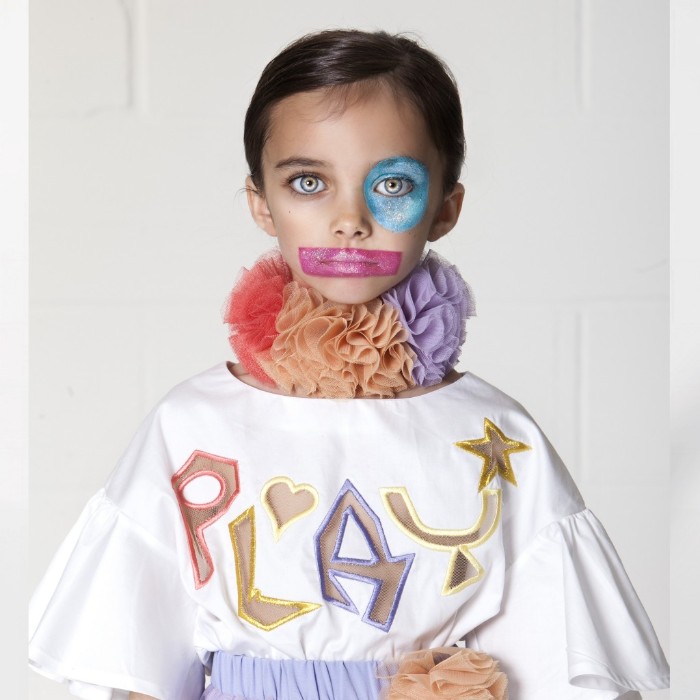 RaspberryPlum SS17 Collection 'Abstract Theatre'
'This season RaspberryPlum collection took its inspiration from a few different sources, which are closely connected. The stock character Pierrot, and his large frill collars, oversized buttons, frills and wide culottes have inspired the shapes of the ss17 range. The collection features strong graphic images which have been influenced by the outlandish costumes of theatre of Bauhaus and the Modern and Postmodern stage of Oskar Schlemmer. We also looked the work of one of the leading album and book cover designers of the 20th century Neil Fujita.As with previous seasons we kept the colours soft and summery; lilac, nude, soft orange, citrus yellow, pastel green and denim blue. Some of the colours intentionally looking almost sun bleached. The colours were influenced by the pallet of the sketched for the costumes of Triadic Ballet by Oskar Schlemmer.'