At KIDDO we're always on the hunt for brands that are revolutionising the baby care space, and we certainly found it when we stumbled upon Ben & Ellie Baby.
As mums, all we are really looking for are baby products that are functional, practical, multi-purpose, portable, easy to use, (ideally) wipe off-able, as well as effortlessly stylish and seamlessly chic. And if we could also use it one-handed, that would be great. That's not too much to ask is it?
The Ben & Ellie Baby nappy change clutch is all these things and more and is changing the game for those many, many, MANY nappy changes parents do on the go, on the regular. The original Ben & Ellie Baby nappy clutch blends classic luxury with functional design. This master of disguise wraps up for a sleek, seamless clutch look and is ready to flick open one handed so that you are instantly organised for any nappy change, anywhere, anytime.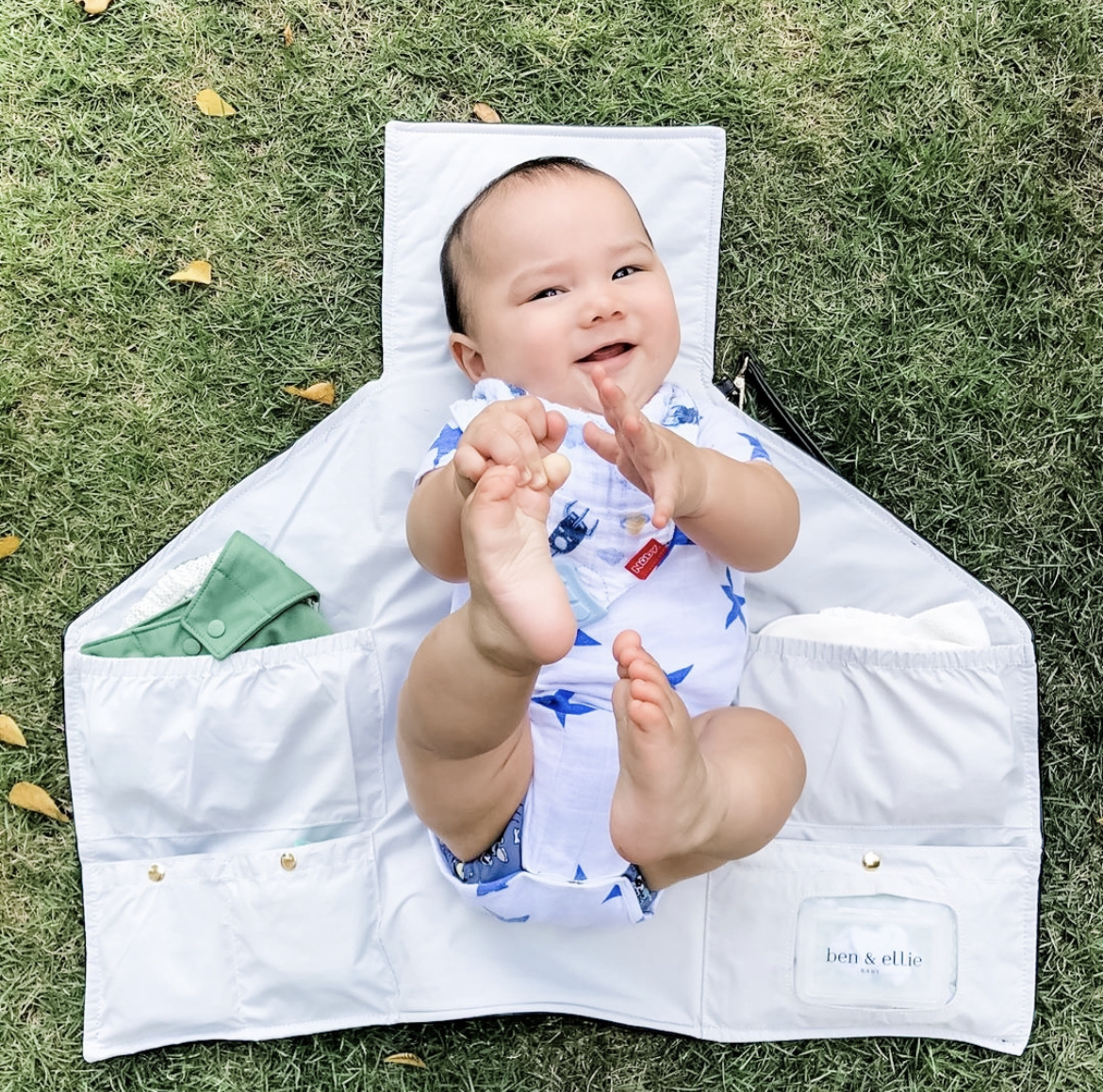 The nappy-change game changer
The original Ben & Ellie Baby nappy change clutch is a designer nappy wallet and baby changing mat.
This baby changing mat folds up into a compact nappy clutch to organise your baby bag and make nappy changes on the go effortless and stylish.
Designed in Australia, the team behind Ben & Ellie Baby have considered every last detail in creating the perfect product for easy and hygienic nappy changes on-the-go. Easily pack everything you need for a day's worth of nappy changes in the one compact nappy wallet.
Your clutch comes with its own cotton dust bags to protect it in transit and to provide a special opening experience for a gift recipient. It's the perfect baby shower gift and a must have for any new mum.
Suitable from newborn until the toddler years, for the duration your child is in nappies.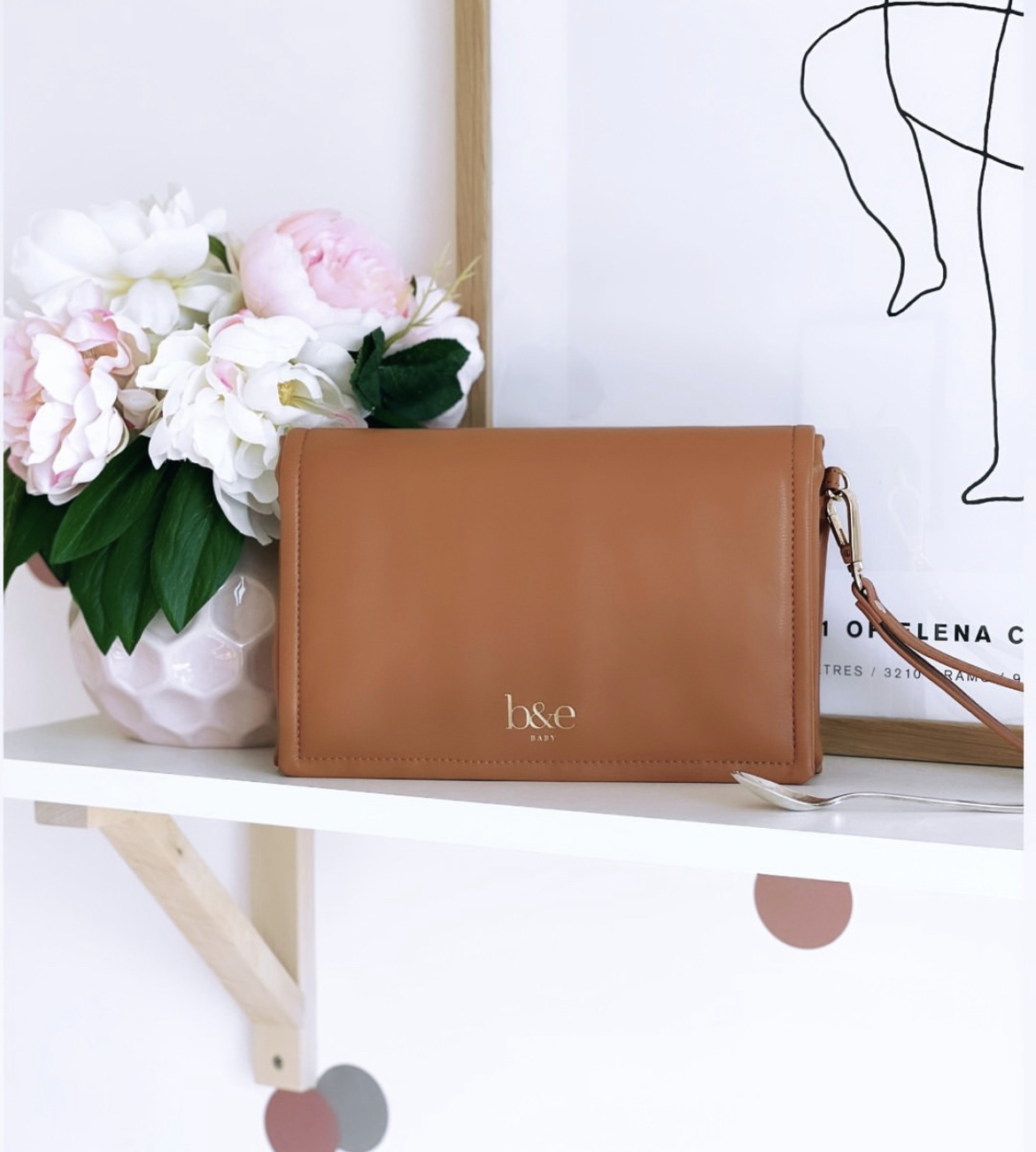 Why are mums choosing the Ben & Ellie Baby nappy change clutch?
A travel baby changing mat is essential for nappy changes on the go, and most come with a pocket or two for holding all your nappy change essentials.
So what makes this nappy change clutch stand out from the rest?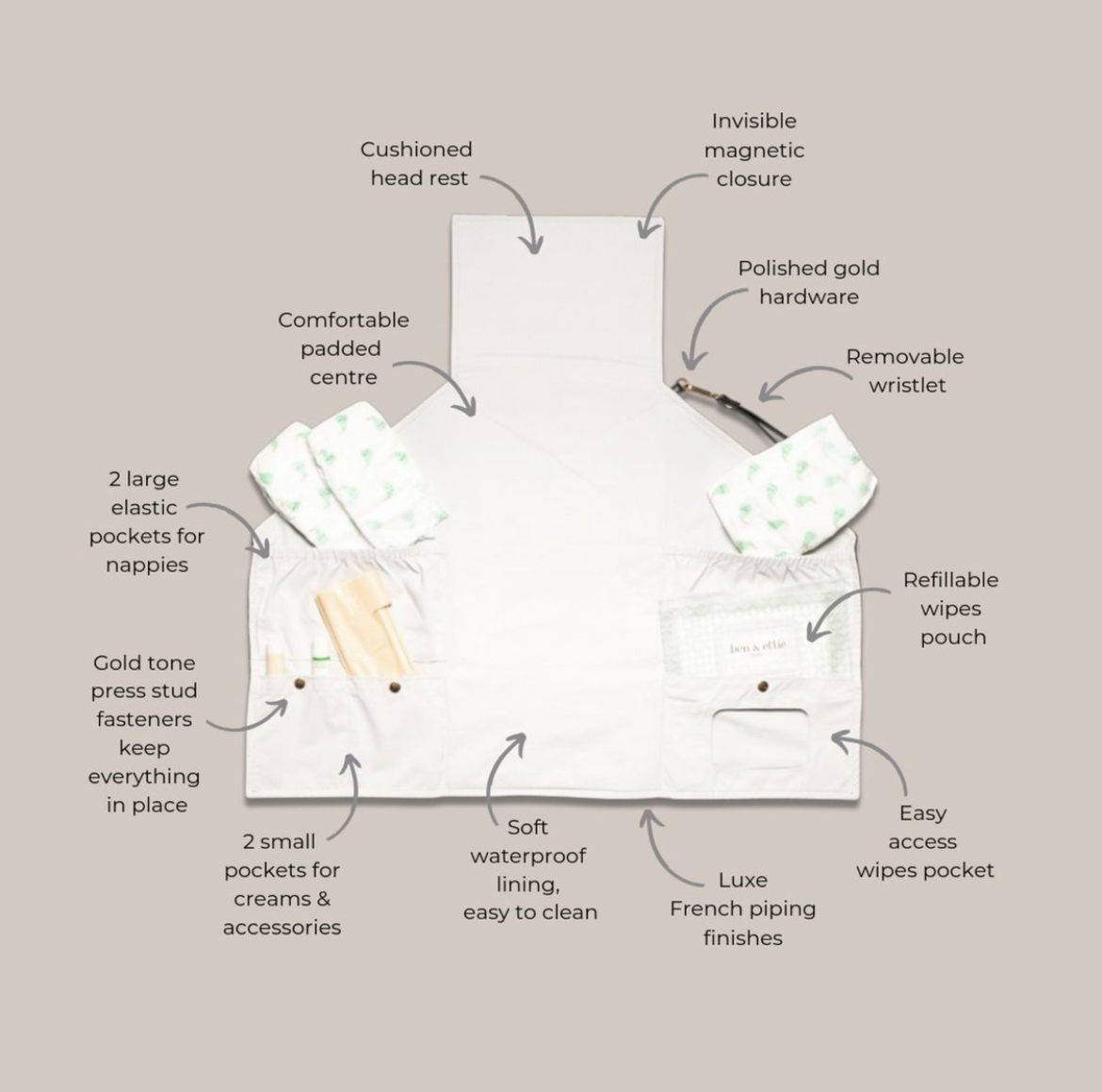 Nappy change clutch features
Clever pockets. The B&E Baby nappy change clutch has 5 cleverly designed pockets to store everything you need for a nappy change while out and about. Most nappy wallets and change mats have only one or two pockets, which really isn't enough.
Built in wipes pouch. The only travel change mat with a dedicated wipes pocket to allow for easy, one handed access to your baby wipes. Some baby change mats come with clam shell style hard cases for storing your wipes which is impractical for a variety of reasons: bulkiness, needing two hands to open the case and inability to actually dispense the wipes to name a few.
Baby safe materials. The B&E Baby nappy change clutch is free from nasties such as BPA, Phthalates, PVC and lead. Sadly, not all baby products are made of baby safe materials, with many big brand travel change mats being made with plastics such as PVC.
Magnetic closure for one handed usability. This nappy change clutch features 10 ultra strength magnets to securely hold the contents of the clutch closed while allowing for a one handed 'flick' opening. Why does one handed accessibility matter? Well, most of the time you'll be holding the baby in one hand and trying to unfold the mat and set up everything you need to change your baby with the other hand. Velcro, zippers and clasps all require two hands and make laying out your change mat as well as packing everything up practically impossible while holding your baby.
Cushioned pad for your baby's head. A newborn's head is especially delicate, particularly if they've come into the world with a vacuum or forceps delivery, so a padded section for your baby's head is essential.
Padded centre for your baby's comfort. Many public baby change facilities are made of hard plastic surfaces and are not comfortable to lie on.
Water proof lining so you can easily wipe it clean and disinfect with a wipe.
Compact size. At only 16 x 27 cm when folded, you can throw it into your existing baby bag or handbag easily. Organise and streamline your baby bag without adding unnecessary bulk.
Durable materials and stitching. You'll change up to 3,000 nappies in your baby's first year alone, and many of those will be while out and about. Imagine play dates at the park, café catch ups with your mum friends and countless other outing with your baby. So choose a product that is made of premium materials and will last, otherwise, you'll find yourself having to fork out for a replacement before you know it.
Unrivalled Style. We're confident enough to say the Ben & Ellie Baby nappy change clutch is the most stylish travel change mat and nappy wallet on the market. With buttery soft, vegan leather, luxe French piping and polished gold hard wear, this baby product gives designer bags a run for their money and adds a serious dose of sophisticated, understated style to your baby gear collection. And Vogue thinks so too.
Award Winning and loved by mums all around the world. Don't take our word for it. The Australian Roar Award judges think this clutch is worthy of the Best Baby Product and Best Product Innovation silver title and the Hong Kong Living Parent & Baby Award Judges names the nappy change clutch the Best Baby Accessory of 2021.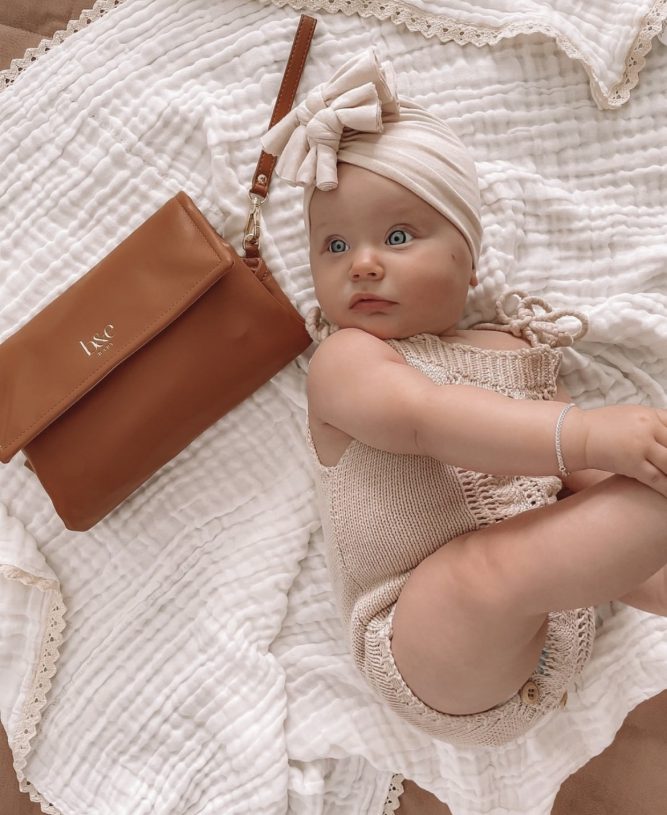 All the features in one small but mighty bag
No stone was left unturned in the design of these nappy change wallets. So many features in a small but mighty bag; you'll feel organised, stylish and prepared, no matter where you are.
Take out the Ben and Ellie Baby nappy change clutch on her own for short trips or use her as a nappy bag organiser to turn any bag into a neatly organised nappy bag. Pop her in your favourite designer tote to turn it into a designer baby bag!
Be warned, once you own a Ben and Ellie nappy change clutch, you'll never want to leave the house without her!
For more information: