Somebody's Land was the first picture book in the series, which is targeted at ages 4–8. It debuted at #2 in the picture book market across the whole of Australia, and sold over 3000 copies in its first week. It remained in the top three Australian picture books for over fifteen weeks after release, and has since sold over 70,000 copies and been shortlisted for multiple awards. Earlier this year, Somebody's Land won the ABIA for Children's Picture Book of the Year.
After a phenomenal start to the series, the second book Ceremony invited readers to celebrate the rich traditions of dance, family and community. Ceremony was the #1 Australian picture book soon after release.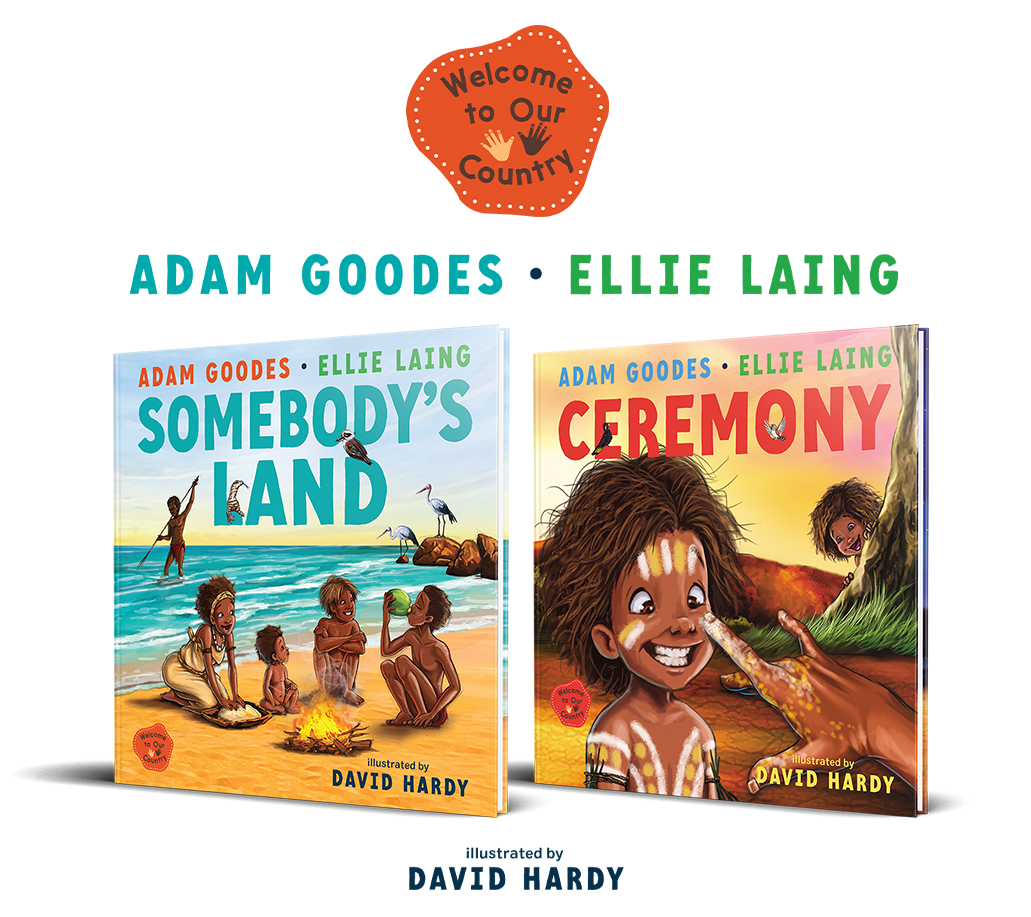 Back on Country
Now, the three creators are back with an important new collaboration: Back on Country, publishing on 1 November this year. Back on Country is a joyful story about the power of reconnecting to family, culture and Country.
Drawing on Adam's and David's lived experience of being taken 'back on Country' as children, this book explores how switching off from the pressures of the modern world and connecting with family, community and the land allows cultural needs to be met – and a feeling of strength to return.
In Australia, there are over 350 First Nations groups with different languages and customs. The mother depicted in Back on Country is from the Adnyamathanha people of the Flinders Ranges in South Australia (Adam's Country).
'This trip back to Country is one that I made with my mum not too long ago,' says Adam.
It was a very emotional and spiritual moment for all involved. This is when I learnt about my kinship and my role as a north wind Ararru man. I also had a traditional wedding ceremony with my wife, Natalie, which gifted her kinship as a south wind Mathari woman. She has passed this kinship on to our children.'
'This book reminds me so much of my childhood,' says David, 'travelling back annually to my Country, Brewarrina (bra- warina). There we caught up with all the relos and learnt about the land and our culture.'
David Hardy says: 'I remember absolutely loving it. It was so quiet and remote. The parents and grandparents stayed in the house, and the cousins and kids stayed in tents. We would go on walks, and go fishing. My uncle would take me around in his ute for country drives. I was eight when my mother – who was part of the Stolen Generations – was reunited with her family. From that time, we would go back to Country for two weeks every year.
'For the book, Adam supplied me with heaps of research – just to make sure I got everything right with the illustrations, so that it was accurate for Adam's mob. Adam also went back to his Country for a while, to talk to all of his relatives. The process was really important for me, and I think the book will mean a lot to my mum. A lot of families can relate to it and for non-Indigenous people, it's great to learn about Aboriginal culture.'
Back On Country: Welcome to Our Country by Adam Goodes and Ellie Laing, illustrated by David Hardy, publishing 1 November.
For more information or to pre order: