The new lineup includes the Apple Blossom Baby Bubble Bath, Calming Oatmeal Hair & Body Duo, and a refreshed Gentle Pear Hair & Body Duo – all carefully crafted with the most sensitive skin in mind, using thoughtfully selected ingredients.
Specially designed to provide a soothing and nourishing experience, these products are infused with Jojoba Oil, Coconut Oil, and Calendula. Not only are they vegan and cruelty-free, but they also proudly maintain al.ive body's signature aesthetic.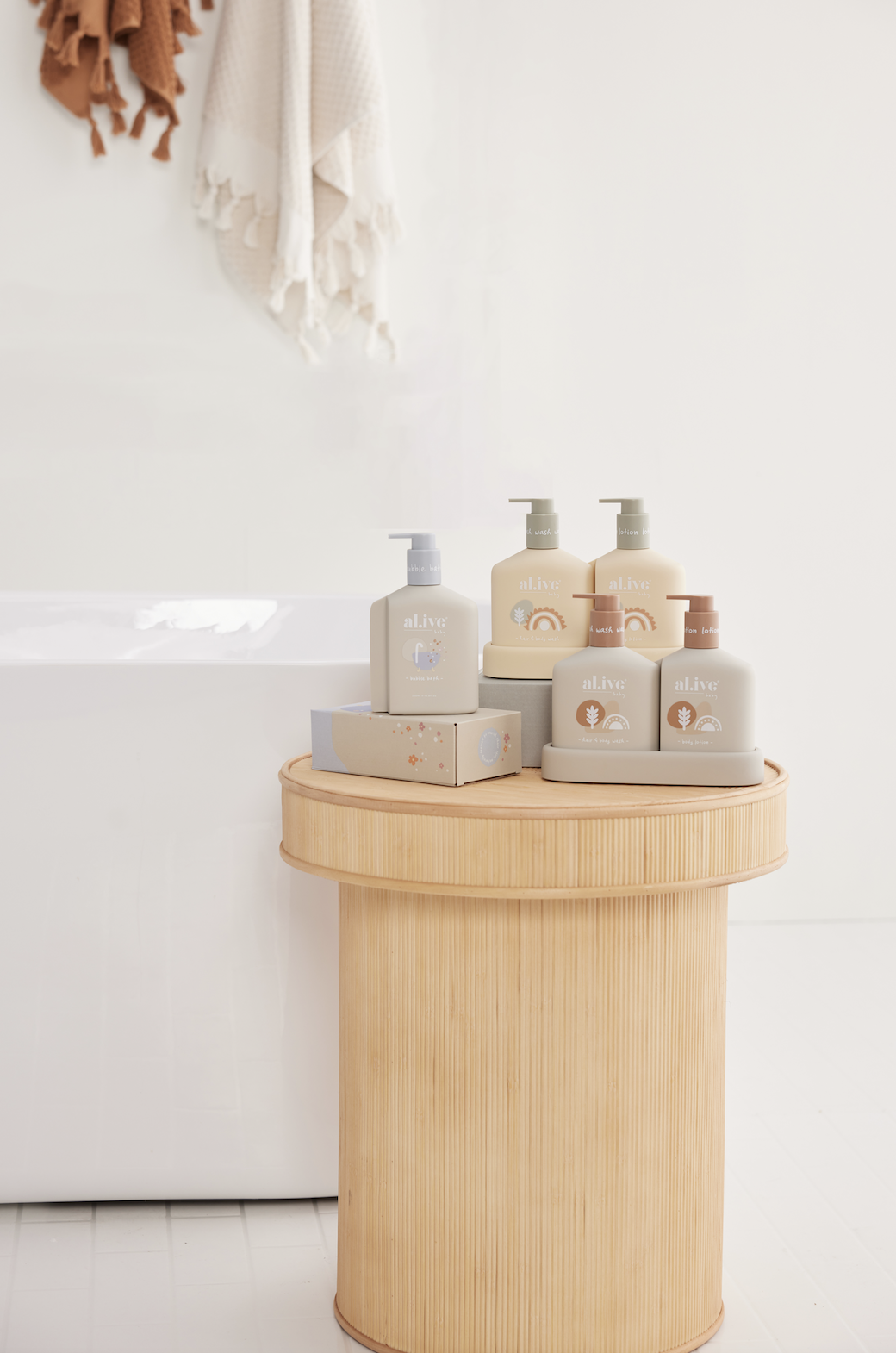 Let's take a closer look at the newly launched al.ive body baby products:
Gentle Pear Baby Hair & Body Wash & Body Lotion: Featuring Pear Extract, Jojoba Oil, and Calendula, this wash and lotion cleanse, nourish, and leave the skin soft and smooth. The charming illustrations on the new bottle design add a playful touch to bath time. (RRP$64)
Calming Oat Baby Hair & Body Wash & Body Lotion: Oat Extract, Jojoba Oil, and Coconut Oil combine to cleanse, nourish, and soothe the skin, leaving it soft and smooth. The pebble-colored bottle with playful illustrations complements any neutral toned bathroom aesthetic. (RRP$64)
Apple Blossom Bubble Bath: The epitome of luxury, this bubble bath is infused with Aloe Vera, Apple Fruit Extract, and Rose Flower Water, providing hydration, nourishment, and relaxation during bath time. Its bubbly and fun experience is sure to delight little ones. (RRP$30)
al.ive body's founders, Alisa and Lysandra Fraser, passionately believe that style, quality, and fun should never be compromised when it comes to caring for our little ones. Proudly unveiling their baby product line extension, Alisa says, "Our goal was to create a baby care line for parents looking for a convenient and effective bath time solution that contains natural ingredients."
We wanted mums to proudly display these products in their bathroom while making bath times a blast for their babies.
In addition to the outstanding product qualities, the al.ive body baby range is also environmentally conscious, featuring 100% recyclable packaging. These delightful products are available online and from leading retailers, providing parents with an excellent and enjoyable bath time solution for their precious bundles of joy.
---
For more information: