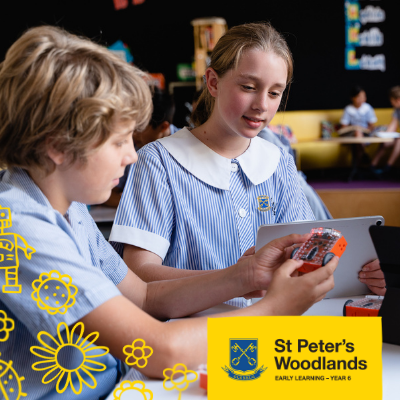 ST PETER'S WOODLANDS PRINCIPAL'S TOUR

ST PETER'S WOODLANDS PRINCIPAL'S TOUR
We invite you to join our Principal, Helen Finlay, as we tour the extraordinary early learning and primary school of St Peter's Woodlands, Glenelg.
WHAT TO EXPECT
On the Principal's Tour you'll visit the Early Learning Centre and the primary classrooms to see learning first-hand. Explore our modern learning facilities set amongst the beautiful grounds right here in the heart of Glenelg, SA.
Whilst touring the school, you'll hear staff and students talk about how we support children on their own learning journey through the delivery of a progressive curriculum, specifically created for the early and primary years, including the Enhanced International Baccalaureate Primary Years Program.
We welcome you to experience the warmth of our community and see how we create an environment where young inquisitive minds are encouraged to grow. The difference is extraordinary.
PRINCIPAL'S TOUR DATES
2022 Dates
Term 1 – Wed 9 March 9.00am – 11.00am
Term 2 – Wed 2 June 9.00am – 11.00am
Term 3 – Thurs 25 August 9.00am – 11.00am
Term 4 – Wed 23 November 9.00am – 11.00am
Book your place for the Principal's Tour here.

PERSONAL TOURS
Explore St Peter's Woodlands in a personal tour at a time convenient to you. The personal tour is crafted specifically around your families individual needs. Book your Personal Tour here.
CONTACT US
Learn more about the enrolment process at St Peter's Woodlands and download the school prospectus to discover more about our Early Learning Centre and primary school.
For further information please contact our friendly Enrolments Manager, Jo Gray.
Jo Gray, Enrolments Manager
P: 08 7221 6217