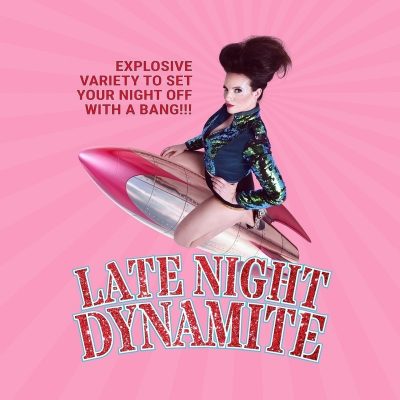 Late Night Dynamite!

Leave the kids at home and get the crew together for a much needed night out!
Set your Fringe-Fuse alight with Katie Wright Dynamite and her wild late-night variety show.
Jaw dropping circus, hottest of the hot burlesque, legendary stand up and twisted sideshow freaks – all unleashed back on the stage where they belong. Explosive artists ready to blow you away! BOOM!

"Katie Wright Dynamite, a cross between a juggler, a burlesque performer and someone who would befriend you in the line of the ladies toilets" – Upside Adelaide.

"I have engaged Kate to perform her hilarious comedy show at many corporate and arts events. Kate is always the crowd favourite winning over audiences with her great Australian sense of humour and unique circus skills" – Greg Clarke, Former Director and CEO Adelaide Fringe Festival.

"As a female performer, Kate has avoided the clichés and well trodden routes of others and instead dared to take risks in her shows – risks which have led to much more interesting journeys for the audience." – Will Chamberlain, Artistic Director of Festival of Fools, Belfast.
Presented by:
Katie Wright Dynamite!
Kate Wright, MC, Producer and Ringleader of Late Night Dynamite.
Kate Wright is an actor, physical performer, MC and circus artist from Adelaide, South Australia. Kate has performed in 35 countries since she started touring in
2005. Her solo shows ''Ding Dong, Yvonne' and 'Katie Wright Dynamite!' have toured in Europe, Canada, New Zealand, United States and Australia. In 2013
Kate scored the role as 'Mimi' in ABC KIDS popular TV series 'Hoopla Doopla'.
LATE NIGHT DYNAMITE is Kate's newest venture into self-producing with her first ensemble
variety night to premiere at Adelaide Fringe 2021. With the stellar line up of artists,
Late Night Dynamite will set Fringe-fuses alight, and get crowd's nights going with a bang!
Book tickets here:
adelaidefringe.com.au/fringetix/late-night-dynamite-af2021