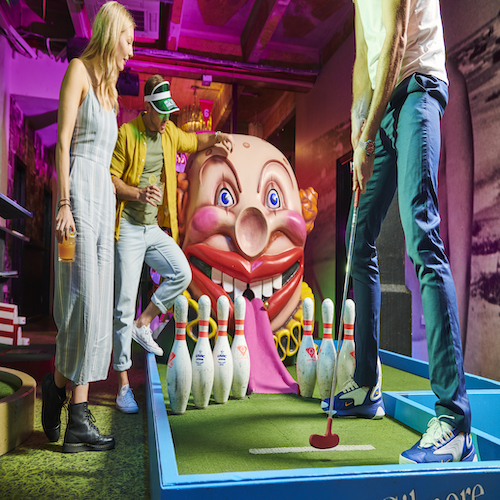 Holey Moley Adelaide discounted to $5 during Day of Fun
Bookings are now open for Funlab's annual Day of Fun, held on September 6 this year, which sees all activities across Funlab's popular venues reduce to a flat rate of $5, with proceeds going to national youth mental health organisation, headspace.
Holey Moley in Adelaide is one of the 54 venues Australian-wide that will have discounted activities in a bid to raise $250,000 – the largest fundraising goal yet.
Proceeds from the day will go towards headspace online communities, a space moderated by mental health professionals for young people to connect with peers and discuss their challenges.
With some activities nationwide discounted more than 90% on the day, Day of Fun provides the opportunity for all Aussies to have fun, try a new activity, and raise money for a deserving cause.
Funlab CEO Michael Schreiber said Funlab wants to bring back the 'fun' in fundraising to achieve their biggest goal yet and support youth mental health.
"Partnering with headspace is a really important initiative for everyone in our Funlab team. We have young people coming through our doors everyday – both team members and guests – so this is an opportunity for us to not only raise funds for a very important charity, but to support youth mental health, while providing a fun experience for friends and families.
"We want to encourage everyone to jump online and book an activity slot at their local Funlab for $5, or come down on the day, and get involved to help us reach our biggest fundraising goal yet of $250,000," Mr Schreiber said.
The day will see venues throughout Australia decked out in headspace green, on-the-day activities including entertainment and face painting, along with the popular Funlab activities. As part of the fundraising, there will also be a telethon hosted in Funlab's support office in Melbourne.
Pre-booking is essential to secure an activity on September 6.
For donations: fundraising.headspace.org.au/event/day-of-fun-22
For more details and to book each venue: fun-lab.com/day-of-fun
To find out more about headspace: headspace.org.au/