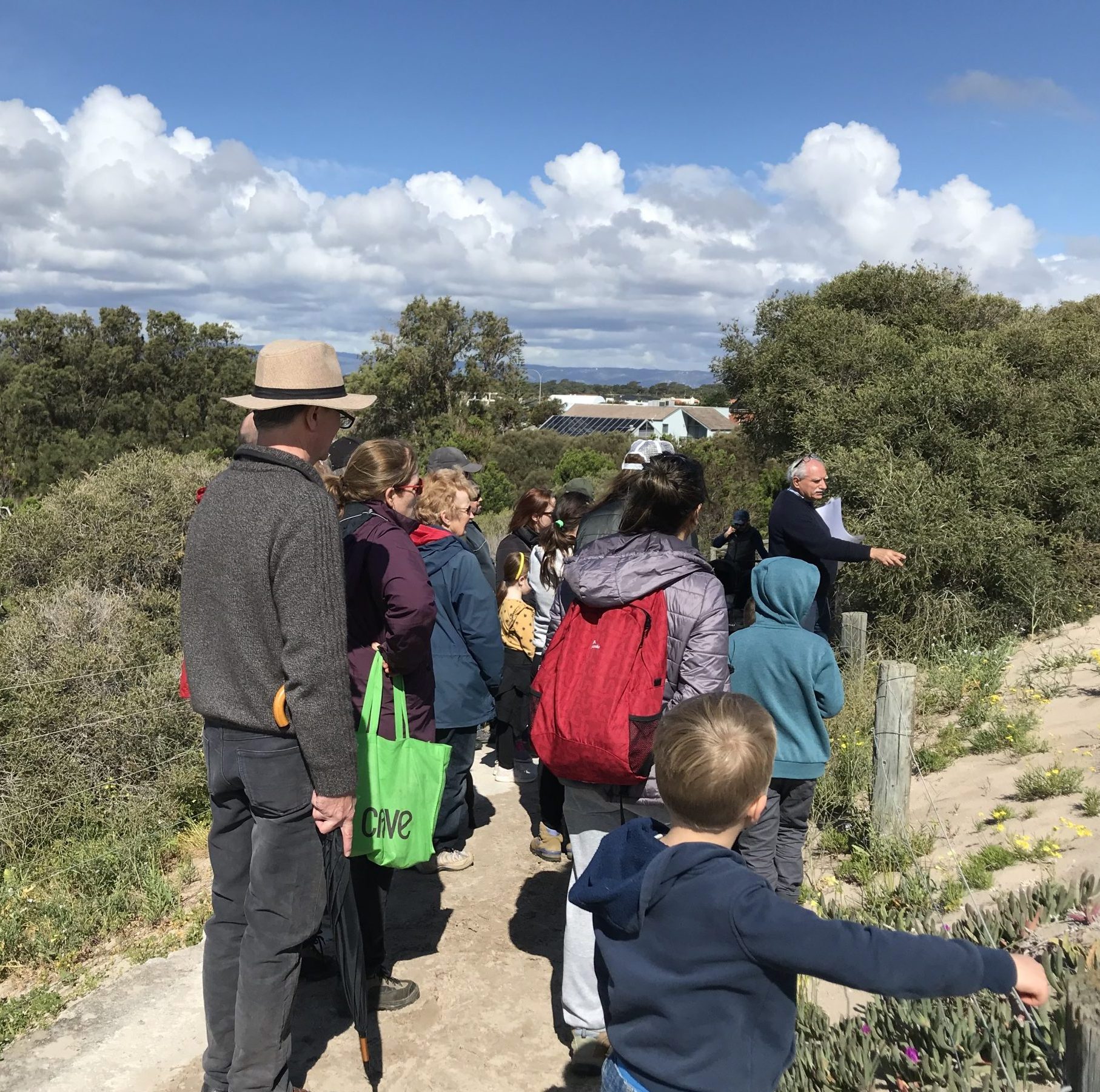 Coastal Conservation Group to host action-packed Open Day
Beachside volunteers, the Tennyson Dunes Group, will hold their popular annual open day this September at the coastal Conservation Reserve, Wara Wayingga-Tennyson Dunes.
Visitors are encouraged to sign up to free expert-led guided tours taking place throughout the day to learn about the fascinating and important ecosystem.
Open day activites include:
Free guided tours
Kids activities, including Animals Anonymous and Bugs 'n' Slugs.
Native coastal plant sale.
Fun and fact-filled information stands.
Stalls selling locally made, environmentally friendly gifts and the popular dunes plant ID booklet.
BBQ, coffee and refreshments will be available.
Nick Crouch, on-ground Works Coordinator for the Tennyson Dunes Group said, "We love how this popular annual event welcomes hundreds of people every year to enjoy the activities on offer and learn about all the life in the dunes."
"We've got incredibly knowledgeable guides leading the tours again this year, which are always fascinating. It's a beautiful place to soak up the great outdoors, and children will love the interactive things to do," said Nick.
This important coastal ecosystem spans over 22 hectares but represents just a small percentage of what used to be here. It was declared a conservation reserve in 2015 to help protect the flora and fauna in the reserve.
Event details
When: Sunday 18 September from 10am – 3pm.
Where: Wara Wayingga-Tennyson Dunes Conservation Reserve, Southern Car park on Military Road, Tennyson.
Sign up for a FREE guided tour at tennyson.org.au – be quick, they sell out!
Parking is available at the Conservation Reserve and at Oarsmen Reserve near the rowing club. It is also accessible by public transport and can be found between bus stops 32A – 32B on Military Road.
Guided Tours
Coastal Birds of the Dunes with Ali Ben Kahn – 9am
Connecting with Coastal Nature with Prof Chris Daniels – 10am
Dune Pollinators with Jenna Draper – 10am
Flora and Fauna of the Wara Wayingga Tennyson Dunes with Dr Tim Milne – 10:30am
Microplastics Survey and Beach Clean with Dr Michelle Blewitt (AUSMAP) and Chris Morris (Sea Shepherd) – 10:30am
In Search of Dragons with Peter Matejcic – 11am
Native Plant Uses with Neville Bonney – 11am
Lunchtime Presentations – Open event, no need to book
Native Plant Uses with Neville Bonney – 1pm
Beachcombing Guided Eco Tour with Peter Hunt – 1pm
Living Shorelines with Catherine McMahon (Estuary Care Foundation) – 1:30pm
Climate Change and Coastal Erosion with Dr Murray Townsend – 1:30pm
Top tips to enjoy the Conservation Reserve:
Enjoy the 1.5km Discovery Trail through the dunes. Download a free app to hear about the dune's history, stories from Kaurna elders and expert insights about the dune's native plants and animals.
Listen and look out for Singing honeyeater birds, Painted Dragon lizards and Nankeen Kestrels.
Smell the beautiful perfume and enjoy the vibrant colours of native plants.
Keep to the paths to protect the delicate ecosystem.
Take only memories (and rubbish/litter) home with you. Please leave flowers, plants and animals in their home where they belong.
Buy the popular book Tennyson Dunes: too good to lose. Funds raised will help conserve the dunes.
Thanks go to the City of Charles Sturt who are supporting this educational activity.
Media contact: Nick Crouch on info@tennyson.org.au or 0477161017.
Tennyson Dunes Group Website
Wara Wayingga Tennyson Dunes Conservation Reserve
The Tennyson Dunes Group help protect the dunes by growing native coastal plants, revegetating the dunes and contributing to citizen science activities. Find out more, including how to volunteer, here: https://www.tennyson.org.au/