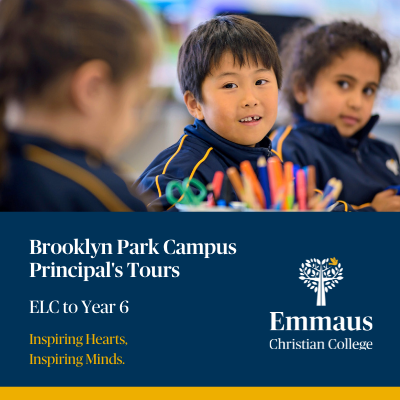 Brooklyn Park Campus Principal's Tours
Principal's Tours are the best way to experience and discover our College, first-hand.
Tours are held during a normal school day, where you will see the classes in-action, meet the teachers, staff and students and gain an insight into our unique, Christian culture.
It will include welcome and introduction by our Principal, Andrew Linke followed by information from Head of School, Marni Greenwood and ELC Director, Lauren Hughes.
Tour dates 2022:
9am – 11am Tuesday 28 June
9am – 11am Tuesday 16 August
9am – 11am Tuesday 13 September
9am – 11am Tuesday 1 November
We will do our best to provide an informative tour, whilst protecting the safety and wellbeing of our community. Depending on the COVID restrictions at the time, the tour formats may change to an online live tour via Google Meet.
To book your place, please click on the link below: