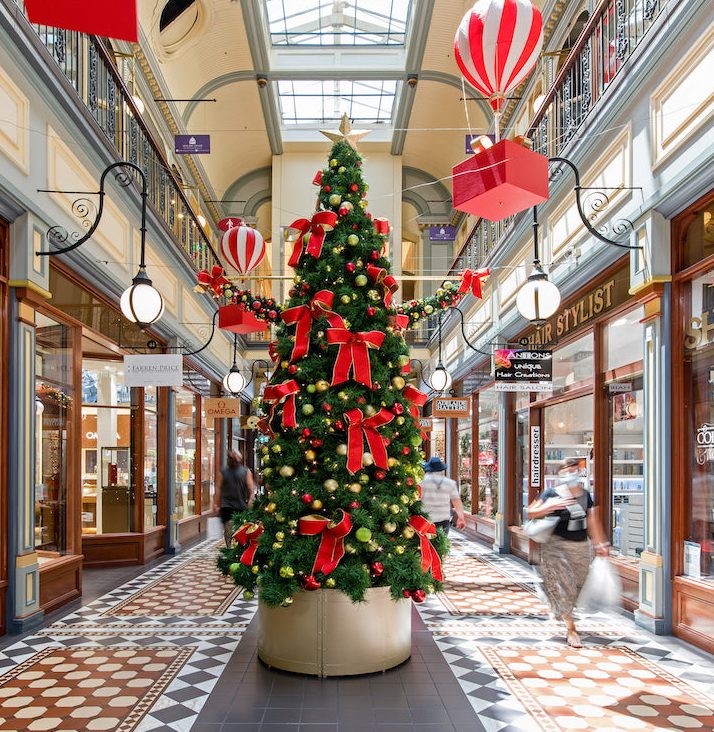 Adelaide Arcade Festive Friday Shopping Night 2022
Christmas cheer will surround local shoppers during this year's Festive Friday activities in Adelaide Arcade.
Friday November 18 will see special offers and entertainment light up the precinct, with numerous shops imparting the Christmas spirit on to consumers looking for Christmas gifts.
To kick off the Festive fun is a setup run by Pencraft where shoppers can write Christmas postcards to loved ones, with the pen specialty store to send them free of charge to loved ones. 
Zu Design will open their Tag Me Christmas exhibition which includes new work by about 30 makers, and Gerard McCabe Jeweller will release new products in-store on the night, including the brand-new Blush Pink Diamond collection and beautiful coloured gemstone designs.
Orchard Bookshop will launch its Christmas Gifts catalogue featuring new items and offer 10 per cent off from 5pm to 9pm, while Elysian Salon Spa is discounting retail items by 20 per cent as well as 10 per cent discount on Christmas packs.
Festive Friday will help to highlight the local businesses that make Adelaide Arcade so unique to the city's shopping scene.
Families can experience the Very Odd Christmas Trail where shoppers try their luck at finding all ten clues in participating stores and receive a FREE Koko Black chocolate and also go into the draw to WIN a $100 Adelaide Arcade voucher!* *One entry per person. The winner will be drawn on Monday 21 November 2022. 
Participating Stores
Alexandra Lingerie
 Receive a free surprise gift with purchases over $250. Open from 5pm to 8pm.
Aristocut Beauty
 20% off Thalgo skincare products and packs. Open until 8:30pm.
Elysian Salon Spa
 10% off Christmas packs and 20% off retail. Open until 8pm.
Fox In Jocks
 Beats, Briefs + Bubbles
 Free gift of a Liberty London Tana lawn stocking with purchases and orders on the night.
Gerard McCabe Jewellers
 Champagne consultations available on the night and the store will be showcasing new stock in time for Christmas, including the brand-new Blush Pink Diamond collection and beautiful coloured gemstone designs. Open until 7pm.
Heirloom Quality Supplies
 Receive 15% off items listed in the new Heirloom catalogue
 Yoshimitsu Hamono knife sharpening demonstration and on-the-spot knife sharpening
 Free traditional paper decoration making
Orchard Bookshop
 At 5pm, Orchard Bookshop will unveil its 2022 Christmas Catalogue "Classic, Beautiful" filled with wonderful booky gift ideas. 10% off ALL purchases in-store on the night. Open until 9pm.
Kennedy Parker
 Join NEW store Kennedy Parker for a special evening of "shoes and booze". Get your first look at Kennedy Parker's exclusive range of premium men's shoes and enjoy a gin from Prohibition Gin. 5pm to 9pm.
Pencraft 
 Give the gift of a handwritten note this Christmas at Pencraft. Pop in the store to handwrite a postcard and fill someone's letter box with Christmas cheer. We will post it for you for free! Plus, don't miss out on the launch of a new Pencraft Exclusive product on the night plus special in-store offers. Open until 9pm.
Sue Ninham 
 Sue Ninham is an artist, designer, maker and teacher with a studio on the first floor of Adelaide Arcade. Drop in to see Sue at work and view her original pieces with an option to order or buy. Oil paintings will be on show and some works on paper for purchase.
T'Arts Collective
 'Meet The Maker' Christmas Party plus 10% off on the night. Refreshments and nibbles from 5pm to 8pm.
Two-Bit Villains
 Serving up their delicious plant-based Americana cuisine plus try their Christmas-themed Candy Cane cocktail or mocktail. Open until 9pm.
Zu design
 Exhibition opening of their Christmas show "Tag Me" which will include new work by approximately 30 makers. Plus, spend $50 or more in any Adelaide Arcade store between 6pm – 8pm, visit Heirloom Quality Supplies to show your receipt and go into the draw to WIN a handcrafted blanket created by artist, Jane Bowden* valued at $3,000+. The blanket will be drawn on Christmas Eve. *With assistance from 2022's Knit-O-Rama participants.
Adelaide Arcade's Festive Friday shopping night runs on Friday November 18 from 5pm to 9pm.