Bringing peace of mind to children and parents alike, the SPACETALK Adventurer Kids Smart Watch 4G is a kid-friendly smartwatch, phone, and a GPS device all in one.
When you read the specs, it's clear there's not much this kids' smartwatch can't do – within reason. Which is exactly what we parents want when we're entrusting a device to our little ones… all the control!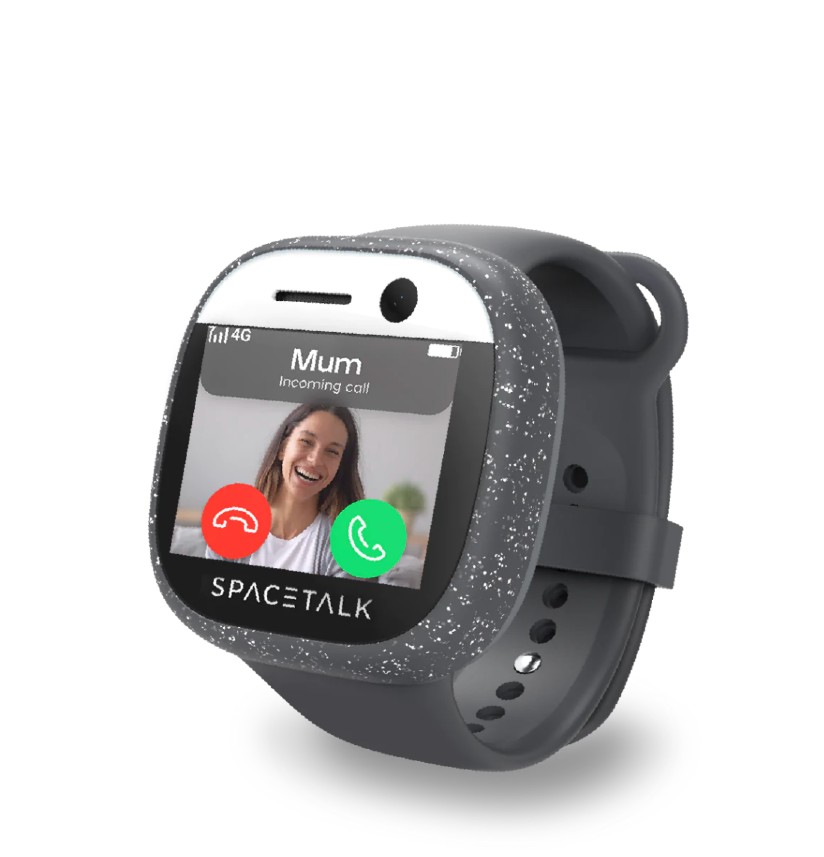 The main point to note here is that the SPACETALK Adventurer Kids Smart Watch has no open access to the internet. Your child will only have access to approved contacts, with no way of using the Internet or social media. For families, this makes the watch an ideal peace of mind option for maintaining contact with kids when necessary, encouraging some early independence, but also providing them with optimal cyber safety. Big ticks here from us.
For those times when you are running late to school pick up (….guilty!) and need to let the kids know, want to meet them at a different gate, check they're OK when at a friends house, or just send them a little love when they're not with you, this is a game changer.
If you're worried about the kids getting distracted wearing the SPACETALK Adventurer Kids Smart Watch at school, rest assured, the smartwatch has a "school mode" you can enable for specific hours of the day so your child only has access to certain functions when they're supposed to be paying attention in class! Your child's SPACETALK Adventurer becomes a classroom friendly wristwatch during the hours you set!
The SPACETALK Adventurer model is an all new revolutionary design, equipped with all the features from the first award-winning device along with a few updates!
Some of the features of the SPACETALK Adventurer Kids Smart Watch include: 
5MP Camera
Heart Rate Monitor
In built fitness tracker
Bluetooth Connectivity
Water Resistance
Built in GPS
40 hours battery life
It's immediately evident that the SPACETALK Kids Smart Watch is designed to meet the various needs of children ages 5-12, it's easy for kids to put on themselves, with a large screen for little fingers, and comes in a variety of kid-approved colours.
The set up of the watch was easy too; this is usually a task I set aside for my husband to deal with, but I actually did it myself which, let's just say, does not happen often in our household!
A note about GPS tracking
GPS tracking sometimes get's a bad rap. However when we're talking about the safety of your kids, it can absolutely be a useful tool for helping develop independence in a safe way. That's why the GPS tracking available on the SPACETALK Adventurer Kids Smart Watch is the backbone of many of the important safety features.
Location on demand lets you check your child's location any time when they're wearing the watch, or you can choose to have updates sent to your phone at intervals from every five minutes to every hour.
Safe Zones use GPS to let you know when your child has arrived at school or is on their way home. SOS Alerts give you your child's location in an emergency so you can navigate to them quickly.
Unlike some watches however, the SPACETALK Adventurer doesn't allow parents to access the microphone or camera remotely (to see and hear what your child is saying or doing without their knowledge) or read text messages – and for anyone living with the childhood trauma of discovering their mum reading their diary which was ~expertly hidden under their mattress, you'll know that this level of trust is pretty important to establish with our kids these days!

Let's take a look at some of the key takeaways of the SPACETALK Adventurer Kids Smart Watch from our experience.
Kid-friendly Communications
With the SPACETALK Kids Smart Watch, your child can chat with family groups, share photos/videos, and make/take calls from a pre-approved contact list. Additionally, it provides no access to the Internet and social media to help ensure optimum cyber safety.
Made for Parents
Using the Spacetalk app (download required), parents can easily approve trusted contacts to communicate to your child through the Adventurer Smart Watch, track their fitness activity, and determine their child's location with a simple touch of a button via its built-in GPS functionality.
Loved by Kids
Incorporating a 5MP camera, the SPACETALK Kids Watch lets young adventurers capture brilliant shots of their favourite moments as they happen and share them with their family members. Plus, it has a battery life of up to 40 hours on standby for long-lasting, continuous operation.
Durable and Long-lasting
This Kids Smart Watch features an IP67 construction, offering great durability against dust ingress and water exposure for a depth of up to 1m for up to 30 minutes. Additionally, it has a Gorilla glass OLED display, a TPU body, and an adjustable strap size (compatible with 125mm to 185mm wrist circumferences). Which in parent-speak just means it's comfy and hardwearing and probably won't break in the first five minutes your kiddo is wearing it!

The verdict
With SOS Alerts, no open internet and a parent-approved safe contact list, Spacetalk Kids is the ideal first phone for children aged 5 – 12. It means no worries about them accessing inappropriate content or unknown numbers contacting your child.
Parents can also rest easy in the knowledge that Spacetalk complies with the world's strictest privacy laws to protect your family's data. Your child's data is stored safely and securely in Australia under strict privacy laws. Everything from the software and systems is developed in-house in Australia to ensure your data is secure and loved ones can stay connected when it matters most.
Please note – Adventurer requires a Nano SIM card with calls, SMS and data, and a Spacetalk in-app subscription for up to 2 watches $5.99/month or up to 5 watches for $8.99/month.
SPACETALK Adventurer Smart Watch RRP $349.00
Bonus JumpySIM Card:
Your SPACETALK Adventurer now comes with a bonus JumpySIM card to help you get connected as soon as you have your watch.
With amazing coverage using the best networks in Australia and three affordable plans to choose from, JumpySIM keeps your family connected for less.
The best part is, your Spacetalk app subscription is free while you're connected with JumpySIM.
Please note: JumpySIM operates on the Telstra network and is compatible with Spacetalk Adventurer, Spacetalk Life, and Spacetalk Kids Telstra edition only.