WORDS: Lucy C. Budzynska
Award-winning classical pianist and writer Anna Goldsworthy's charming memoir about motherhood comes to life on stage as a life-affirming new play with music. With original live songs composed by Alan John (Play School) and an all-star South Australian cast including Erin James as Anna, alongside Kathryn Adams and Matt Crook, all under the direction of Shannon Rush.
Goldsworthy's account of pregnancy and early motherhood is both hilarious and uncomfortably similar to my own experiences. As a mother of a 5- and 3-year-old, Welcome To Your New Life had me both laughing and crying with how relatable it all was.
Split into two acts – we first meet Anna and her partner Nicholas (Crook) at the beginning of Anna's first pregnancy, ending at the pinnacle of birth where the lights are abruptly turned off. We pick up again in the second act in the early days of parenthood.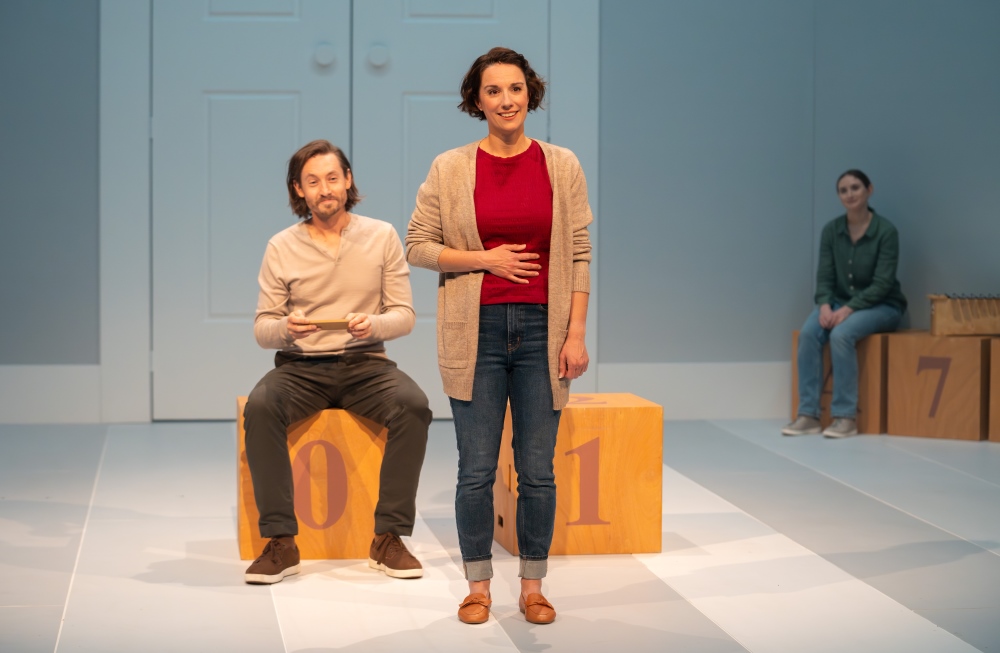 The first act is more lighthearted and humorous – we meet various different people in Anna's world played by Adams and Crook. The polar opposite opinions of birth and parenting are on display through these characters. From the all out anti-drug and anti-medicalisation of birth, to her doctor sister telling her the most horrifying birth stories.
Here we learn of Anna's anxieties but they're of the future; of birth and beyond. It's simmering under the surface but it's still happy days.
Then in the second act the mood shifts and it has become very clear Anna is in the grips of postnatal anxiety – something I also experienced after the birth of my first daughter. So here I am practically weeping in my seat. There's something lovely yet bizarre about having your experiences (but not your experience's because this is Goldsworthy's memoir, I remind myself) played out on stage for all to see. You feel exposed and vulnerable; seen and understood.
Anna's anxieties escalate into a dramatic point of tension until they ease and a couple of years have passed. By three we are in the "remember whens" and the possibility of doing it all again doesn't send shock waves through your whole system.
Welcome To Your New Life is an important and poignant play for all those who have experienced pregnancy, birth and parenthood, and more so for those who experienced all that through the grips of postnatal anxiety. It'll have you both laughing and crying as it reassures you that when you are in the trenches of new parenthood you are absolutely not alone in your experiences.
Welcome To Your New Life is playing at the Space Theatre until November 25th.
Photo credit: Matt Byrne
---
For more information: