REVIEW: Lucy Budzynska
Mr. Spin, a renowned Australian juggler and international street theatre performer and film star, showcases his awe-inspiring circus skills, comical antics, and offbeat humour on stage at Umbrella Revolution at The Garden of Unearthly Delights.
Accompanied by his animated sidekick, The Maestro on piano, the duo delivers an energetic and hilariously entertaining show that keeps both children and adults laughing for a full 50 minutes.
This tribute to vaudeville includes plenty of slapstick, a quirky magic routine, a six-ball juggling saga, and a ballet performance.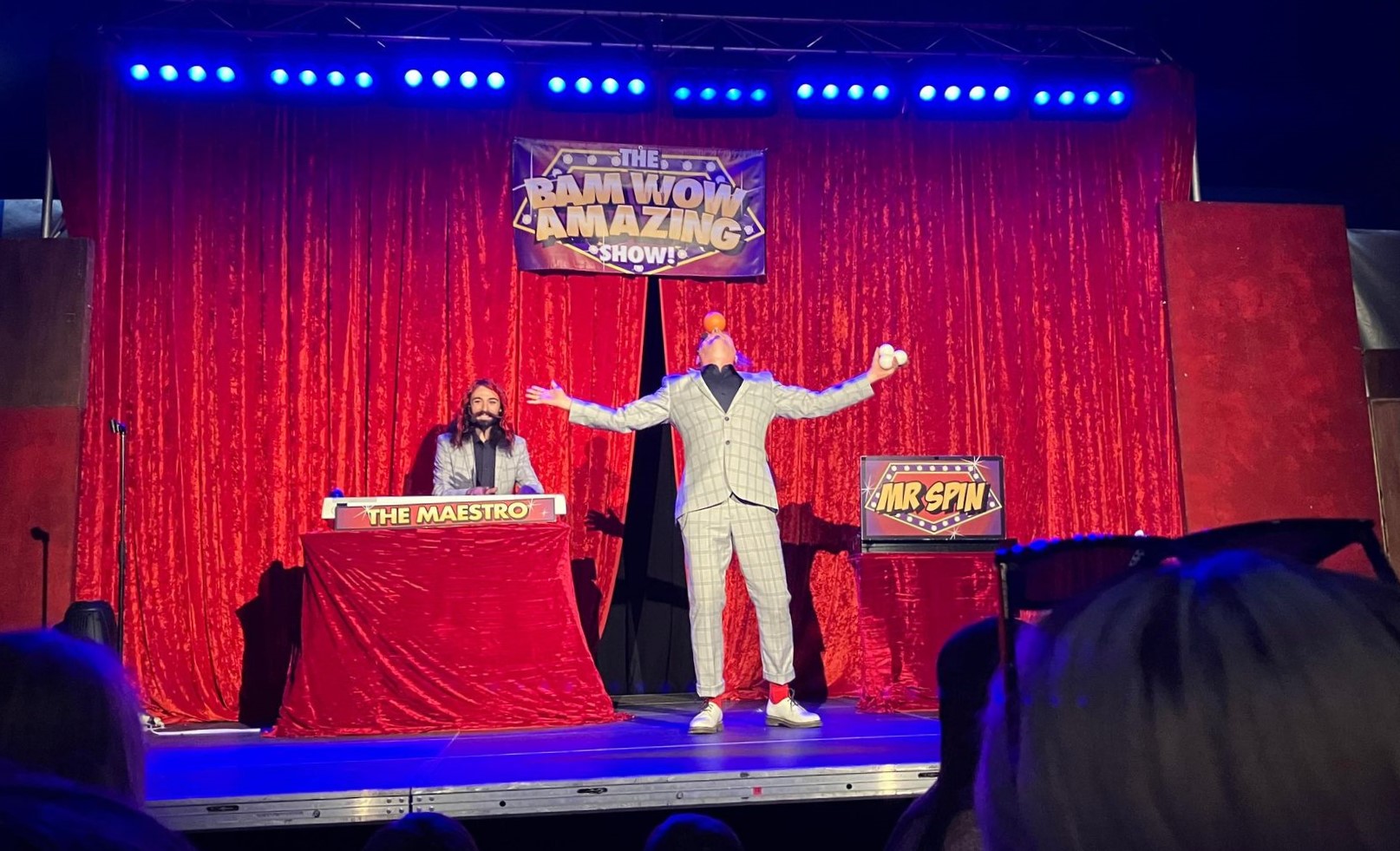 The show concludes in an awesome finale, with Mr. Spin perched high atop a zig-zag unicycle while simultaneously playing a miniature bass, whilst The Maestro operates a one-man band that includes drums, piano accordion, and trumpet.
Our expert reviewers, Frankie, 5 and August, 3, were in fits of giggles all the way through and desperate to keep their eyes peeled on the lively duo. The eldest was especially enamoured with the show and has since asked to see it again and again. The magic portion of  was a big hit!
The audience was enthralled all the way through, with lots of laughs, gasps and the occasional shout of encouragement from young audience members. Parents were also kept amused, and it is very much a show the whole family can enjoy.
Mr. Spin's infectious laugh, wacky hair, and dynamic persona complement The Maestro's delightful, bubbly, and playful demeanour, resulting in a captivating performance.
For a fun-filled afternoon with the kiddos, head to The Garden and witness a show that promises to deliver the laughs. Mr. Spin and The Maestro will leave you thoroughly entertained, and you won't be disappointed.
---
until 19 March, 2023
Umbrella Revolution, The Garden of Unearthly Delights