REVIEWED BY: Lucy Budzynska
The Monkey Baa Theatre Company production takes the audience on a whimsical journey into the magical world of Grandma Poss and Hush, the invisible possum, as they embark on a quest to make Hush visible once again.
The set transports you into the heart of the Australian bush, with looming gum trees and cleverly used props. They use the aid of a screen to visually move around Australia, which the young audience members enjoy calling out which city the pair is entering. Plus, the well-done use of projected animation, puppetry, smoke machine and a good-helping of glitter adds an extra touch of magic to the stage.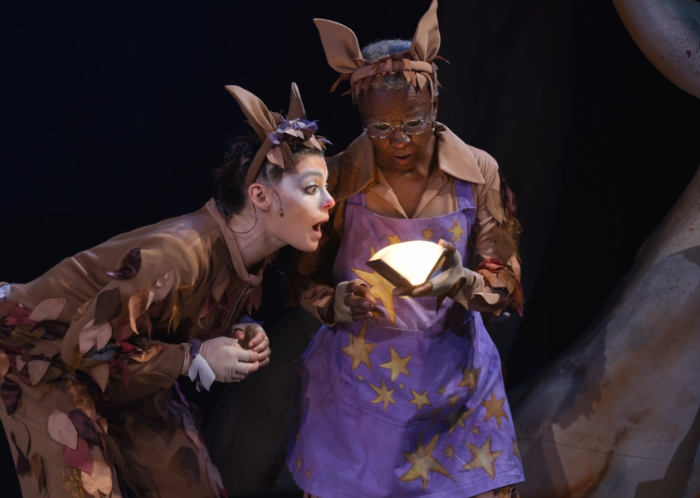 The team's use of lights and music adds drama and suspense to various scenes and also aids in the use of magic by Grandma Poss. The magic in the show is also enhanced and aided by trick props that wow the young audience.
The four-person cast gives a well-oiled performance as they bring the beloved characters to life. Grandma Poss is portrayed with warmth and wisdom, capturing her nurturing spirit and mischievous nature. Hush, the endearing invisible possum, is an audience favourite with her playful and humorous character. The two other cast members play a variety of characters throughout the show, including shopkeepers, two grannies at a bake sale, and more, as well as cleverly making the set come alive through movement and dance.
The script incorporates Mem Fox's poetic prose, allowing the essence of the book to shine through on stage. The dialogue is charming and includes humour that appeals to both children and adults alike – there are many moments where the young audience members burst out with laughter. The play also tackles important themes of identity, self-acceptance, and the power of love and family, imparting valuable lessons to the kiddos subtly.
Possum Magic is a must-see at DreamBIG Children's Festival for fans of Mem Fox's beloved book. It's a captivating experience that celebrates the power of imagination, family, and the joy of storytelling.
---
For more information: 
dreambig.adelaidefestivalcentre.com.au/whats-on/possum-magic