The students connected with participants at the Cumberland Park Community Centre through Augmented Reality games.
Affectionately known as "The Cumby Crew", the Community Centre is a partnership between ECH and the City of Mitcham, where activities are held weekly to engage older members of the community.
Over two terms the students were engaged in a STEM project where they were tasked with creating games with older people in mind. The students got to showcase their creations to the individuals who will benefit from their ingenuity in the future.
ECH Chief Executive Claire Scapinello said creating these meaningful connections within the local community was essential to overall health and wellbeing.
"Each week, the ECH Community Connections Team ensures bonds are built and friendships are formed to encourage participants to try new activities such as craft, macramé, art, sewing, cooking, gardening, or even music and dance," Ms Scapinello said.
"The significance of this STEM primary school project extends beyond the classroom. It underscores the potential of education not only as a means of individual advancement but also as a vehicle for cultivating empathy, understanding, and cooperation."
The collaboration between young minds and seasoned individuals underscores the invaluable exchange of knowledge and experience that takes place when generations come together with a common goal.
The project has captivated the imagination of the ECH & City of Mitcham's Community Day Program participants and primary school students alike, with all involved immersing themselves into the compelling world of Augmented Reality.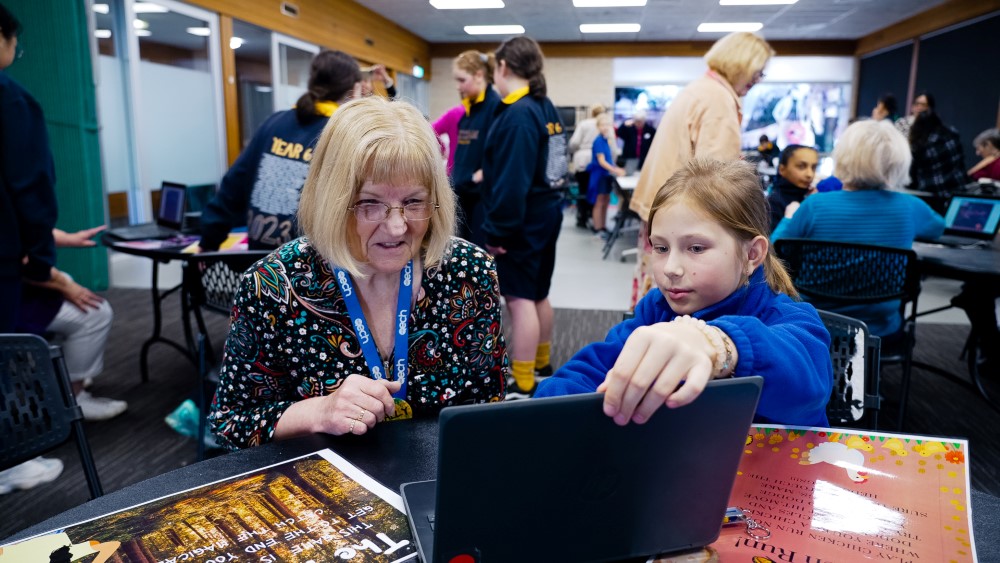 One Cumby Crew member said: "Today was absolutely fantastic. Five years ago, I couldn't turn a computer on, but now I can do a lot more on it. For older people, I think they should get more involved and encourage them."
Mitcham Primary School principal Scott Greenshields said:
The benefit for our students is engaging with senior people to showcase their projects and to give feedback that will allow them to look at their programs and adjust them accordingly.
"One of the remarkable aspects of this initiative is its reciprocity. While the primary school students have been able to fine-tune their technological skills, The Cumby Crew have been presented with an exciting window into the future. The interactive games have been thoughtfully designed to actively encourage movement among older individuals, which is pivotal for their overall wellbeing," Ms Scapinello said.
The games have been through the parents and family test, however today the students tested their creations with some who may eventually benefit from their concepts.
This project serves as a testament to the impact of education that reaches beyond the classroom, instilling values that will shape the future for years to come.
---