Following the arrival of their first daughter Cleo in 2016, who had severe reflux, Kendall and Dean Main found themselves constantly washing everything she touched, including her play mat.
At the time they also noticed a distinct lack of stylish baby play mats on the market; everything was either brightly coloured, made of stiff foam or covered in animated characters. So, they set out to create a play mat which was wipeable, but also fits seamlessly into the homes of the most interiors conscious parents.
Thus Henlee Homewares was born.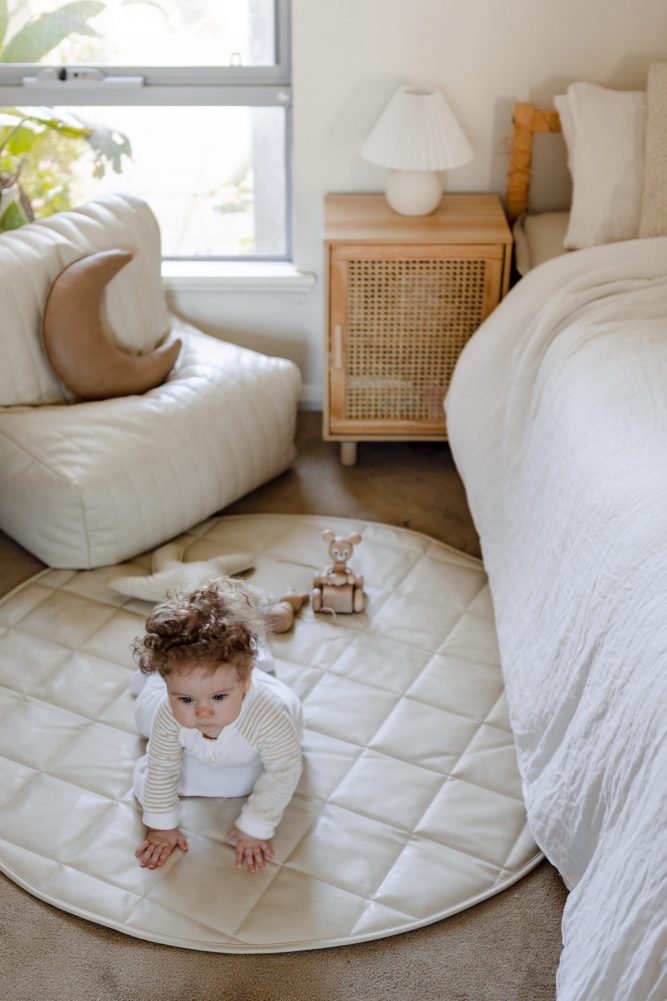 Henlee Vegan Homewares for your family home
Henlee play mats have been a high seller since their release and are a unique addition to the existing options on the market. A play mat like no other, you can take the luxury of leather to your nursery or play room with the Henlee round quilted vegan leather play mat.
The original designed quilted vegan leather play mats have been carefully designed with premium buttery soft vegan leather on both sides, quilted with a thick layer of polyester filling to create a soft and supportive base for your little love. This mat not only looks amazing but is so practical and easy to clean – just wipe down, no laundering required.
The success of the Henlee play mat allowed the team to quickly grow their product offering to include baby changing mats, picnic & craft mats, poufs, bibs, bunting garlands and kids decor cushions.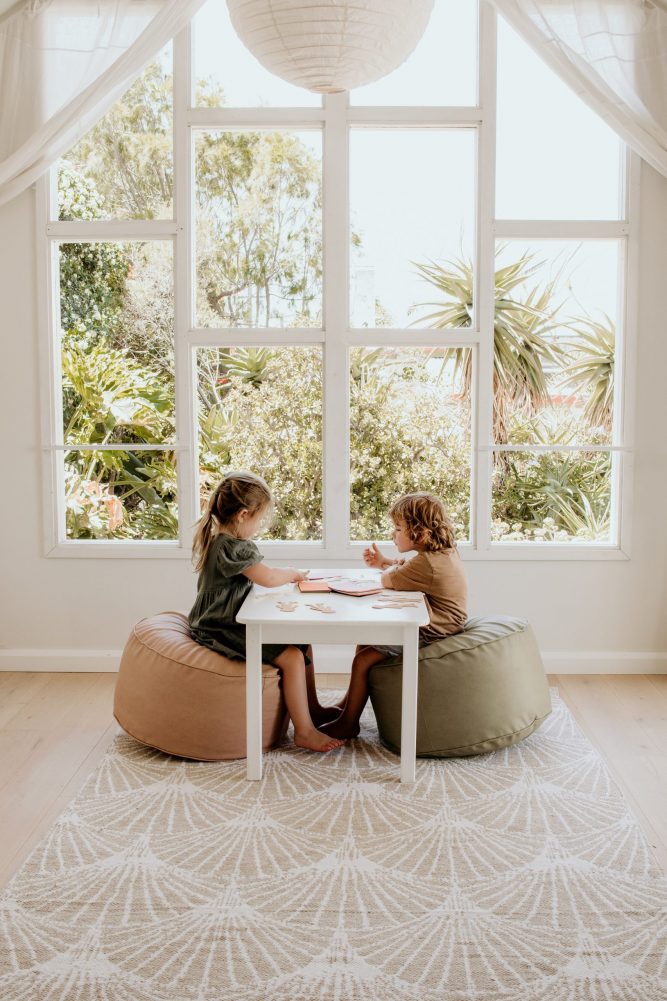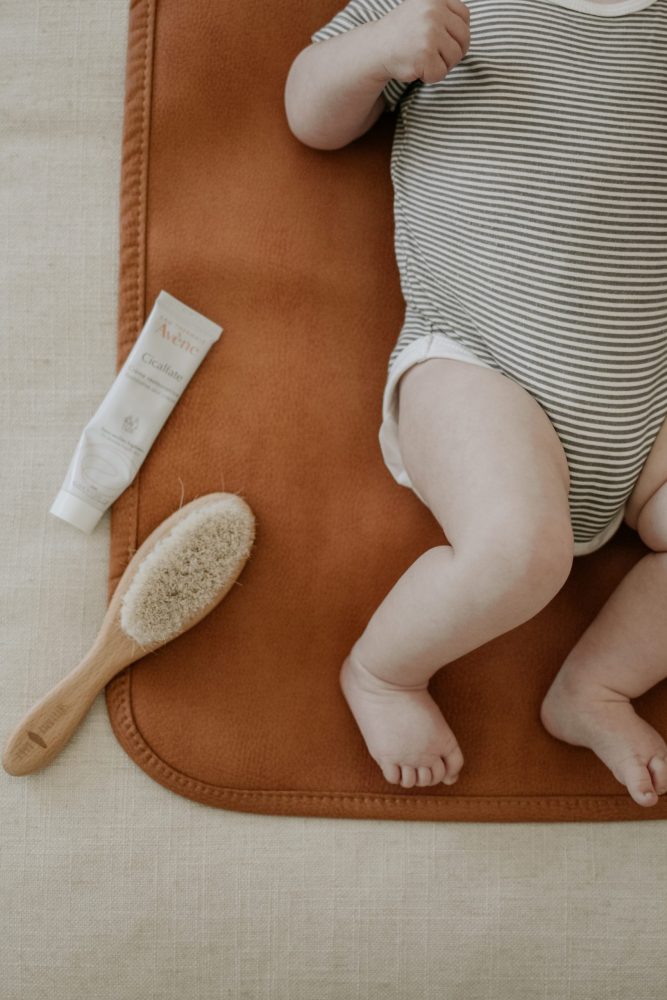 Henlee Kids Loungers
Want a kids lounge chair that won't mess with your aesthetics? The Henlee Vegan Leather Lounger is cute, luxe and easy to clean. Say hello to cool kids furniture!
The Henlee Lounger has been the team's best innovation thus far. The Lounger brings a beanbag chair that looks like a piece of high-end furniture, into your living space or kids rooms, and serves as a really practical item with kids around as it wipes clean (enter Vegemite fingers!).
The Henlee lounger is available in two sizes and several colours to choose from to suit any style of room.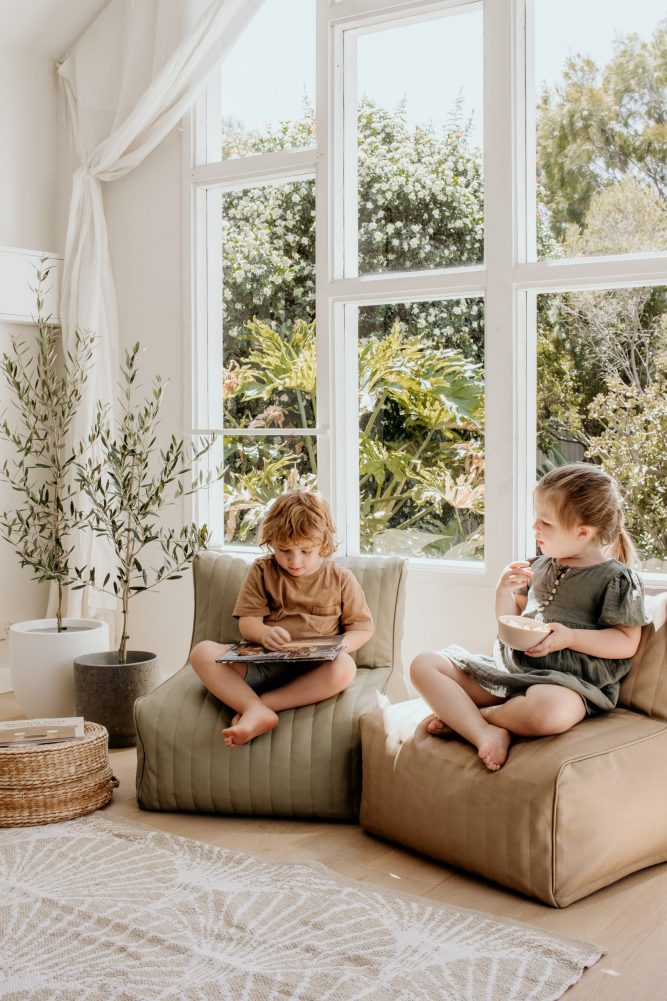 Practicality and style
All Henlee products follow the philosophy "practicality AND style", and most products offer versatility which creates more use and extends the time that the product can be useful for. For example, Henlee poufs can act as a place to put your feet up, a side table for your drink, a building fort piece or extra seating!
The unique fabric has been custom made and is ideal for the modern lifestyle. It's beautiful to look at and feel (mimics genuine leather), but most importantly it is practical; it wipes clean and is water and stain resistant. The team also spend months curating and perfecting their colours, so that they are unique and the highest quality available.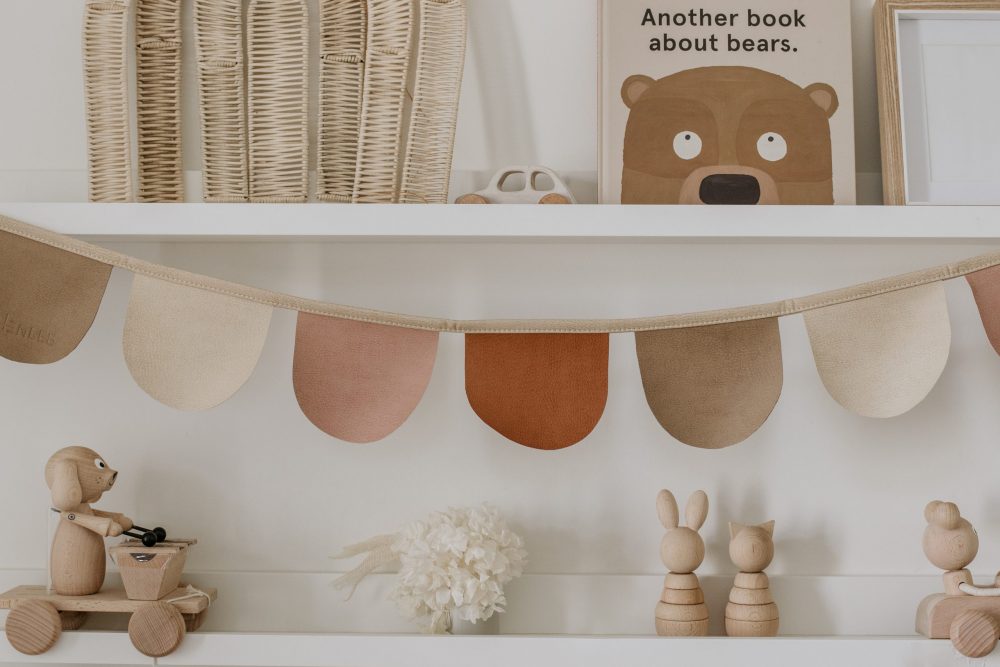 Vegan leather goods for children, babies and mums
It was the will to leave a highly demanding job and the corporate 9-5 that initially inspired Kendall and Dean to move forward with Henlee.
Several things inspired our business, such as wanting to do something creative, but primarily having a level of flexibility with time and work commitments, whilst having a young family. Owning this business gives us exactly these benefits as we wanted, but it does come with a high level of stress when wearing so many hats.
Henlee has been the first and leading brand to bring a range of premium vegan leather goods for children, babies, and mothers, in the Australian Market.
IMAGES: Alicia Kapel
For more information: