In this interview, Mary opens up what inspired her to create her deeply personal new show, This Is Personal and how motherhood has changed her.
Your daughter Jamie is now 9. How have you found motherhood has changed you as a person? 
My road to motherhood was a very long one. The decade before Jamie arrived was the most challenging and heartbreaking one. That decade that consisted of 23 IVF's and multiple losses the most harrowing one being the loss of my still-born daughter Stevie. I didn't know how I would ever recover from that. Somehow, I did. I think love carried me through the darkness into the light. And that light led me to Jamie who is 9.5 now.
Motherhood opened another dimension, another wing to my heart. It was like suddenly being able to see in HD. Putting a little human being into the world lets you look at life with fresh eyes again. This last decade has been the most fulfilling, eye-opening, and gratifying decade of my life. I am a better woman, a better actress, I am more empathetic, more aware, and more passionate because the gift that is Jamie. She has reminded me how simple things need to be. How to be in the moment. How to steal joy from the smallest things every day.
Jamie's birth was the beginning of a new era. I remember when 60 Minutes TV crew came into the maternity ward moments after Jamie was born and I was in the haze of bliss and Michael Usher asking me how I felt and the first thing that came out of my mouth was "nothing good comes from giving up." 
Having babies and toddlers is so so different to having a tween! What are some of the most challenging aspects of a tween daughter as opposed to what it's like parenting in the younger years? 
The questions and needs are far more complex. When they are little it's all about keeping them physically safe and happy and as they get older it's that plus the psychological aspect which needs to get built on a solid foundation. The older they get the more influenced by the world and their peers and that can get a little scary. I want to put the wind in her sails early so she can navigate through the difficulties independently of negative influences.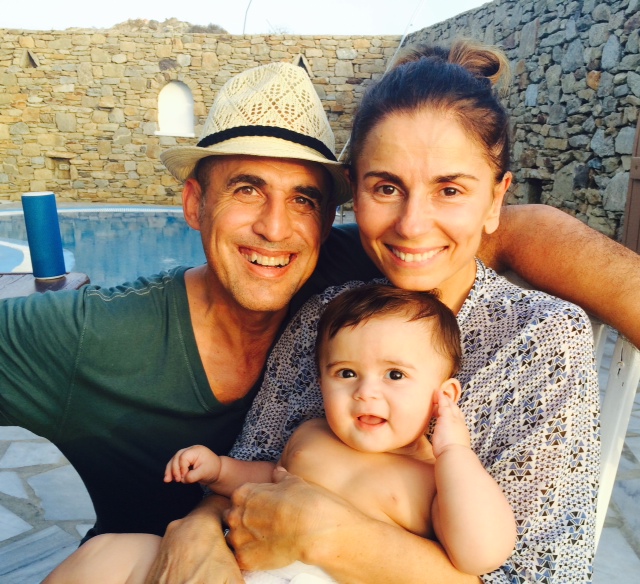 How has having an inquisitive daughter impacted your parenting style?
The conversations are deep at times. Much deeper than the ones I had with my own parents. The way the world is designed now means a lot more access to information and that means a lot of reaction to those things especially from children who are trying to understand and process so much. I try to be as truthful as I can be but I'm also very conscious of the language that I use as well as the examples so as not to overwhelm my daughter. It's important to arm her not disarm her. To use language that is not filling her with fear but with confidence. It's a balancing act that's for sure. 
What have you learned about yourself as a parent over the years? 
I'm a tough parent in the sense that I believe that guidance and healthy boundaries are very important for children to learn. It's easier to say yes than it is to say no. But the world will serve all of us plenty of no's so we need to prepare our children for that. Not have them live in a false economy of constant yeses. Our job is to nurture healthy, independent, resilient, and confident children and we know from our own experience that so much of that is garnered from having to dig deep, to recover from disappointment and to find the courage to try to find another way forward.
What inspired you to create This Is Personal, and what can audiences expect from the show?
I felt it was time for me to stop hiding behind the largess of the public gift that was Effie. It was time to strip everything back and get to the core of what matters most to me and build a show around that.
This show has so much to say about life and the things that define us. Yes, it's personal to me but it quickly becomes personal for the audience throughout the performance as well.
I think that is where the ultimate magic lies in this show. It's as dramatic as it is funny but even more than that it's unforgettable and impactful. I'm very proud of this show because of that.
Can you tell us about some of the challenges you faced in putting together a show that is so personal and intimate?
I, like many, suffered through a lot of bullying at a certain time in my life. As I say in the show, "You realise that Racism is the tax you pay for being different" I don't think the ATO will be auditing me in the future. I paid plenty. But simultaneously I had another drama that was playing out at home, I had a dying father. Those two pressures placed me in a vice of pain, but those two things were two very unexpected gifts ultimately. The racism defined my career by doing shows like Wogs Out of Work and Acropolis now and every other show I have put out there. And my father's health taught me never to take anything for granted. And then there was my third and most excruciating challenge and that was my fertility journey which was never anticipated but finally yielded my greatest gift in Jamie.
How does your experience as an actor and comedian influence your approach to storytelling in This Is Personal?
I've lost a lot in my life, but I have gained plenty too. This show and the way this story unfolds on stage is the most potent result of all that I have been touched by and all that I believe is of benefit to others. It is very intimate, very funny and draws on every skill I have as an actor and human. I LOVE it and cannot wait for the country to see it.
The show deals with some heavy and emotional topics, such as fertility struggles and loss. How do you balance the humour and levity with the more serious aspects of the show?
That's the challenge. The constant questioning of that balance is what was always being discussed and tweaked in the writing of this show as well as in the rehearsing. I love contrast. I love that we as humans can go from laughter to tears and back again. I love that we see so much in each other when we are at our most challenged. Vulnerability is something I'm not afraid of anymore. Getting older and wiser has taught me that control and composure is illusive and over-rated. We are built to feel and to think and grow. I am happy to risk and to move towards the more liberating work and life that I feel I've earned through experience. I like raw. I like seeing things that are unreal in their realness. And my job as an actor is to do one thing and that is to make people feel. And I want the audience to feel so many different things. I want them to be active as they watch the show. To not know where it is going next. To come along for the ride and trust that it will be an unforgettable one. I would never want to waste their time or their money, so the show needs to deliver. And thankfully it does.
What do you think "Effie" would say if she could give you one piece of parenting advice? 
 Effie's take on parenting children is simple: "I will not negotiate with terrorists." 
---
Mary Coustas, This Is Personal
4–6 May '23
Dunstan Playhouse