You know how it goes – one day you have a tiny baby that is happily fed on the bottle or boob, then you introduce solids – and they are excited to try all manner of food that makes you think you've given birth to the next Nigella. Next thing you know, they become little individuals hell bent on testing the limits and avoiding all known food groups. One day it's a spoonful of sand and 6 bananas, the next they will refuse anything yellow while chewing happily on something found under the sofa.
Enter mumamoo – the South Australian made & owned infant formula company that is owned by mums and proudly made using 100% Australian cows milk. Rocketing up to #2 on Product Review within a year of launch, mumamoo has become a firm favourite of parents who use formula and toddler milk, noting its gentle formulation, premium ingredients and giveback to charity – but more on that later.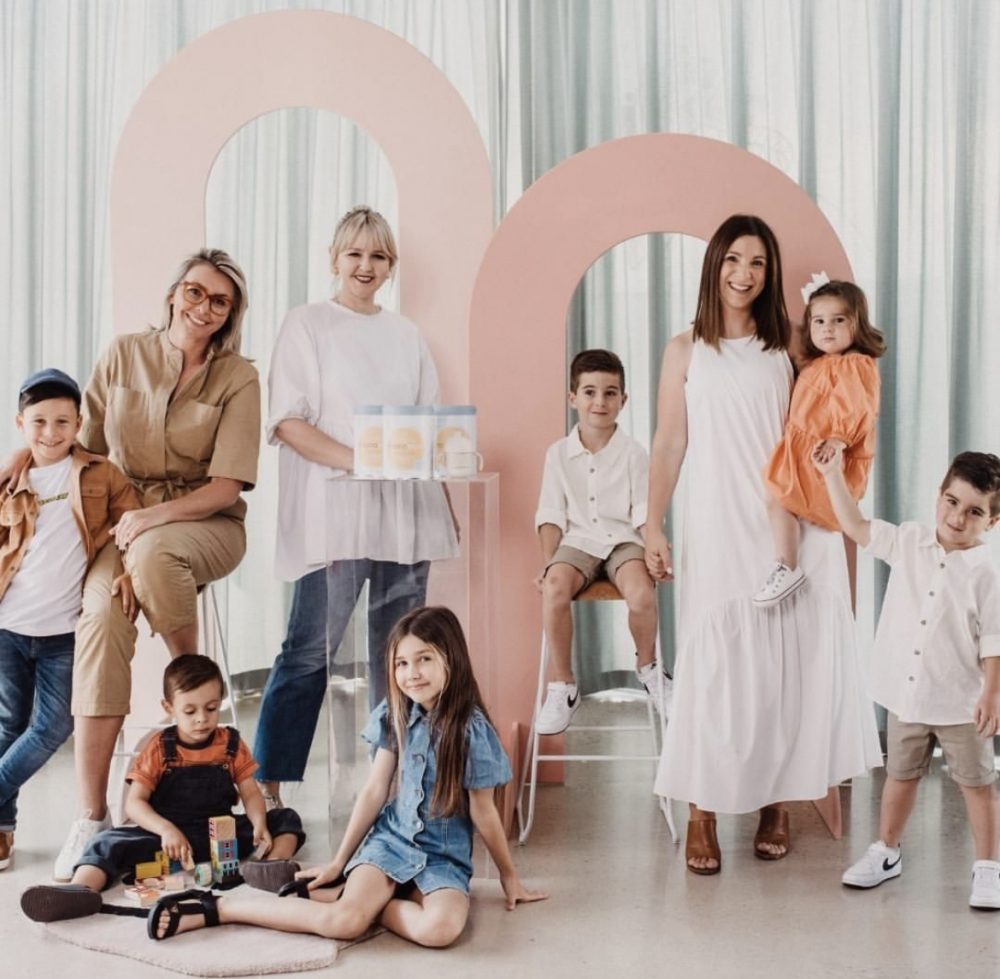 The mums behind mumamoo
Kristina Scutella is one of the founding mums behind mumamoo and knows all too well the experience of trying to feed your kids well. With 3 kids of her own – Eric 8, William 5 and Estelle 3, feeding them has been a test of endurance and a battle of wills. Kristina laughs as we chat at the family home in Flinders Park, Adelaide;
Estelle still has 3 sippy cups a day of mumamoo – she grew up on it and loves it! I am so grateful to know she is getting some nutrition from it as she is definitely going through her three-nager years
"Eric's feeding journey was anything but straightforward – even now as a 5 year old he has severe dairy allergies. Mums in the same position as me will know how stressful it is to have to go through this – especially the beginning when you are trying to determine why your baby isn't putting on weight or is so unhappy all the time," she explains.
Battling the stigma around formula feeding
Mumamoo has become her 4th baby of sorts, and she has been thrilled to watch the brand thrive and grow – especially here in South Australia.
"Mumamoo has been a dream come true!" Kristina exclaims "Knowing that what we are doing impacts many lives for the better is so rewarding. We have the best customers and they really know that we care about them and their babies. Because we are mums, they know we have been where they are now and understand how stressful it can be to find the right formula and battle the stigma and shame that still exists around formula feeding," she says.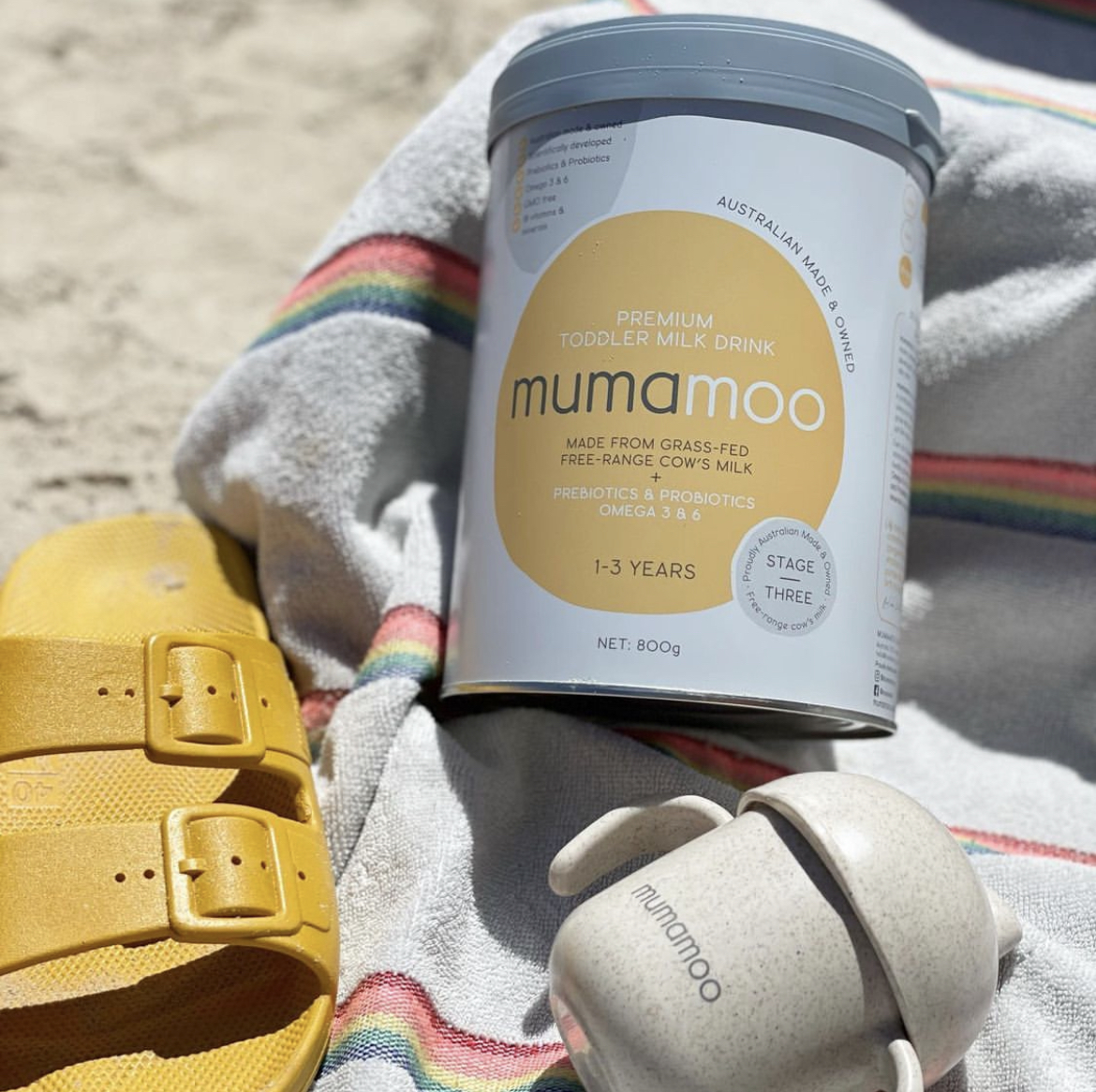 In fact, this has become central to the heart of mumamoo – with a percentage of all online sales going to PANDA (Perinatal Anxiety & Depression Australia) to support new and expectant parents navigate the pressures of parenting.
"Supporting all parents no matter what their feeding journey is, is why we do what we do," Kristina explains. "Parenthood is hard enough without the shame and stigma attached to any feeding journey – whether it's a mum who wants to breastfeed in a public space or a mum who's breastfeeding journey didn't work out as planned. We want every parent to know that they are doing their best and that that is enough," she says.
Mumamoo, a part of your feeding story
It's a sentiment that has endeared the brand to customers, with a loyal following ensuring the brand has dominated local independent grocery shelves across South Australia, including Foodland, Drakes, Tony & Marks, Schinellas and National Pharmacies in South Australia and Victoria.
It's a real privilege to be part of a family's feeding story – we are so thankful that customers trust us and it's something we take very seriously
"We absolutely love reading our customer reviews – when someone tells us that their baby is thriving on mumamoo, or they were looking for an Australian Made & Owned product or even that they love getting their order on subscription – it's such a thrill knowing we are making some part of the parenting journey a little easier," she says.
With plans to roll out nationally on the horizon, customers can look forward to seeing this local brand help grow the conversation around supporting all parents, no matter what their feeding journey is.
Mumamoo is available online, or at over 180 Foodland, Drakes & National Pharmacies across South Australia.
For more information: