Sara learnt firsthand how horrifying the Permanent Make-Up (PMU) industry can be as a result of its lack of regulations.
Not once, but twice Sara's brows were botched, left with microblading that was too dark, uneven and irreversible scarring. Both 'brow artists' that she had researched were constantly featured in the 'Top Brow Bar' lists and fell well below expectations – in terms of quality and professional conduct.
"Those experiences were traumatising," says Sara. "I couldn't leave the house for weeks because I was too self-conscious."
But what scared me the most was the obvious discrepancy in health standards you would expect for this kind of treatment.
In 2018, Sara embarked on a career change and invested her entire savings into learning the art of permanent makeup. But for her it wasn't just about mastering the superior craftsmanship; Sara was fiercely dedicated to delivering a first-class service that operated well above minimal governing standards.
Since then, Sara has serviced an impressive 5000 clients and boasts an incredible 300 5-star reviews on Google. The success of her clinic has led to three relocations due to business growth, and she now operates from a state-of-art clinic based on Hawker Street, Brompton.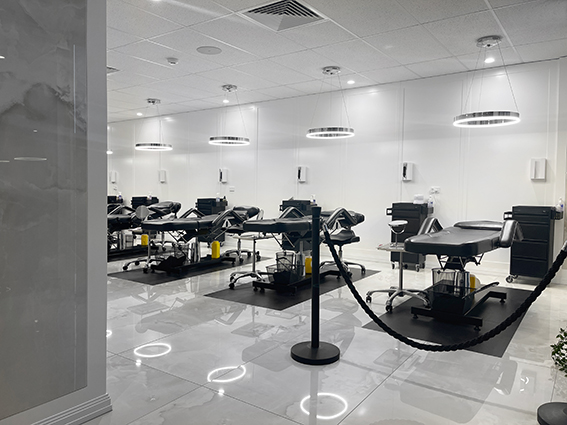 To Sara's surprise, she learnt the cosmetic tattoo industry is largely unregulated nationwide, even more so in South Australia. There are no formal qualifications required to offer the service and finding clarity for legal compliance was even tougher.
Over her 5-year PMU journey, Sara had invested over $200k in professional development with world-leading artists and travelled abroad to undertake a total of eighteen different courses. Although this level of accreditation is not required, Sara wanted to arm herself with as much knowledge and skills to offer the highest possible standard to her clients.
"I have to be honest, getting qualified in PMU was a task in itself," says Sara. "I can now sympathise with other PMU artists confused about their responsibilities."
"Not everyone can afford the level of training I have obtained, and money shouldn't be a barrier when dealing with the health and safety of others," she adds.
In 2019, Sara launched her OHMYBROW ACADEMY and is now one of the most sought-after and respected trainers in the beauty industry. Her studio is designed to provide a safe and compliant environment for aspiring artists before they start their PMU career with her academy continuing to raise the benchmark for others to follow.
Impressively, her academy has trained close to 100 students in studio with a further 1500 cosmetic students globally and is nominated as a Finalist for the 'Most Innovative Salon' in The World Salon Awards 2023.
The Academy eliminates the need for others wanting to enter the industry to study abroad or do multiple courses and it's Sara's way of ensuring that quality information is accessible to everyone. The one-of-a-kind training service will help change the entire dynamic of the PMU industry.
As OHMYBROW gets close to celebrating its 5th anniversary in August, Sara's incredible journey is a testament to her dedication and commitment to offering quality services and raising the bar in the industry.
She is an inspiration to many, proving that even the worst experiences can lead to the greatest success.
---