Her Instagram page is a feast for the eyes, filled with irresistibly delicious meals that she lovingly prepares for her family, friends and, oh, 25 thousand followers too! And as if that wasn't impressive enough, Larissa recently achieved her dream of gracing the MasterChef Australia kitchen, leaving a lasting impression with her culinary cred and crazy-good cooking.
While we're eagerly preparing a feature on Larissa for the upcoming pint issue of KIDDO mag, we couldn't resist giving you a sneak peek into her world. We sat down with Larissa to ask her a few questions to whet your appetite in the meantime!
Get ready to discover Larissa's culinary journey, her inspirations, and some insider tips and tricks that will leave you craving more.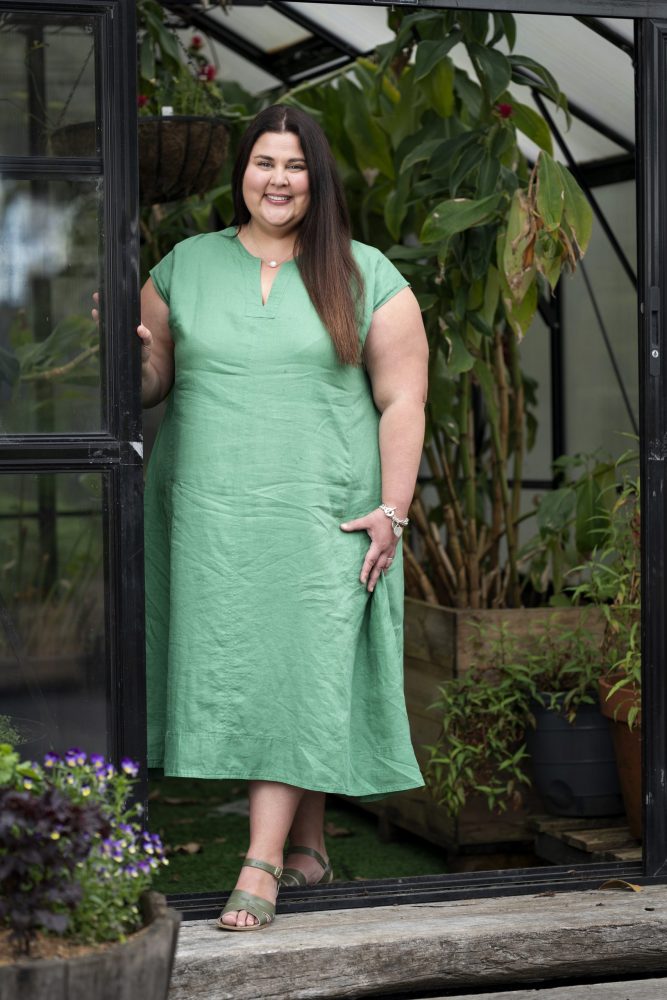 Congratulations on making it onto MasterChef! What inspired you to audition?
Thank you so much! It's honestly such a dream come true. I've been a fan of MasterChef since the very first season (when the challenges were more about chopping onions and less lamington towers) and it has always been a pie-in-the-sky dream of mine to be a part of the show – but, I'd just never really felt like it was in the realm of possibility for me.
SO MUCH changed when I became a mum to my beautiful twin boys. Having children was such a pivotal moment for me – I wanted to raise them to believe that they could achieve anything and that the world is their oyster and nothing is out of their reach. I wanted to set an example for them and show them that you can chase your dreams and do hard things. Leading by example was one of the biggest reasons I decided to audition for MasterChef. And well, here I am – doing the hard thing and having so much fun along the way!
What was your biggest fear going into the competition?
Just one fear? It's no secret that I am a bit of a control freak and like to know everything, and suddenly being thrown into an environment where I can't control what comes next was really scary! I'm the type of person who likes to have the 'creative space' to think, prepare, casually daydream and let ideas evolve – especially when it comes to cooking. I was low-key terrified that under the pressure, every instinct I have about cooking and every recipe stored in my brain bank would just suddenly disappear. It was definitely a challenge to embrace the unknown every single day, walking into the kitchen and just trust in my abilities.
Your heritage is Russian and Ukrainian, how important is it for you to represent your cultural roots in your cooking on MasterChef Australia? Can you tell us about any dishes that you planned to showcase that are inspired by your heritage?
Representing and celebrating my culture is absolutely important to me, especially in the current world climate. It really is a part of who I am and it's also the food that I grew up with and that nourished me.
I really wanted to shine the spotlight on and give some love to Eastern European cuisine, which doesn't always get the attention it deserves – it's packed with amazing flavours and traditions that are totally worth exploring.
One of the dishes that I cooked on the show that really showcase the richness and diversity of my heritage, was a classic combo called Borsch and Pampushky. Borsch is a delicious beetroot soup, and Pampushky are these cute little bread rolls that you smother in a garlic and herb oil (omg!)  as soon as they come out of the oven. Together, they're the national dish of Ukraine. Borsch is extra special to me because it's one of the first things I remember eating as a kid, and now I pass it down to my own children. It represents the warmth, comfort, and resourcefulness of my culture. It's incredible how you can take the simplest and most humble ingredients like beets, potatoes, and onions and turn them into something so rich and full of flavour!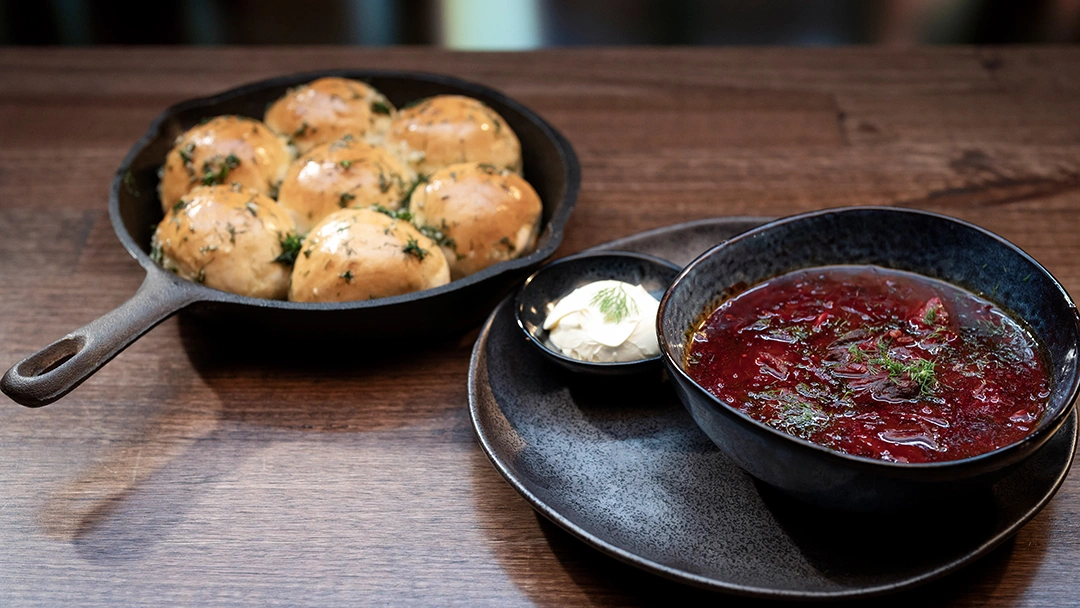 If you could only cook with one ingredient for the rest of your life, what would it be and why?
Oh, choosing just one ingredient is impossibly hard! Is it cheating if I use the MasterChef under-bench staples too? But if I had to pick just one thing, the Eastern European in me would have to say the humble potato. It's such a versatile ingredient that can be prepared in countless ways. Fried, roasted, boiled, mashed, smashed… you name it! It's the ultimate comfort food.
And if you'd let me add beef and butter to that list, I'd literally be okay forever. Oh, and garlic…
Who is your biggest culinary inspiration or role model and why? We've seen you bear hugging Jamie Oliver on the promos – that must have been an incredible moment!
Yes, that bear hug with Jamie Oliver was an absolute pinch-me, life-made moment! He's definitely one of my culinary inspirations, but there are so many other wonderful chefs and role models that I look up to as well. People like Ottolenghi, Maggie Beer, and Nigella have all definitely had a huge impact on my love for cooking over the years.
However, none of them can surpass the influence of my beautiful Babushka. She patiently cooked with me and for me, teaching me invaluable skills from as young as I can remember. She taught me how to grow my own food, how to preserve and cook from scratch, and how to waste nothing. Her ability to transform the humblest of ingredients into magic has always inspired me – she truly embodies the essence our heritage; the original homesteader – the fermenter and pickler waaay before it was cool…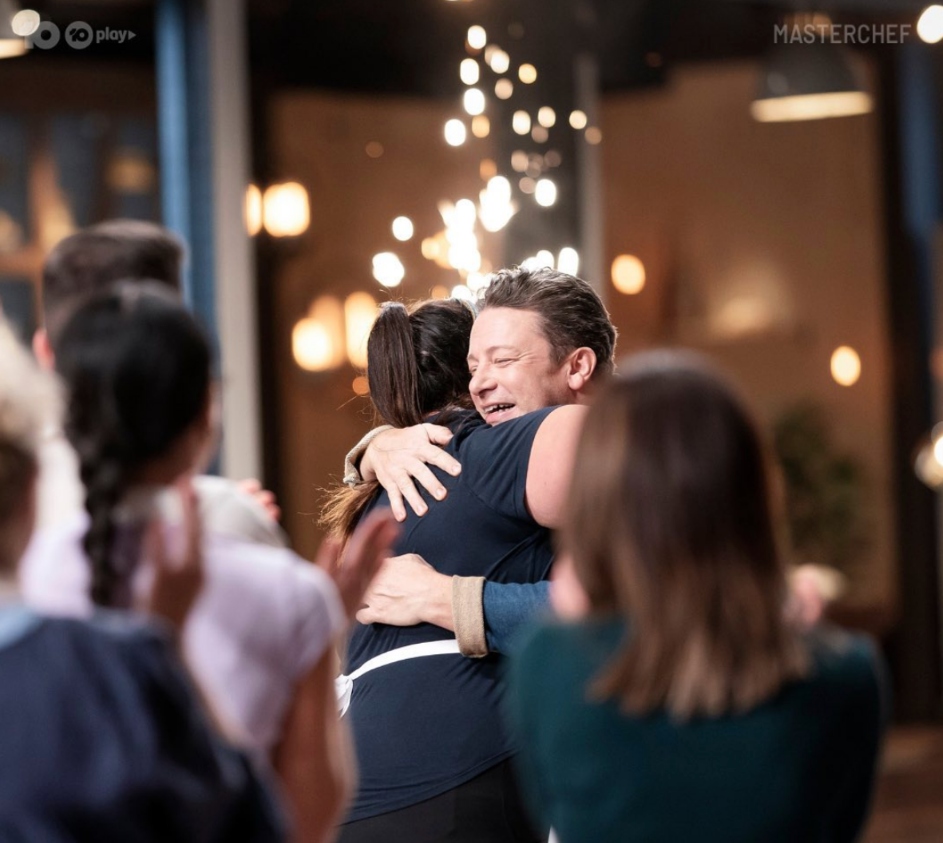 If you could pinpoint the most important thing you've learned about cooking so far in your life, what would it be?
The simplest thing? Seasoning. It would be to season everything. You can make the most complex and beautiful dishes with all the right ingredients, but if you haven't seasoned them properly, they fall flat. Salt is an absolute game-changer in the kitchen. Salting with the right salt, at the right time enhances flavours, brings out the best in every ingredient, and adds that magical touch to any dish. Not a word of a lie.
Watch out for our full feature in the September KIDDO print mag where Larissa will share some of her favourite places to eat in SA with kids and some tips on how to get your kiddos to be more adventurous with food!
---