She Moves…Her Bump: 5 top tips for exercising when you're pregnant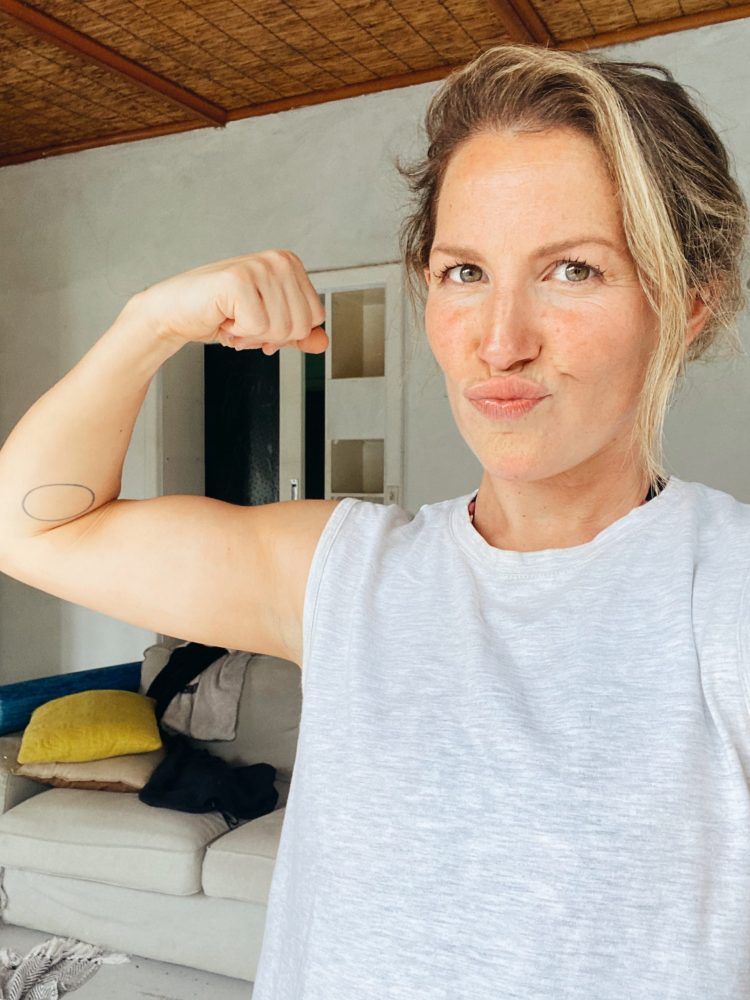 We see you lady! You want to enjoy your body without feeling deprived or boring. You want to be a good role model to your kids. You want to feel fit, strong and even sexy! You want to wear clothes you love and that feel like YOU.
You want to feel like the true YOU. An accurate representation on the outside of who you feel like on the inside.
Bridie Walker, founder of She Moves – a body positive health and fitness membership – wants to teach women how to ditch diets and feel strong and confident in a body they're proud of. She Moves is an online platform where Bridie shares her workouts with Mums and busy women, bringing the workout from her home to yours.
As a mum of two (plus one in the oven!), as well as a Pilates teacher, PT and yoga instructor, Bridie is in the perfect position to guide mamas and mamas to be in the right direction when they're looking for ways to move their bodies with a growing bump, because she's experiencing it all right along with you!
Bridie has given us some tips for exercising when you're pregnant that she feels are most important for expecting women and their ever changing, beautiful bods!
5 tips for exercising when you're pregnant
1. You may not believe it but gentle exercise can release counteractive hormones to the ones making you tired and nauseous in the first trimester, so if you can manage a walk or some gentle low impact pilates, swimming, or body weight training it may just help you feel better!
2. Comparison is the thief of joy! Being active during pregnancy has well documented health benefits for both you and bubs – but please remember it does not have to look like some super fit mama instagram page. Moving your body regularly to help you feel strong, proud and to prepare your body for labour is so worthwhile, no matter how it looks.
3. For the love of sex and post pregnancy life DO NOT JUMP….! Leave the high intensity workouts (running, trampolines and heavy resistance training) for when baby is earth side. Your pelvic floor has a lot of work to do throughout pregnancy. Adding more load ain't going to help, so keep it low impact – You will still get an awesome workout and all the health benefits.
4. Netflix & Stretch regularly and/or get lots of massages! Stretching your back, chest and hips while watching Netflix will help alleviate some of the pregnancy aches, pains and stiffness that are common due to postural changes that occur with your ever changing, beautiful bod.
5. Practice Diaphragmatic Breathing and deep core connection instead of "ab exercises". Not only does this help maintain a connection and strength of the deep core muscles throughout pregnancy, it can decrease lower back and pelvis pain. It also helps prepare you for pushing in labour and is a great foundation to have for post natal recovery. This one ticks a lot of boxes.
Head over to Instagram @she_moves_ for some videos and tutorials on tips 4 & 5
To find out more info on how to sweat, stretch (and swear!) from the convenience of your own lounge room: