This groundbreaking technology has demonstrated a heartening 12.2 percent* increase in IVF success rates, offering a glimmer of optimism to those longing for parenthood.
Genea Fertility's arrival not only promises improved pregnancy outcomes but also introduces an intimate connection between hopeful parents and the development of their cherished embryos. The unique technology also allows prospective parents to watch their embryos grow in a way that's never been seen before.
At the heart of this transformative approach lies the innovative Geri incubation system, which allows patients' embryos to develop uninterrupted in their own individual chamber that mimics the environment of the mother's womb.
The Geri incubator comes equipped with time-lapse camera technology, allowing embryologists to view the developing embryos, enabling them to choose the best embryos for transfer. These videos and photos are also used to populate the Grow App which allows patients to view their developing embryos on their phone. A truly heartwarming feature, this visual diary is shared with patients through the intuitive Grow App, allowing families to witness the progression of their future family members right on their mobile devices.
Genea Fertility's Scientific Director Steve McArthur says the stability of the environment and the close monitoring of embryos provided by the Geri is crucial to increasing pregnancy and live birth rates.
"Having one patient's embryos per chamber is a huge benefit in IVF because if you are checking one patient's embryos, for instance when taking them out for freezing or transfer, you don't disturb any other patient's embryos in the process," he says.
Our research found that when embryos are incubated in the undisturbed environment of the Geri, it improves our embryo utilisation rates by 24 per cent when compared with a traditional benchtop IVF incubator.
"Importantly, by generating more embryos for use by patients, we also see an improvement in live birth rates with an increase of above 12 per cent."
Patients at the King William St clinic of Genea Fertility SA – a new partnership between Genea Fertility and the former Fertility SA – will be the first South Australians to benefit from the use of the unique Geri incubation system.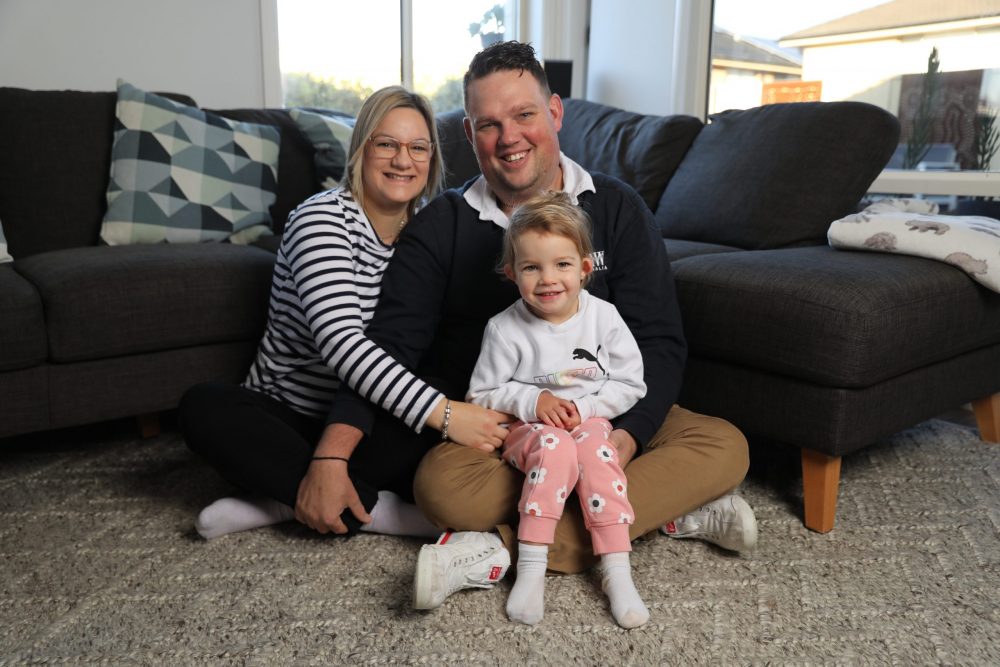 Vanessa and Brendan Forsythe on using Genea's Grow App
Vanessa and Brendan Forsythe had been trying to start a family for four years when they were referred to Genea Fertility in 2019. One cycle of IVF led to the birth of three-year-old daughter Chloe. After another cycle of IVF, Vanessa fell pregnant with a baby due in November.
Vanessa, 35, said the experience of watching their embryos develop on the Grow App was something she will never forget.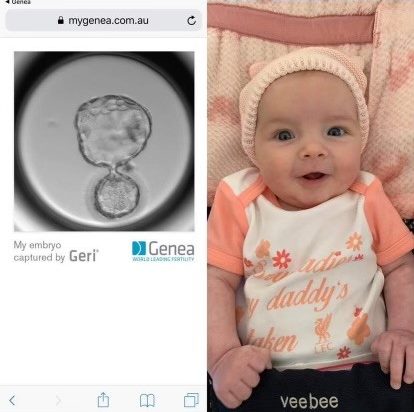 "Both for Chloe and for this baby, it was just mind-blowing to be able to see them develop and know that one of these embryos would hopefully become our baby," the mum, from Sydney, said.
I downloaded all the images and videos for when the kids are older. We will be able to tell them how they came to be and show them what they started out as.
Brendan, 34, said the photos and video available on the Grow App helped the couple share their IVF journey with other family members.
"We were constantly sending the images to our parents and they were just amazed at what we could see," he said. "We were the first ones in either family to go through IVF so they had no idea what to expect either and it was nice to share this part with them."
World leading technology at Genea Fertility
Genea Fertility has more than 37 years' experience helping Australians create their families at 12 clinics in NSW, Victoria, Queensland, the ACT, Perth – and now South Australia.
Genea Fertility SA Medical Director Dr Bruno Radesic says the clinic's doctors, embryologists and scientists are excited to be working with the world-leading technology.
"All Fertility Specialists want to give their patients the very best chance of having a healthy baby and Genea Fertility's unique technology has been proven to deliver consistently high success rates above the national average," he says.
"Undergoing fertility treatment can be a very stressful process for patients and knowing they have chosen a clinic with access to the best in science and technology can help to put their mind at ease during what can be a challenging time."
The Geri embryo incubator has arrived at the Adelaide clinic and is being used for all new patients. Adelaide patients will have access to the Grow App from October.
---
9/431 King William St, Adelaide