Being one of the leading early learning providers within Australia, Edge delivers exceptional education programs that enable children to discover their potential and start school with a love of learning.
Edge is a privately owned and operated early learning group that provides programs from 6-weeks to school age through an inquiry-based learning approach where children are encouraged to ask questions and learn through play.
Edge's educational programs support and enhance learning milestones and journeys across all areas of development through its four pillars, education, wellbeing, community, and sustainability.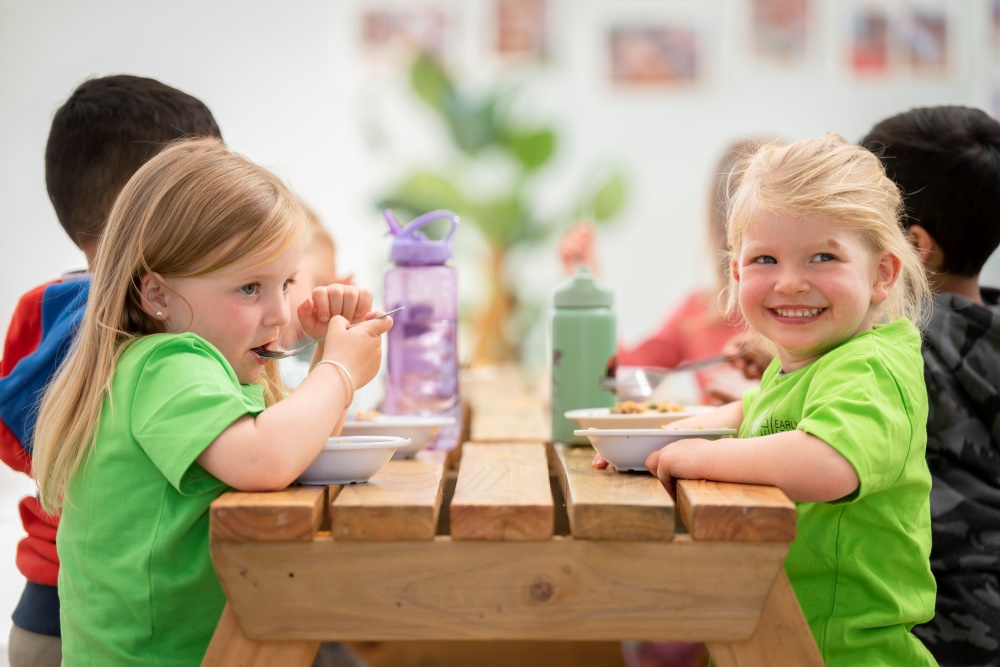 "We encourage children to explore new ideas and learn through play, as we cater to children from 6 weeks to school age and focus on preparing them for primary school, socially, emotionally, and developmentally," Edge Early Learning CEO Annie Bryce said.
"Our South Australian centres are infused with our philosophy, bespoke learning surrounds and teaching methods to ensure that our children have access to safe and inspiring environments, create meaning about the world around us, experience new understandings, and develop a love of learning."
We encourage children to be curious and active learners. Fostering these skills in a child's early years gives them the opportunity to develop stronger relationships with their peers and is therefore excellent for confidence building and preparation towards starting school.
Since first establishing in the state almost 2-years ago, there are 17 Edge centres across SA including Aldinga Beach, Brahma Lodge, Gawler East, Munno Para West, Strathalbyn, Virginia, Plympton, Oaklands Park, Royal Park, Port Adelaide, Hallett Cove, Port Pirie, Port Augusta, two in Mount Barker and soon to be two in Angle Vale with a second centre under construction scheduled to open early 2024.
All South Australia centres have state-of-the-art modern learning spaces and high-quality educational resources, with age-specific rooms including nursery, toddler and preschool.
Outdoor play areas feature bike tracks, climbing forts, water play stations, sand pits, vegetable gardens, space to run, and quiet areas to relax.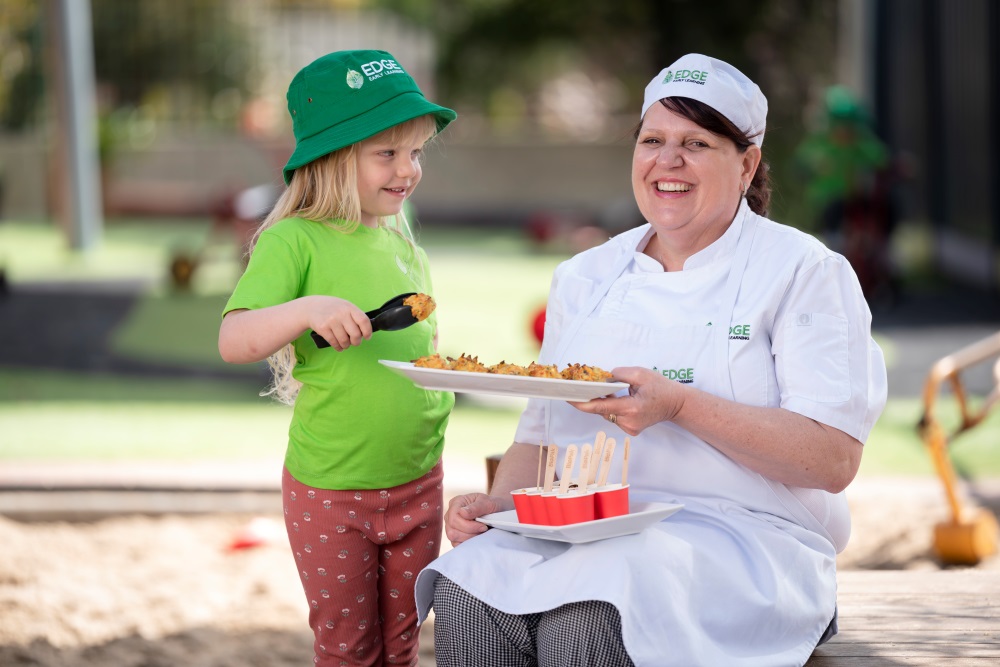 Good nutrition is essential for a child's health, growth, and development, which is why all South Australian centres have an in-house chef who produces a new, seasonal menu every week and provides fresh meals daily.
Catering to all dietary requirements, children enjoy a vast variety of meals, salads, soups, mains and desserts. Some of the children's favourites are focaccias, pinwheels, chicken curry, spaghetti and meatballs, and burgers that the children get to construct themselves.
"We are conscious that healthy habits ingrained in a child's first five years will set the tone for future wellbeing and that's why we are so passionate about the health and wellbeing of children at a young age," Annie said.
We place a high importance on serving children nutritional and well-balanced meals that are diverse in flavour and in cuisine.
"The mealtimes at Edge are designed to be social, so the children eat together at tables in each of the centre's dining areas. We find this helps encourage socialisation and positive eating habits."
"The Edge program also includes physical activity such as daily yoga, mindfulness activities, and basic nutritional education, in addition to providing children with a sense of self."
Edge takes pride in using environmentally friendly cleaning products, biodegradable bamboo nappies and wipes; with most South Australian locations also having vegetable gardens and centre pets such as rabbits and chickens.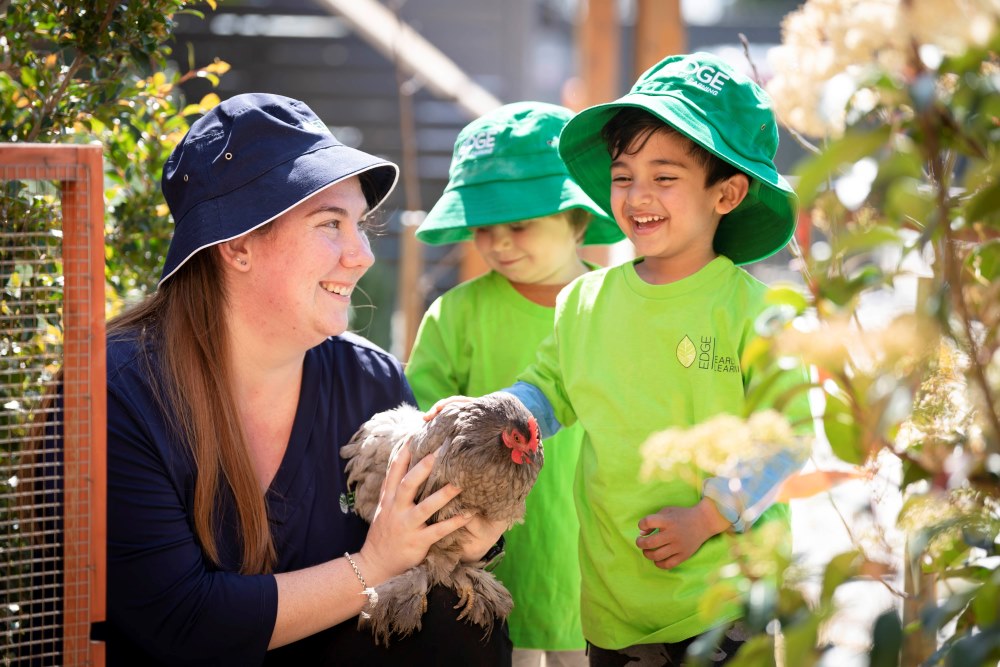 Some of the ways Edge implements sustainability practices is by having recycling stations within each classroom so children can learn and practice how to recycle different types of waste.
Outdoors, children are taught about the natural environment by learning about native flora and fauna and are involved in tending to the vegetable garden and animals at the centre.
"As a company, we believe we can play our part in developing a more sustainable future. Almost all our centres have switched to solar power, all our cleaning products are environmentally friendly, and our nappies and wipes are made from biodegradable bamboo, which has added benefits for sensitive skin," Annie said.
"We take a lot of pride in educating children on sustainability. Embedding sustainable practices in a child's early years empowers them to construct knowledge, explore values and develop an appreciation of the environment and its relationship to their world."
Some of the sustainable practices that the children love is learning how to make recycled paper, propagating plants and tending to our onsite vegetable gardens.
Edge provides quality education and care for children aged from 6-weeks to school age by instilling a love for learning through play-based experiences.
Offering extended opening hours, from 6.30am to 6.30pm from Monday to Friday, to best suit parents and carers, enabling them to get the most out of their allocated subsided hours per fortnight with different session times available.
Edge Early Learning is one of Australia's most reputable and fastest growing early childhood education groups with more than 50 centres across South Australia, Queensland and the ACT.
---
For more information: