Our highly experienced teachers use the Bond Blocks system, which is a mathematics program informed by research using evidence-based methodology, developed by Australian teacher Narelle Rice together with maths guru Dr Paul Swan.
Numeracy refers to the knowledge and skills that students develop to effectively engage with mathematics in their everyday life. These skills enable them to understand abstract concepts such as reading time, fractions, converting decimals and percentages, which transfer into all areas of personal and working life.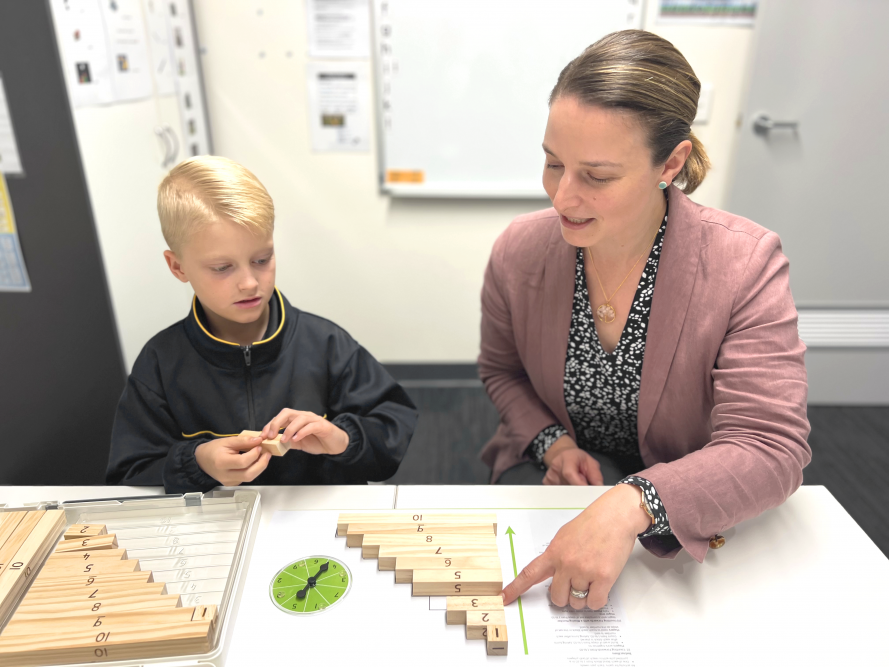 If your child experiences difficulties with foundational maths skills, we can provide the support with teachers who have been specially trained to deliver the Bond Blocks program.
We recommend this program because it follows a teaching method that is proven to be effective when teaching students with learning difficulties.
"It is multi-sensory, it is cumulative; teaching basic concepts first, then building on these, and it provides the explicit instruction and follow up practice necessary for students to confidently develop their skills," says Kerry, Director of Teaching and Learning at SPELD SA.
NEW Numeracy Clinic at SPELD SA
For students in Years 1-6
Individualised support through regular 1:1 sessions
Delivered by experienced and passionate teachers
Using an Australian, evidenced-based program specifically designed for maths intervention
Students will benefit from attending the Clinic if they:
Are behind in their development of initial counting or addition and subtraction.
Struggle to identify the number of things in a set, simply by quickly looking at them. These students would rather count one by one and persist with finger counting, to add and subtract in Years 1-3.
Lack fluency when recalling number sums.E.g. 2 add 3 is 5.
Lack understanding of the inverse relationship of addition and subtraction.
Display a reluctance to participate in numeracy-based activities with low confidence or anxiety.
Have been diagnosed with a learning difficulty such as dyscalculia or other learning difficulty which may impact learning mathematical concepts.
Applications are open now for the clinic, beginning in Term 3.

FREE Parent Workshop
Join us for a free information session to learn more about the Numeracy Clinic, including a demonstration of the Bond Blocks program.
Wednesday 19 July, 9:30am
At SPELD SA
Places are limited so please register via our website:
speldsa.org.au/numeracy-clinic
SPELD SA is a not-for-profit organisation with a team of specialist educators, speech pathologists and psychologists who have been supporting children with learning difficulties for over 50 years. We offer educational and psychological assessments, tutoring, and many free resources on our website.
---
To find out more about SPELD SA services including our Literacy and Numeracy Clinic: