The new Paisley Park Early Learning Centre Hallett Cove is throwing open its doors on this Saturday 12th January to host a Community Fun Day for local families looking for quality childcare. Built on 30 years' experience, Paisley Park provides leading education and childcare with pioneering state-of-the-art facilities. Paisley Park food consultant and leading international chef from Network Ten's The Living Room, Miguel Maestre, will be making a special guest appearance to cook and educate families around how to introduce fresh, healthy ingredients into children's meal times.
As Paisley Park's Food Advisor, Miguel Maestre creates seasonal menus for the organisation's centres nationally. Through this partnership, Miguel will work with Hallett Cove's onsite chef to create menus that are both nutritious and appealing to children, using fresh produce from local suppliers, as well as the centres vegetable garden.
With one quarter of Australian children being overweight or obese, Miguel and Paisley Park are hoping to lead the fight against childhood obesity in Australia, instilling healthy eating habits in children and inspiring a love of cooking. Close to half of Australian parents believe poor food choices are caused by a lack of education and 9 in 10 support schools doing more to promote a healthy lifestyle[1], Paisley Park is committed to the fight by teaching children healthy eating choices from a young age, before primary school.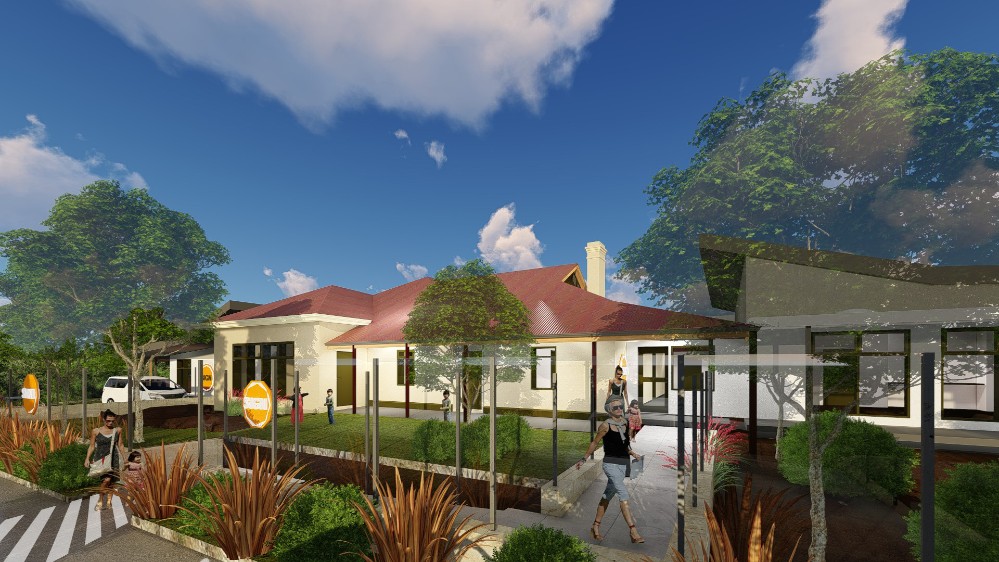 Bringing a meticulous approach to childcare with state-of-the-art facilities for children, Paisley Park will open five centres in Adelaide within the next six months including, Hallett Cove, Mt Barker, Port Adelaide, Royal Parkand Oatlands Park. The childcare brand is offering a standard of centres that other states in Australia already enjoy, delivering unique design, flow, learning curriculum and food philosophy. Opening in a beautifully converted heritage listed house, Hallett Cove is conveniently located between Hallett Cove East Primary School and Lonsdale Rd, its location provides easy pick-ups and drop-offs.
At the Community Fun Day, families and local community members will have the opportunity to meet Centre Director, Karen, and the experienced team of caring and passionate Educators. The team of Educators will be on hand to conduct tours of the centre's new facilities including the discovery nature trail, friendly family pets, vegetable gardens and exciting outdoor playground space, whilst children and parents enjoy sampling the centre's new summer menu, developed by Miguel.
Prospective families attending the Community Fun Day can also take part in several activities including face painting, jumping castle and many more! Paisley Park Hallett Cove will open its doors in early January 2019 catering for children from 6 weeks to 6 years and offering extended hours from 6.30am – 6.30pm.
Talking about the Centre, Co-Founder Kat Wieczorek-Ghisso says, "We are excited to be part of the Hallett Cove community providing quality childcare in Adelaide's southern suburbs. We welcome the community to experience Paisley Park, a place inspired by children's curiosity and their natural love for learning. An environment where children believe in themselves and know they can achieve anything imaginable. As a founder led business based on extensive knowledge of early learning, we choose to do things differently. We invite you to come and see these differences for yourself."
Community Fun Day Details for Paisley Park Hallett Cove
Date: Saturday 12th January
Time: 10.00am – 2.00pm
Address: 49-51 Vennachar Drive, Hallett Cove
Activities: 11.00am: Info session "Tips on developing healthy eating habits at an early age'' with Paisley Park Co-Founder Kat and Miguel Maestre
12.00noon: Opportunity to cook lunch with Miguel Maestre
1.30pm: Opportunity to cook and enjoy afternoon tea with Miguel
10.00am – 2.00pm: Enjoy refreshments and children's activities
10.00am – 2.00pm: Tours hosted by Paisley Park Founders and the team
Paisley Park Hallett Cove Centre Facts:
– Quality care for children aged 6 weeks to 6 years
– Extended opening hours: 6.30am to 6.30pm
– Paisley Park is conveniently located between Hallett Cove East Primary School and Lonsdale Rd, making for easy pick-ups and drop-offs.
– Exciting playgrounds and discovery areas, family pets and vegetable gardens
– Natural, homelike environments where children explore conformably in familiar surroundings.
– Healthy and delicious meals prepared daily by our on-site chef using only fresh, local produce.
For more information call 1800 PAISLEY (1800 724 753)